Sada-e-Watan Sydney ô
sadaewatan@gmail.com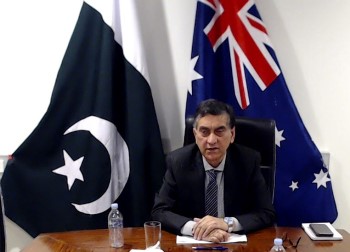 H.E. Mr Babar Amin
Australia-Pakistan Virtual IT Delegation (VITDM) Meeting on Artificial Intelligence and Big Data
In continuation of the High Commissionís initiative of Virtual IT Delegation Meeting (VITDM), a B2B VITDM between Pakistani and Australian IT companies on Artificial Intelligence and Big Data was organized by the High Commission in coordination with the Consulates General of Pakistan in Sydney and in Melbourne on 26 May 2021.
In his opening remarks, the High Commissioner H.E. Mr. Babar Amin welcomed the IT companies from Pakistan and Australia to VITDM and underlined the importance of engagement in IT sector for the enhancement of overall bilateral trade and capacity building between Pakistan and Australia. He expressed hope that participating companies will benefit from the session and engage with the counterparts for mutually beneficial businesses.
Around 13 Pakistani and 27 Australian entities participated in the meeting. During the meeting, the companies were provided an opportunity to present profiles of their companies and make sales pitch. The meeting was moderated by Consul General of Pakistan in Sydney Muhammad Ashraf whereas Consul General of Pakistan for Melbourne Sardar Adnan Rashid, Pakistanís Honorary Investment Counsellor Hasan Kanji, as well as the Representatives from Ministry of Foreign Affairs, Trade Development Authority of Pakistan (TDAP) and Pakistan Software Export Board (PSEB) participated in the meeting.
This was the sixth meeting organized by the High Commission in the last eight months under the VITDM initiative. The High Commission Babar Amin has now initiated sectoral wise meetings to promote cooperation between the two sides. The first sectoral meeting in the field of Information/Cyber security was held in March 2021. The aim of these meetings is to promote greater cooperation in the field of IT between the two sides and provide Pakistani companies a B2B platform with their Australian counterparts.