Sada-e-Watan Sydney ™
sadaewatan@gmail.com
H.E. Babar Amin Virtual Meeting with Vice Chancellor and Deputy Vice Chancellor of University of Wollongong
The High Commissioner for Pakistan H.E. Babar Amin held a virtual meeting with Prof. Patricia Davidson, the Vice Chancellor and Prof. Alex Frino Deputy Vice Chancellor of the University of Wollongong .
The High Commissioner Mr. Babar Amin briefed the Vice Chancellor of the nature and magnitude of cooperation in education sector between Australia and Pakistan. There were around 11500 Pakistani students studying in Australia, the share of University of Wollongong out of there was significant. Education Services were a substantive component of overall Australian export in service to Pakistan.
High Commissioner for Pakistan H.E. Babar Amin
HC Mr Babar Amin proposed that University of Wollongong may explore to cooperate with Pakistani universities in joint degree programmes, two plus two programme, articulation agreement, faculty and student exchanges, Joint Research Centers & collaborative research, joint curriculum development and harmonization. Similarly, UoW while taking advantage of pandemic, may impart online training programmes for Pakistani students.

The High Commissioner Mr. Babar Amin added that universities may enhance collaboration in specific subjects especially nursing, medicine, and engineering. The UoW, he said could open Centers of Excellence in the campuses of Pakistan Universities with mutual collaboration. He offered his assistance in materializing such initiatives.

The High Commissioner H.E. Babar Amin also raised the issue of those Pakistani students who were enrolled in the University of Wollongong and were unable to arrive/return to Australia owing to Covid-19 restrictions. He mentioned 58 of such students have registered with the High Commission. He sought that the Pakistani students be prioritized in the plan of NSW government to bring students to Australia materializes. He offered assistance in organizing a dedicated chartered flight from Pakistan.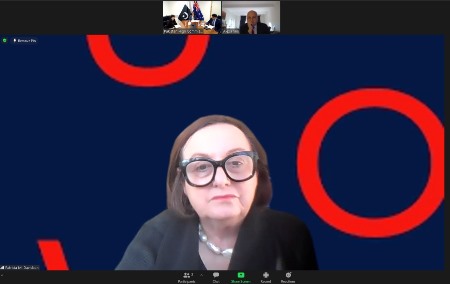 Prof. Patricia Davidson (Vice Chancellor)
The Vice Chancellor welcomed High Commissioner's proposal for academic cooperation in all referred areas and agreed to follow up on the same. Both sides may work on diverse cooperation models already in play in offshore campuses of UoW in various countries. The Deputy Vice Chancellor also briefed that there were 850 Pakistani students enrolled in UoW which comprised almost 15% of the UoW's international students.
Prof. Alex Frino (Deputy Vice Chancellor)
Regarding the arrival of Pakistani students in Australia, the Deputy Vice-Chancellor offered to raise the issue in Deputy Vice Chancellor (International) Committee of all NSW universities based on HC's briefing regarding the readiness of Pakistan's students to join their Campuses in Australia. The Vice Chancellor also offered to individually address any issues being faced by any student in online education.
The High Commissioner H.E. Babar Amin also briefed the Vice Chancellor on Pakistan Education Country Profile and process of ratification of Global convention on Recognition of Qualifications concerning higher education which was appreciated by the Vice Chancellor. The Vice Chancellor pledged to support collaboration between UoW and Pakistani Academic Institutions in the areas of Engineering and Medical Sciences including in the field of Nursing.