Sada-e-Watan Sydney ™
sadaewatan@gmail.com

Rukhshanda Zaman hosted a Breast Cancer awareness Breakfast in Sydney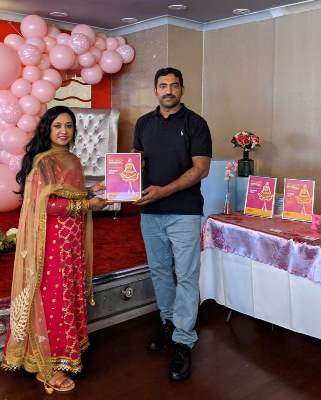 Rukhshanda Zaman Presenting award to Arshad Mahdi
On Sunday, 11th October 2020, A Breast Cancer awareness Breakfast was held at the "Lahori Dera" Yagoona Sydney. This Fundraising Breakfast was hosted and organised by Prominent Social Activist Rukhshanda Zaman.

"Pinkribbonbreakfastbyrukhshi" is registered with National Breast Cancer Foundation through which not only the funds are generated by donations but also awareness is spread through a breakfast event. The online fundraiser so far has more than 500 dollars of donations and through the event another 1000 dollars were generated for the cause. The online link for the fundraiser is as below, where any donations made above 2 dollars receive a tax refundable receipt.

https://fundraise.nbcf.org.au/fundraisers/rukhshandazaman/pink-ribbon-breakfast
The event was attended by different ladies in Sydney from all walks of life, Dr.Sameena Ghayur presented a breast cancer awareness session where she also briefed the audience how to self-breast check at homes. Dr. Yasmin Khan also attended the event and spoke about the importance of awareness; how good the treatment is here in Australia and how early detection saves lives.

October is breast cancer awareness day, the event is hosted to support the cause to put an end to cancer, and reaching ZERO deaths by 2030. This is special day dedicated to learning, supporting, sharing, empowering, and communicating with others in our community whose lives have been impacted by breast cancer.

BREAST CANCER IS THE MOST COMMONLY DIAGNOSED CANCER IN AUSTRALIA
MORE THAN 3,000 AUSTRALIANS WILL LOSE THEIR LIFE TO BREAST CANCER THIS YEAR
1 IN 7 WOMEN WILL BE DIAGNOSED WITH BREAST CANCER IN THEIR LIFETIME
1 IN 675 MEN WILL BE DIAGNOSED WITH BREAST CANCER IN THEIR LIFETIME
55 AUSTRALIANS ARE DIAGNOSED EACH AND EVERY DAY
8 WOMEN LOSE THEIR LIFE TO BREAST CANCER EVERY DAY IN AUSTRALIA

Rukhshanda wants to make a difference in the fight against cancer by creating awareness in the community especially in Australian Pakistani Community where there is a culture which hesitates to discuss such topics and late detections cost many young lives. Ladies gathered as a community, determined that those who are facing cancer will be supported, that those who have lost their battle with cancer will NOT be forgotten, and that, together, they will continue to fight back so that one day, no one in community will hear those dreaded words, "you have breast cancer."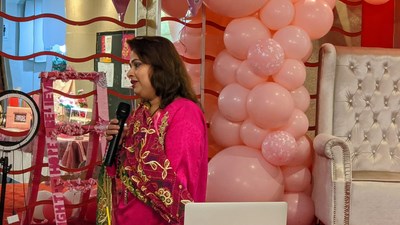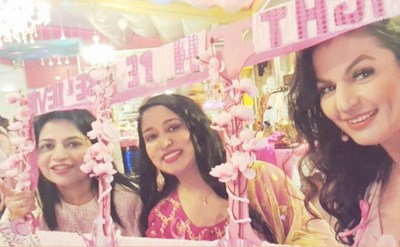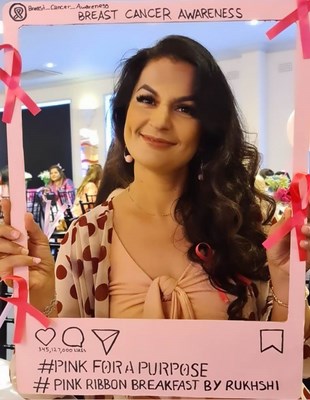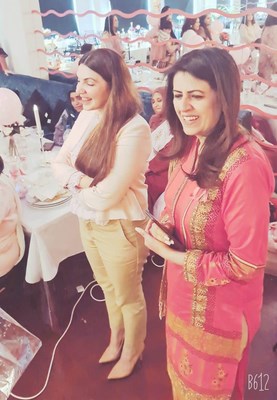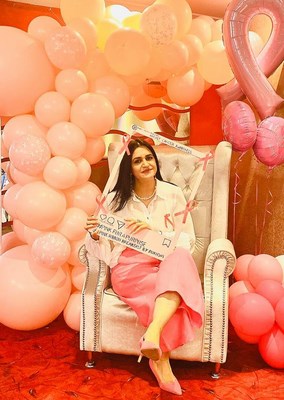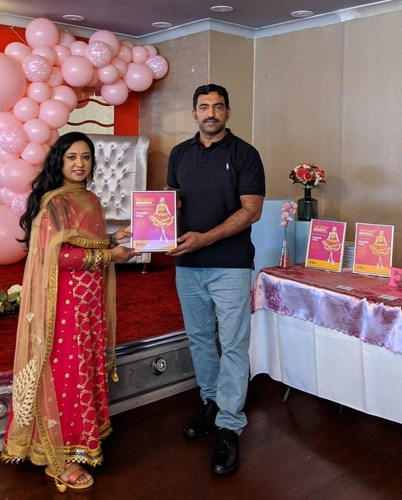 Rukhshanda Zaman Presenting award to Arshad Mahdi of Lahori Dera