Sada-e-Watan Sydney ™
sadaewatan@gmail.com
H.E. Mr. Babar Amin
Australian National returns Gandhara Civilization Statue of Buddha to Pakistan
A ceremony was organised at the Pakistan High Commission, Canberra to celebrate the return of a statue of Buddha. The statue was in the possession of Ms. Romy Dingle, an Australian citizen whose mother was a collector of artefacts and had brought it to Australia from Pakistan in the early 1970s. The family now wished to gift it to Pakistan, the place where it belonged.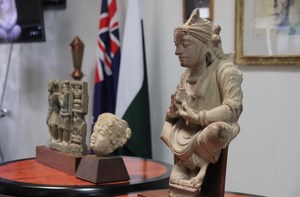 The event was attended by guests from the civil society, academia, diplomatic corps and media. The Shadow Minister for Families, Youth, Community Services and Multicultural Affairs Hon. Elizabeth Kikkert MLA in the ACT Legislative Assembly also attended.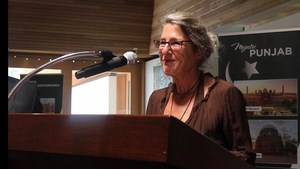 Romy Dingle
Speaking on the occasion Ms. Romy Dingle said that she is delighted to facilitate and return the piece of history as it has now been returned to its rightful place to be celebrated and protected in a befitting manner. She added that, today's event is an excellent example of the results that can come with close cooperation between individuals from civil society and government institution to preserve and celebrate art.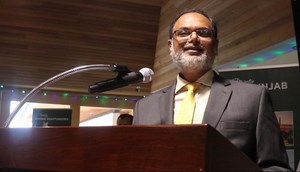 Dr Khalid Ejaz
The Deputy High Commissioner Dr Khalid Ejaz also speaks on this occasion and thanks Romy Dingle for historical gift to Pakistan.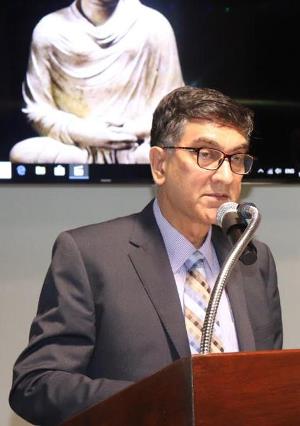 High Commissioner Babar Amin
In his remarks, the High Commissioner for Pakistan His Excellency Mr. Babar Amin said that the statue was an important element of the cultural history and heritage of Pakistan and was so much more than a piece of property. While giving a genesis of the Gandhara civilization, High Commissioner added that Gandhara was an ancient kingdom in the modern-day North of Pakistan spreading from Peshawar to the Swat valley, and Pothohar plateau region of Pakistan.
As a centre of Buddhism, Gandhara attained its height from the 1st century to the 5th century under the Kushan Kings and contributed immensely in the spheres of painting, sculpture, coins, pottery and all the associated elements of an artistic tradition. Taxila was its seat of learning which hosted the famous Jaulian University one of the first in the world. People from all over the area and neighbouring regions came to Gandhara not only for trade and commerce but also for learning and acquiring knowledge.

The High Commissioner H.E. Mr. Babar Amin termed the return of Buddha as a wonderful gesture and thanked Ms. Dingle's family for gifting the statue which was amazing not only for its history but also for its nifty carving. He remarked that he hoped the people understood its value as it is one part of Pakistan's history which also belonged to the entire world.