Sada-e-Watan Sydney ™
sadaewatan@gmail.com
CG Abdul Majid Yousfani and H.E. Babar Amin
High Commissioner Babar Amin met in Sydney Members of Parliament, Community members, Students and Businessmen
(Exclusive Report by: Syed Zafar Hussain, Editor-in-Chief Sada-e-Watan Sydney)
From 29 August 2018, H.E. Mr. Babar Amin is New High Commissioner for Pakistan in Australia. Mr. Babar Amin joined the Foreign Service of Pakistan in 1989. He Served in Pakistan Missions: Bucharest (1995-1998), Vienna (2001-2003), Counsellor, Beijing (2004-2007), Counsellor/ Minister and Deputy High Commissioner, at the High Commission for Pakistan, New Delhi (April 2009- March 2013).
Mr. Babar Amin brings a wealth of experience and diplomatic expertise to Australia. Prior to appointment in Australia, he was posted Additional Secretary (National Coordinator for SCO) Ministry of Foreign Affairs Islamabad.
H.E. Babar Amin, Syed Zafar Hussain and Former CG Ejaz Ahmad
He began his assignment as the High Commissioner since 3 months but in October 2018 first time he came to Sydney on brief visit. On Thursday 25th October 2018, HC Babar Amin met Australian Members of Parliament Hon. Luke Foley MP, Hon. Shaoquett Moselmane MP, Hon. Julia Finn MP, Hon. Dr Hugh McDermott MP and Hon. Jihad Dib MP.
Later High Commissioner Babar Amin met Community members, Professionals, Students and Businessmen. He asked suggestions on community issues and brief audience about trade and investment in Pakistan. H.E. Babar Amin gave a comprehensive overview of economic and investment opportunities in Pakistan.
The High Commissioner Babar Amin appreciates community on role of Pakistani Australian diaspora in strengthening Pakistan-Australia relations and asked for investment in country under the new government of Pakistan towards a more stable, secure, and prosperous future for Pakistan.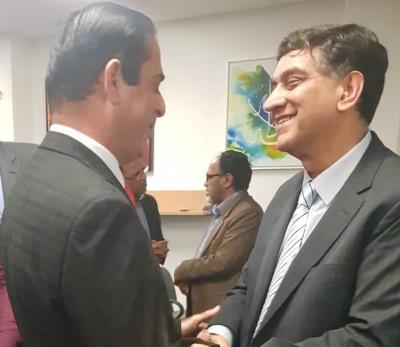 Syed Javed Shah and HC Babar Amin
H.E. Babar Amin commended the positive role the community is playing in strengthening relations between the Australia and Pakistan. He said I am here to make stronger relationship with Australia, Increase Trade & Investment and serve all people without any preference or reference.
According to the instructions of Prime Minister Imran Khan, Pakistan High Commination Canberra and Pakistan Consulate Sydney & Melbourne, avoiding wasting the taxpayers' money by cutting down on their routine expenses. At the end of the session of talks, all respected Guests were served tea with biscuits but No any other refreshments.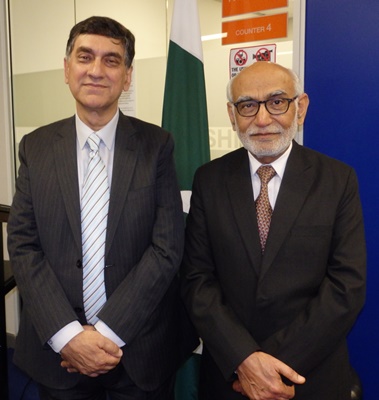 H.E. Mr. Babar Amin and Mr. Ejaz Ahmad
CG Abdul Majid Yousfani and Aurangzeb Baig
Javed Hussain, HC Babar Amin and Ali Murtaza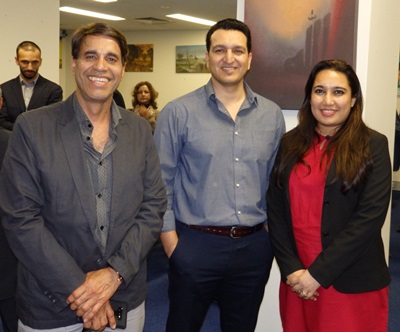 Mr. Abid, Mr Ahmed and Consul Bushra Salam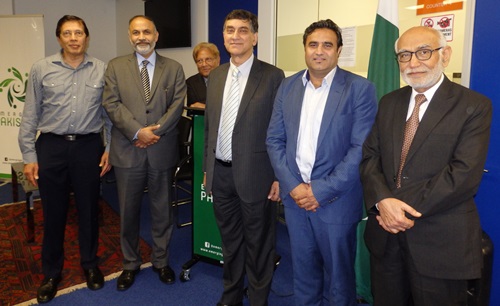 Dr M Bilal, CG Abdul Majid Yousfani, HC Babar Amin, Ch Shahid Iqbal and Mr Ejaz
CG Yousfani, Iqbal Zaki, Zafar Hussain and Brig (R) Javed Wadattach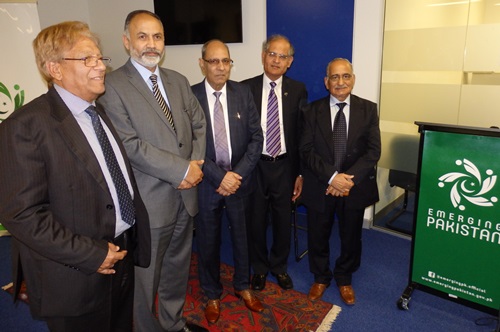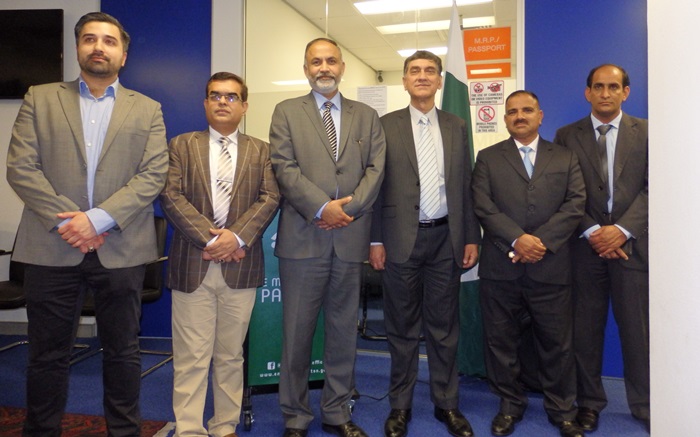 A Group Photo of Pakistan Consulate Sydney Staff with High Commissioner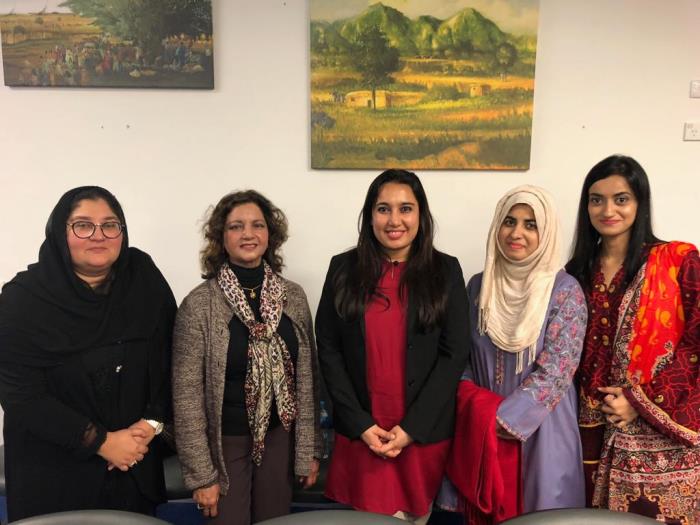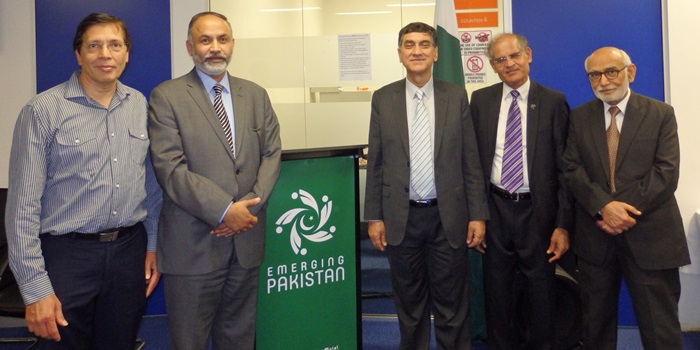 Dr Dr M Bilal, Abdul Majid Yousfani, H.E. Babar Amin, S Zafar Hussain and Ejaz Ahmad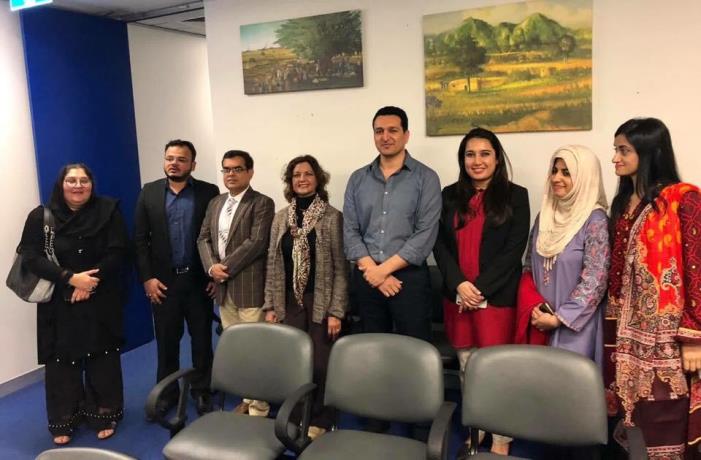 Jihad Dib MP,Dr Hugh McDermott MP,Julia Finn MP,Luke FoleyMP,H.E. Babar Amin,CG Abdul Majid Yousfani and Bushra Salam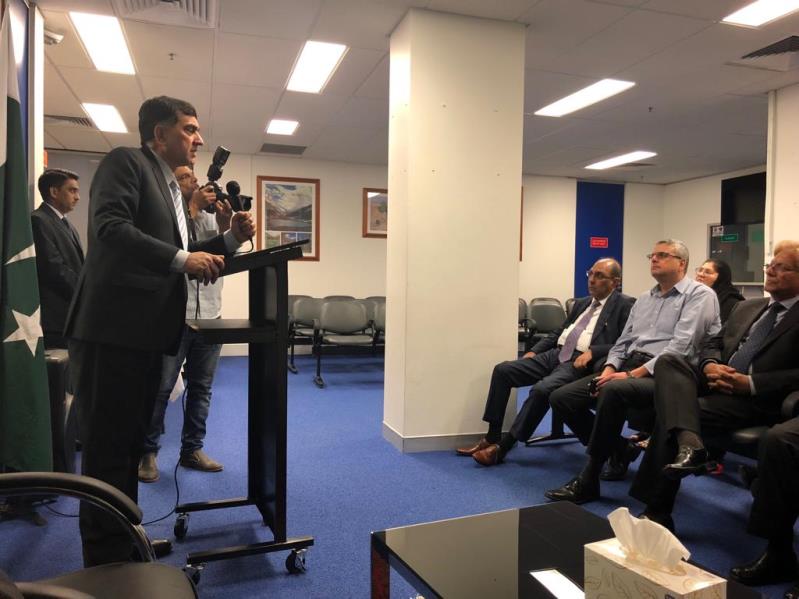 High Commissioner Babar Amin Addressing Community at the Pak Consulate Sydney