Sada-e-Watan Sydney ™
sadaewatan@gmail.com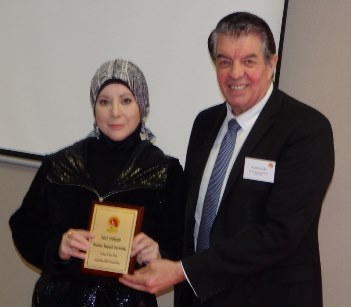 Minister Ray Williams Presenting shield
Thousands attended 34th Multicultural Eid Festival & Fair at the Fairfield Showground Sydney
(Coverage by Zia Ahmad – Syed Zafar Hussain and Talib Haider of SBS Radio)
The annual Multicultural Eid Festival & Fair (MEFF) was held on Sunday 8 July 2018 at the Fairfield Showground with tens of thousands of people celebrating post-Eid festivities after the fasting period during the month of Ramadan.

As one of the most anticipated events on Sydney's multicultural calendar, MEFF is the first, the largest and the longest-running Eid Festival in Australia, welcoming all Australians of various faiths and cultural background.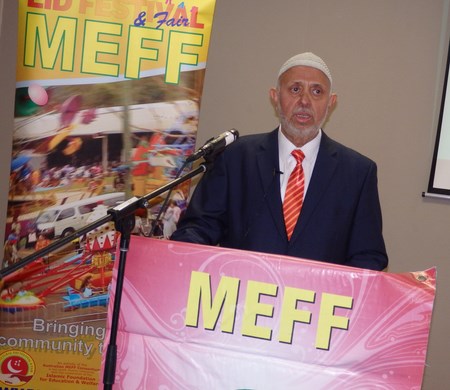 Mr Zia Ahmad of Multicultural Eid Festival & Fair
This was the 34th year the festival has been organised and the event was a tremendous success with Australians of all background and faiths attending with more than 120 market and international food stalls, thrilling rides, showground entertainment and a life-size baby dinosaur, Tarek the T-Rex!
The festival was open all day Sunday with stall holders coming in at 8 am for setting up while gates opened to the public at 11 am with Reception and Cultural Programs starting at 12.30 pm running throughout the day and ending with a spectacular fire show and fireworks at 7 pm lasting for almost 40 minutes.
Four congregational prayers strictly on time were held with thousands of people joining in while children big and small enjoyed thrilling rides and various showground entertainment throughout the day.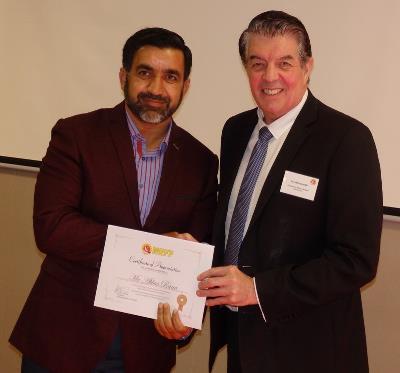 President PAA Abbas Rana receiving Certificate
Before the formal proceedings of MEFF 2018 commenced on stage, Mr Zia Ahmad, MEFF Trustee recited the Islamic prayer for peace and acknowledged the Cabrogal people of the Darug Nation, traditional custodians of the land in Fairfield where the festival is held paying respect to the elders, past and present followed by the welcome address by Mr Ali Alsalami, President of MEFF.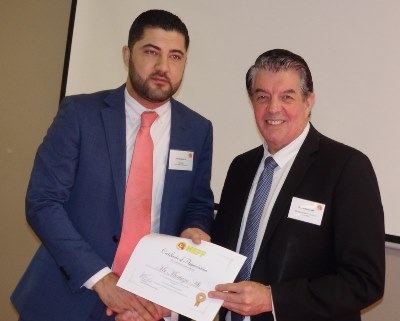 President HWA Ali Murtaza receiving Certificate
The Chief Guest, Hon. Ray Williams MP, Minister for Multiculturalism and Disability Services addressed thousands of people from the stage during the Main Ceremony and said that Australia was a highly successful multicultural country and MEFF was a success story highlighting how we all in NSW got along together thus enriching Multicultural Australia.

Hon. Jihad Dib, S2tate member for Lakemba also addressed the crowd from the stage appreciating the long wonderful track record of MEFF in bringing people of diverse background together and the hard work put in by three generations MEFF Team volunteers spanning more than 35 years.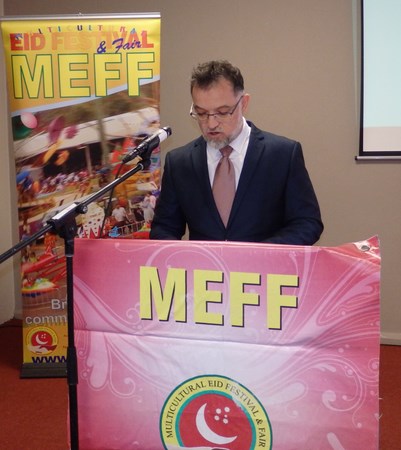 Master of ceremonies Mr Orhan Kaba
The formal MEFF Reception and Eid Lunch was held at the Reception hall. Mr Orhan Kaba of ISRA MC of the event. It was attended by politicians, diplomats, businessmen and interfaith leaders and included a theme "concern for Global Human Rights violations" where invited speakers presented case studies
Mr Hanif Bismi talking about Kashmir
in Myanmar, China, Gaza, Kashmir as well as highlighting the poor treatment of refugees and asylum seekers in the West.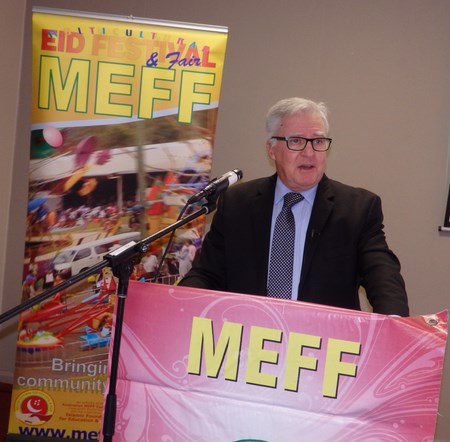 Federal MP Hon.Chris Hayes

Federal MP Hon.Chris Hayes, while acknowledging the long track record of MEFF said, "This historic festival is one of the first, largest and longest running Eid festivals to be held in Australia, bringing together family and friends, from over 35 various cultural communities for thanksgiving, celebrations and memorable experiences.
He further added, "I pay tribute to the founder of MEFF, Dr Qazi Ashfaq Ahmad, for forging what has now become an event imprinted in the landscape of Western Sydney.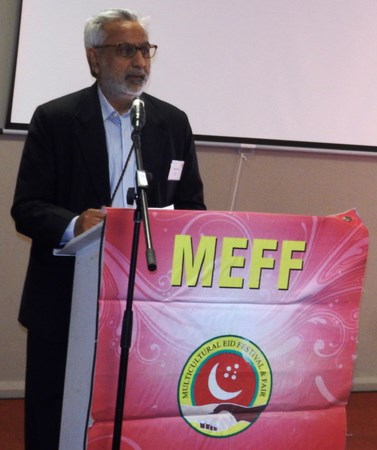 Mr Abbas Raza Alvi of ICSOA
The Indian Crescent Society of Australia (ICSOA) launched its website from the main stage on MEFF Day showcasing its activities, projects and engagement of Muslims of Indian origin in Australia with other communities.

MEFF 2018 was sponsored by Low Cost Housing, Human Appeal Australia, Smartraveller, Hently and Red Chilli Catering and organised with the support of Islamic Foundation for Education & Welfare (IFEW) and promoted by Australasian Muslim Times, MEFF Media Partner.
Chief Guest Hon. Ray Williams, State Minister of Multicultural presented awards to all the sponsors and a number of organisations and individuals serving the community towards the end of MEFF VIP Reception & Eid Lunch.

The organisers of MEFF, The Australian MEFF Consortium, is a non-profit community based organization that brings cross-cultural and cross-religious dialogue and goodwill via an engaging festival. It welcomes feedback from the public and requests other organisations to work in collaboration to make it a more successful event.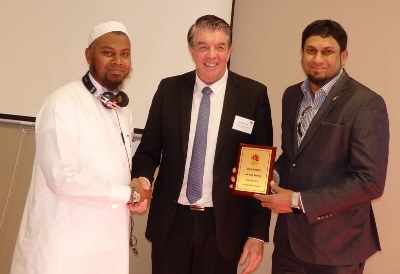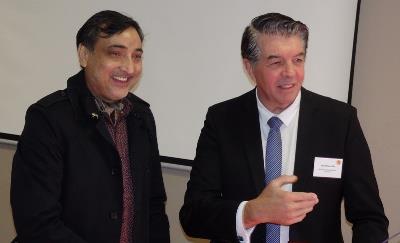 Munawar Rizvi of Red Chilli Catering with Minister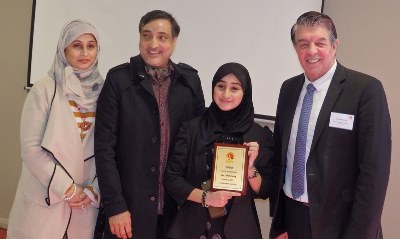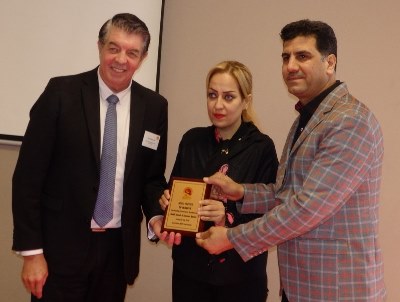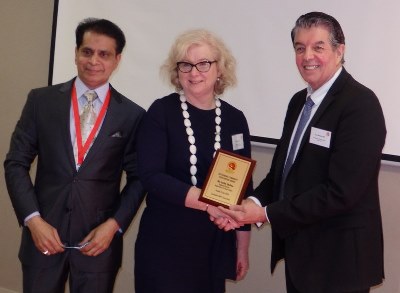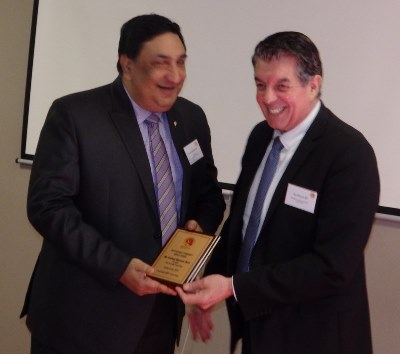 Arshad Nasim Butt receiving shield from Minister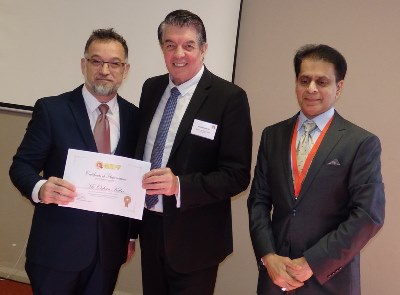 Orhan Kaba receiving Certificate from Hon. Ray Williams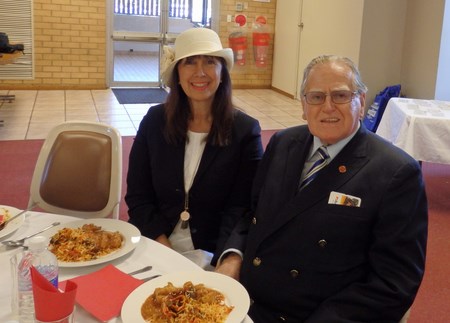 Silvana Nero and the Rev Hon. Fred Nile, MLC
Ali Murtaza, Silvana Nero and Hon. Fred Nile MP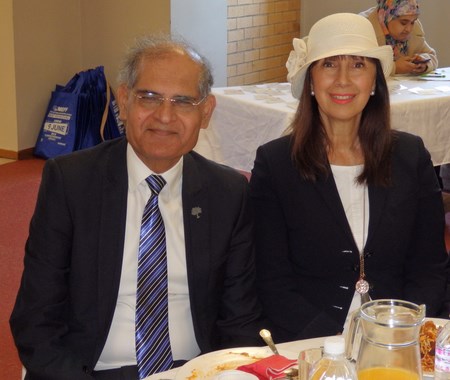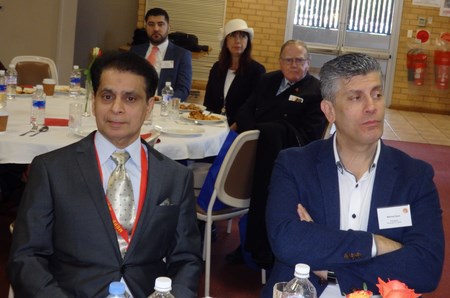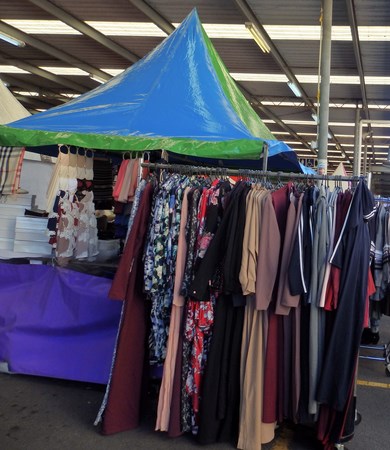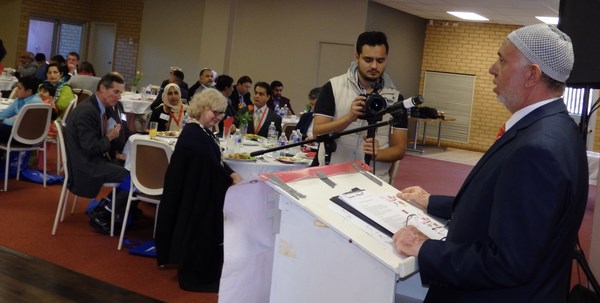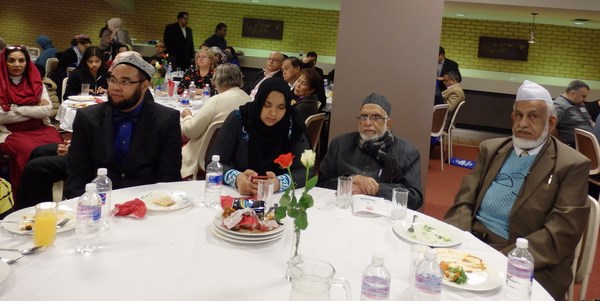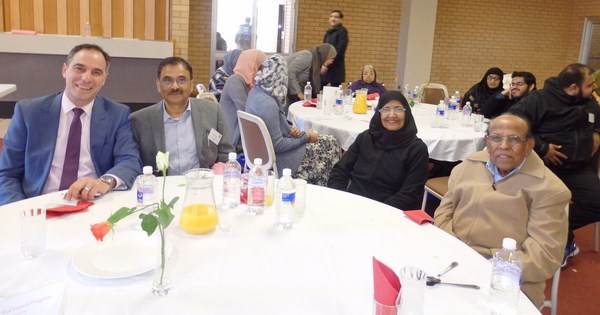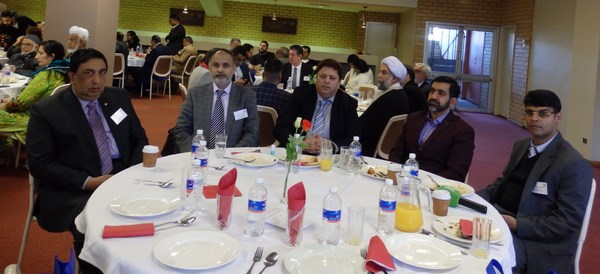 Consul General of Pakistan Abdul Majid Yousfani and other guests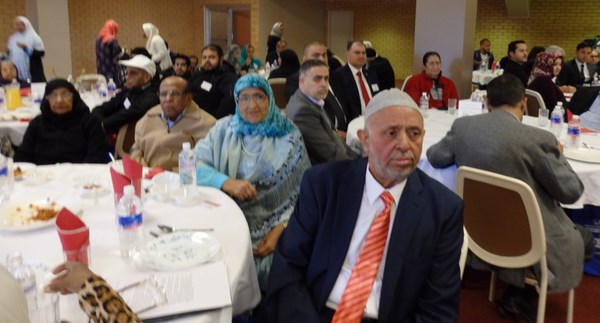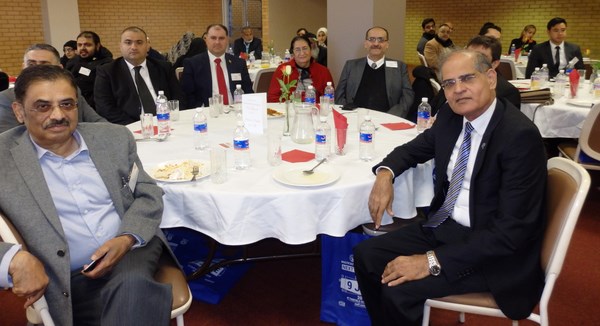 Zahid Jamil, Syed Zafar Hussain and other guests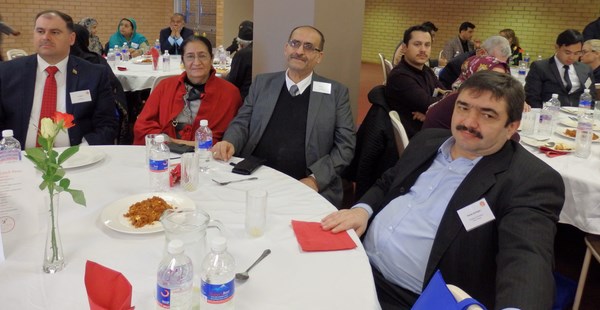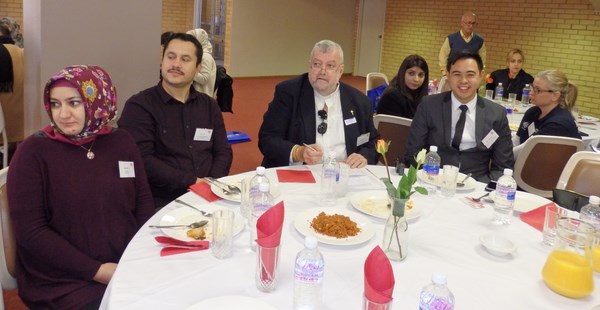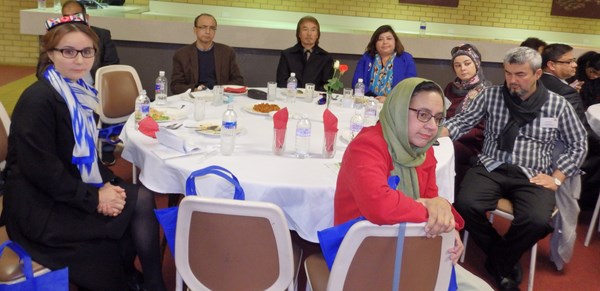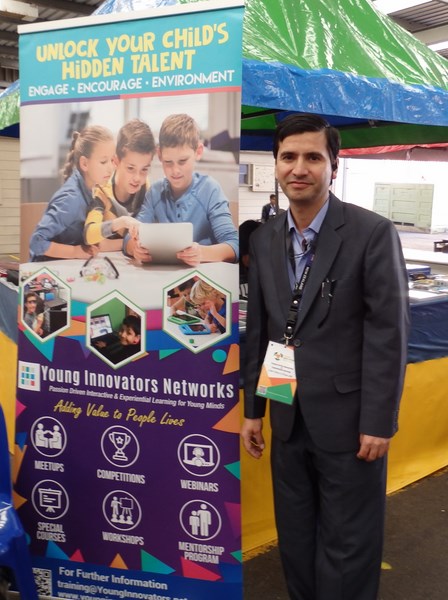 Mr Shafqat Ali at his stall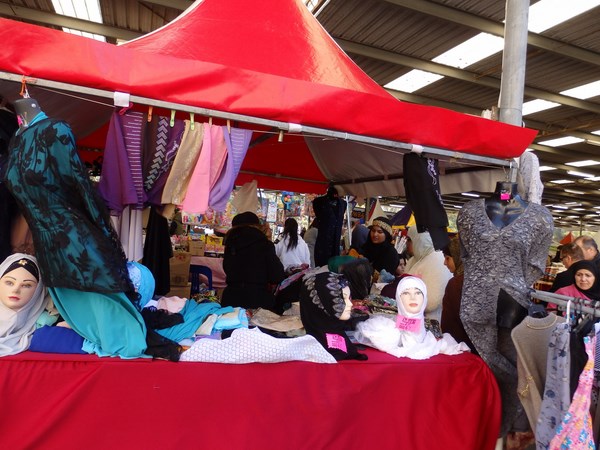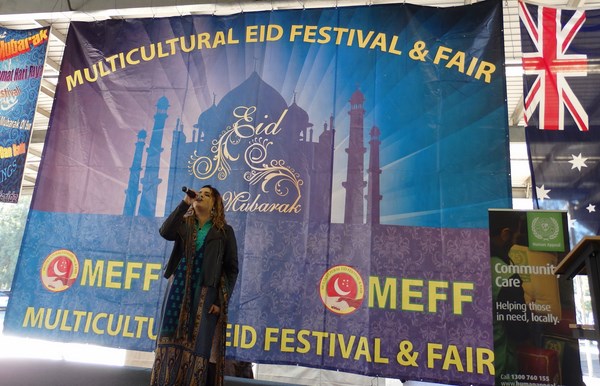 Mehreen Javed presenting Australia National Anthem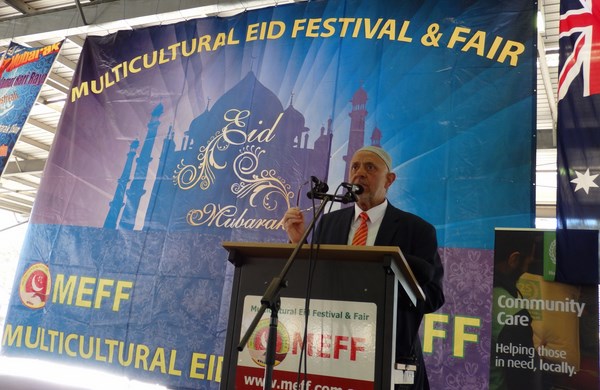 Mr Zia Ahmed welcoming guests at Fairfield Showground