Sada-e-Watan Sydney ™
sadaewatan@gmail.com

Latest Interview of Great Abdul Sattar Edhi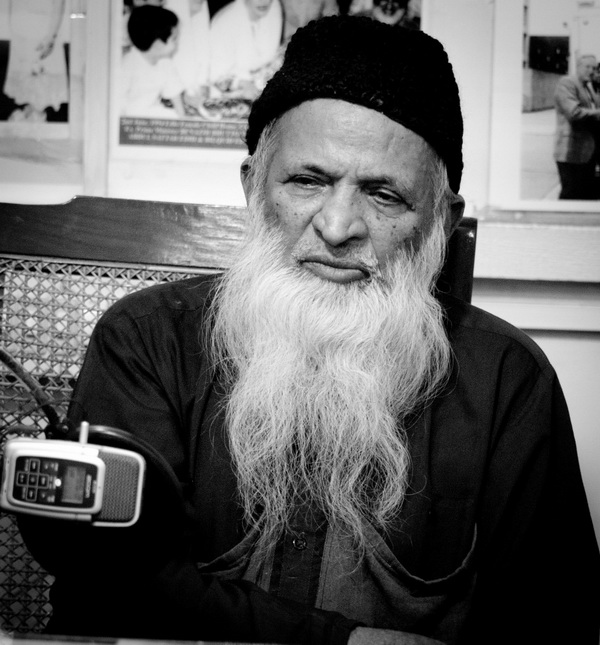 1 Assalam-O-Aliakum!
A.1 Walai-Kum-Assalam!
Q2. Please Tell us something about your family?
A.2 My parents descended from a community of small farmers. Three centuries ago a religious leader in Thatta converted our tribe from the Hindu faith to Islam and named them "Momins" meaning true believers. This was later distorted to Memons.
The Memons moved from Halla in Sind through the Thar Desert or via the Ran of Kutch and migrated to Kathiawar in Gujrat (India). There were different groups, namely the Viravel Memons, the Dorajee and Kotyana Memons, and us, the Bantva Memons.
Q.3. Where did this last name of Edhi come from?
A.3 Actually, we descended from one of the Bantva Memons and our family was called Edhi family. In Gujrati "Edi" means lazy. Bantva is a small village near Junagadh in Gujrat. Once there was a village named Edhi Mohalla, but it disappeared over time. The tribe was vigilant, committed to hard work, and infused with a sprit of humanitarianism.
Q.4 Tell us something about your father?
A.4 My father, Abdul Shakoor Edhi, inherited the profession from my grandfather, Haji Rahmatullah, and was working as a Commission Agent in Bombay. My father was twice widowed before he married my mother, Ghurba. His first wife bore him two sons and a daughter. In those days, there was a shortage of eligible Memon girls, so a lot of men used to bring wives from Bengal, Karnataka and Malabar. My father got married into a Memon family and offered my mother fifty grams of gold as dowry.
Q.5 What was your mother's background?
A.5 My mother, Ghurba, belongs to Deevan family, a respected business house. She had been divorced following a traumatic and violent marriage that gave her a son and a daughter. When my mother married again, her sister raised her two children, while she had to raise those of my father. Memon men spent ten months of the year selling wares in Bombay, Rangoon, Hyderabad, Colombo and Calcutta. This kind of job also kept my father away from home, leaving my mother to mind social work within the community.
Q.6 How do you recall your school days?
A.6 I virtually grew up playing pranks and games on the streets and alleys of Bantva, with little interest in formal education. I was a very mischief-monger in the "madrassah" (school). I became the team leader in the Madrassah and used to divide all the kids into two teams for games. Later, I had a fight in the madrassah as a result of which I had to drop out of my fourth grade. Instead, I started assisting my mother in her social community work. She was so involved in her work and relying on me to distribute the stuff among the needy that she forgot I was missing the school. This work fired my inspiration for social work and it laid the foundation of my future.
Q.7 How did you come to Pakistan?
A.7 During the movement for a Muslim state in India, the British were pulling out and the sub-continent was being divided; a Muslim homeland was in the offing. Mohammad Ali Jinnah had addressed a large rally at Bantva where we collected a party fund of Rs. 35,000. Most of us became four anna members of Muslim League. Soon after Bantva was attacked by Hindus, we all decided to migrate to Pakistan. Four thousand Memons took a train ride to Occha in September 1947. We camped for five days before boarding the boat for Karachi. It took two days by sea, and we suffered no inconvenience in landing at Karachi.
Q.8 What inspired you to launch a charitable organization?
A.8 The Memon community who migrated to Pakistan started business and the first Textile Government of Pakistan and Valika family jointly funded the industry. My father started working as a Commission Agent. Later, my childhood dream was transformed into a reality when I was given permission and money to do business. I started doing small business and become independent at the age of fifteen. In 1948 an advertisement in a newspaper informed the public of the first charitable organization in Mithadar. Senior Bantva Memon made up its Board, and called it the Bantva Memon Dispensary. When the patrons approved eight members for registration, I was the youngest. When members of the community asked my father, "Haji Shakoor, what are you contributing to charity?" He replied, " I have given more to charity than any work or money's worth," pointing to me, he said very earnestly, "I have donated a whole human being to it, watch him."
Q.9 Being part of Bantva Memon Dispensary, why did you start a Separate Memon Voluntary Corps?
A.9 As I was working with the Bantva Memon Dispensary, I realized that the needy were not being helped and there was a lot of discrimination against them. As I had a very little 'word power', I tried to explain to the committee a simple principle: "Humanitarian work loses its significance when you discriminate between the needy." My youthful ideas provoked an angry outburst. At the next meeting I asked, "What is the need for this gathering? "Work is accomplished by doing, not by talking about it." No body listened. Later, the "seths" (big bosses) of the dispensary patronized a charitable function, which I attended as one of their employees. They were all praising each other's efforts and work. I could not bear it, so I stood up and asked permission to speak a few words. The crowd leered and hooted, "Who do you think you are?" Sit down or we will throw you out. Later shoes, chairs and sticks were hurled at me. After this, I quit working for the dispensary. My father supported me in this decision. "The only way to fight back is to ignore them. The only way to win is to forge ahead against them". My father made another suggestion," It is my experience that honest people should avoid taking favors and entering into partnerships". I imprinted this advice on my heart".
Q.10 When did you start your own charitable set up?
A.10 In 1951, I spent Rs. 2,300/- from my savings, to buy an eight-foot square shop in Mithadar. Outside it, I put up a small tin moneybox and called it, "The Memon Voluntary Corps". Ten Memon boys also joined me. The dispensary catered to everyone. Medicines were purchased at wholesale rates and sold cheaper than the retail price. As doctors' fees were beyond the reach of the poor, hired a physician on a fixed salary. This provided an option to the public. The news spread far and wide and the people began turning away from the hoax of the first dispensary.
Q.11 How did you learn to expand your charitable outfit?
A.11 To understand the world beyond Bantva and Karachi, in 1956 I decided to travel to the West by bus. We drove through Iran, Turkey, Greece, Bulgaria and Yugoslavia, and I was surprised that I faced no problems on the way. I was fascinated by the system there and saw how welfare needs were being met in England and learnt to use them myself. I also noted sections that seemed important and were implemented practically. My host friend from Bantva, Siddiq Edhi asked me to stay and offered me a job in London. I refused on the pretext, "I have to do something for the people in Pakistan. A volcano is stirring inside me." I explained to my friend," the five basic tenets of Islam continue into the sixth for me, "Huquq-ul-Ibaad or Humanitarianism" I clarified my point: "Within this tenet lies the essence of all religions and test of all mankind, a universal brotherhood is evident from it. All religions move in the same direction and towards the same goal…. humanitarianism and all Holy Books convey the same message.
Q.12 How did the dispensary grow?
A.12 Two years after setting up and establishing the dispensary, I changed its name to Madinah Voluntary Corps. The shoddy state of women in our society compelled me to open a maternity unit. I hired a room above my dispensary and advertised a nursing course. Under the supervision of a lady doctor, I set up the maternity unit, which was soon flooded with applications for training. We offered one hundred and fifty rupees for a three month training course, following which the girls would be obliged to spend three months training the new students. At the end of six months, they were free to take up employment elsewhere ensuring us service and them independence. Delivery cases turned up at all hours of day and night. To run the business through the sale of medicines was not enough. So an idea crossed my mind – placing advertisements in newspapers exhorting the people to donate the skin of goats sacrificed on the occasion of "Eid."
The advertisements generated a good response, as Zakaat, Sadakha and Khairat began to pour in. Further, outside the dispensary I put up a banner like I had seen in England. They had requested donations for restoration quoting an amount for specific work and giving an account number. My banner said: "Those who give charity are blessed, those who do not are also blessed".
I gave the dispensary account number. In the meantime, while I struggled to break the communal monopoly on charity, my mother became very sick. During her illness, she was confronted with the amazing problem of transport as the sick were provided nothing in terms of mobility. The first time I had attempted to get an ambulance to take my mother to a hospital, I was told that there was only one in the entire city of Karachi and this belongs to the Red Cross and was not easily available.
Q.13 How was your charity work first recognized by masses?
A.13 In 1957, thousands of people fell ill and hundreds died during the Hong Kong Flu epidemic. I decided to plunge into the crisis. It was my first major financial risk, which I took against the warning of my colleagues. I rented tents on credit and put up camps all over the city. In Malir alone, where there was not much population, we set up thirteen camps. I recruited volunteers from the names I had been listing over the last two years, stocked the camps with immunization injections and medicines to combat and control the outbreak. Outside each tent, I placed a moneybox, which read: "Pay what you can. Don't if you cannot. "Although all the camps were free, people donated what ever they could. The people discovered me, it was the first mass recognition of my work, and endorsement of my belief that dedication and public come together. Soon after, we had our first financial breakthrough when a Memon businessman, who had watched my work closely, donated Rs. 20,000/- to the dispensary. That same evening, I purchased an old Hillman Van for Rs. 7,000/- and on both sides inscribed the words "Poor Man's Van." This van was a major part of my education, as I soon covered the length and breadth of the province.
Q.14 Why did you change the dispensary name to Edhi?
A.14 As the work of my dispensary, maternity Unit, the destitute from footpaths, mentally retarded from shrines and garbage dumps, the aged who took shelters in concrete pipes were lodged first upon the roof at Mithadar, later two halls were rented out. This didn't end here. A telephone was installed in the dispensary, which further increased our workload. The seths (businessmen) and other opponents group from the other dispensary started saying, "he is providing a little to gain a lot. He feeds on the bread of the deprived" others started saying " Who knows about his accounts? Who has checked his income and expense sheet? Where is the money going?" My friends started saying " Why are you afraid if there is no discrepancy?" What bothered me was something else. Who were they to demand accounts?
I would not give them anything. It was a cold winter night, the lights went off and a thought flashed like a storm in the stillness. Lightning struck through my mind. The very next morning I changed the name of the dispensary and had the van repainted with: EDHI. I announced that as all money was remitted to me, to Edhi the man, not to a committee, board, group or organization.
I was personally responsible. To further reinforce my statement I stated, "If a donor is in doubt he will be refunded, more than that, I am not prepared to pacify him. If the money is entrusted and declared to me, I have the right to decide its method of disposal.
Q.15 Who and how did you get married?
A.15 I wanted to get married at the time when my mother was very sick. I felt that someone should assist me in my work for my mother. I proposed to a nurse recently divorced with a son working in our maternity unit. My proposal was turned down with lots of questions like "What do I have to give it to her? How will I keep her? When I am not with my mother, I sleep outside on the bench" and so on.
Two years later, I again proposed to a few more but they all trotted out various excuses. It had been nine years since my first move on marriage. I had put the idea aside so strongly, that nothing had stirred it again. Time had passed so swiftly, that I had not even realized how old I was getting. Her name was Bilquis. Her aunt, whose baby had been delivered at the unit the night I first saw her, had joined the midwifery course before the 1965 war. She started working, I was on her lookout. I started taking fancy for her thought that she will assist me in accomplishing my mission. So I inquired seriously about her, when our lady doctor surprised me. "Edhi Sahib, she is the best worker who has passed through my hands yet. Her work is always complete in the shortest time, and without any fuss. Everybody wants her, the patients want her, the girls want her and I cannot do without her." I finally proposed to her. It was approved by her aunt and mother and we got married on Thursday, April 19, 1966.
Q.16 How many children do you have?
A.16 We have four children - two daughters and two sons. The eldest daughter, Kubra, Kutub the eldest son, Ilmas, the second daughter, and the youngest son, Faisal.
Q.17 What are all your children doing?
A.17 Kutub is looking after the activities we are having outside Pakistan and is stationed in our New York office. Kubra is taking care of our setup at Mithadar, basically all the financial matters, Ilmas is a housewife and Faisal is now with me all the time and is working as Assistant President of the Edhi Foundation.
Q.18 You just mentioned about Edhi Foundation. Is it a registered foundation?
A.18 Yes, it is. I established a Trust and named it Abdul Sattar Edhi Trust and Edhi Foundation and got them registered in 1974. The work of Edhi Foundation has now extended beyond Pakistan and has spread out on an international scale. Today branches of Abdul Sattar Edhi International Foundation are providing regular services in New York, London, Australia and many more countries.
Q.19 What are your New York and other stations doing?
A.19 It was noticed that people faced problem in bathing, shrouding and burial of bodies of Muslims residing in America. Edhi International Foundation, New York, has purchased a 4-acre plot in the suburbs of New York and named it "Edhi Graveyard." The process of bathing and burial of Muslim bodies has started with the New York center. Moreover, Edhi International Foundation is purchasing two buildings, one in New York and the other in London, for establishing hostels. They will provide facilities for temporary residence to patients from third world countries, going there for treatment. Besides, both centers will have a team of doctors specialized in various diseases, who will correspond with patients desirous of getting treatment, for guiding them so that they could minimize the cost of treatment.
Q.20 What's the current status of your Highway Project?
A.20 The name of the project is "Edhi 50 Kilometer Project." Under this project, it is proposed that 500 centers be constructed on all highways and major link roads of Pakistan. These centers will provide first aid to accident victims and arrange for their speedy transfer to nearby hospitals. Work has started on this project and a few permanent and 125 temporary centers have already started functioning. Each center will have three ambulances, a four-bed clinic, a dispensary, and a mobile dispensary. All the centers will be linked to each other by wireless.
Q.21 What are your welfare centers' main activities?
A.21 The list will be too long but I will highlight the major activities of all the Edhi Welfare Centers all over:
Free shrouding and burial rites of unclaimed bodies by all centers.
Shelter and medical aid to the homeless, mentally retarded, destitute and handicapped men, women and children recovered from the streets.
Sheltering, educating and giving technical training to homeless boys and girls, who are otherwise mentally fit.
Offering a permanent shelter to helpless girls and women. Educating them and giving nursing and midwifery training and monthly allowances to those who are somewhat educated.
Offering shelter and security to girls and women, from various parts of Pakistan, who have left their homes in anger. Also, convincing them to return home and helping them in getting back to their relatives.
Restoring lost and runaway children, from various parts of Pakistan, to their heirs.
Taking care of newborn babies who have been abandoned in garbage dumps, on the streets or in our "Jhoolas". Giving them medical care and finding foster parents for them.
Free Ambulance Service throughout Pakistan for injured and dead victims of any kind of emergency, disaster, floods, riots, earthquakes, droughts and accidents on roads and highways. Besides providing free blood, life saving drugs and other medicines, if needed Edhi ambulances and helicopters also shift the injured to major towns free of cost.
Patients and dead bodies transported within city limits and to other towns and cities, at a 200% financial loss, by a fleet of 400 ambulances, one helicopter and two used as air ambulances.
Emergency relief to millions of affectees in case of any emergency, natural calamity, drought, flood etc including provision of ration, cloths, medicines, blankets, duets and other articles of daily use.
Free services of Edhi voluntary divers to recover the bodies of those drowned in rivers, canals and the sea.
Standing surely for and getting released innocent, kinless, and mad prisoners, with the help of voluntary lawyers, and providing them shelter.
Supplying hundreds of kilograms of meat daily to various government hospitals, patients of T.B. sanatoriums and residents of poor localities.
Free treatment of thousands of patients daily through a network of Edhi dispensaries established all over Pakistan.
Hundreds of blood and urine tests carried out daily at Edhi Free Laboratories for patients of diabetes and other diseases.
Free treatment and medicines provided daily to patients at Edhi Diabetes Centers.
Medical assistance by doctors specializing in various diseases offered at "Edhi Free Diagnostic Center"
Free treatment and medication for tuberculosis patients at Edhi Chest Hospital at Hyderabad and Clinic at Sabzi Mandi in Karachi, Pakistan.
Hundreds of babies delivered every month at Edhi Maternity Homes.
Free vaccination services whereby expected mothers and newborn babies are inoculated against various diseases.
Free inoculations carried out in case of outbreak of any contagious disease.
Thousands of wheelchairs, crutches, latrine chairs and pots, and white sticks of international standard for blind, given every year to those who are penniless and disabled.
Oxygen cylinders, wheelchairs, suction machines, patient's beds, crutches and latrine chairs provided to needy patients, round the clock, for a very nominal deposit.
Distribution of cloths and sweetmeats to prisoners in all jails and remand homes of Pakistan, regardless of their faith or religion, on all major occasions for celebration.
Constant supply of daily use items to refugee camps established in unoccupied Kashmir and for refugees arriving from occupied Kashmir.
Shelter for homeless or abandoned animals at Edhi Village.
And much much more….
Q.22 What is the daily expenditure on all Edhi Welfare Services and from where do you get the amount?
A.22 For the performance of all the above welfare services, Edhi Welfare Centers are incurring expenses of Rs. 500,000 (5 lacs) daily. All these welfare activities are carried out solely on the basis of donations received from the public, and without any aid from any government or international donor agency. Every single paisa that is donated is spent on ameliorating the sufferings of the ailing humanity and acts as welfare insurance for the citizens of Pakistan.
Q.23 What are the different Heads for payment and donating at Edhi Centers?
A.23 There are different heads of accounts and the expenditure is done accordingly. The details are as follows:
Free ambulance service is provided for transporting unclaimed bodies and for victims of accidents, emergencies, riots etc. Expenses for this are met from funds received as zakat, sadqat. If you want you can deposit money under these heads at any Edhi Welfare Center.
Charges for transporting patients/dead bodies locally to their homes or hospitals are fixed and are displayed on the walls of all Edhi welfare centers. After paying for the ambulance charges please do not forget to take a receipt for the charges paid by you. In case of non-issuance of a receipt, kindly inform us at once in writing.
The maximum distance for local service for transporting patients/dead bodies is 100-115 kilometers from any Edhi welfare center. Ambulance are not sent for distances exceeding this limit, as providing services at too far a distance creates hindrances in the performances of the other activities.
Edhi Welfare centers perform community welfare services. The organization does not give any cash funds under any heads or any funds for helping in marriages, going abroad for treatment etc.
Q.24 As I heard that you personally beg for donations at any place. In Pakistan from which province do you get the most donations?
A.24 My mission is to serve the humanity. For that I do not feel ashamed in begging it myself for the humanity. I have been getting donations from all the provinces of Pakistan. Further, people of Pakistan from all the provinces abroad also give me donations. To tell you the truth the people from Punjab Province are the one who give donations whole heartedly no matter where they are. I have seen them in all parts of the world and whenever I ask for donation they are the first to respond and give as much as they can. I thank all Pakistanis with whose help I am serving humanity, which is the mission of my life.
Q.25 Do you have any message to the Pakistani Community through Contact Pakistan?
A.25 I want to convey a message to all Pakistani Community members that " To all of you who have been richly blessed by ALLAH and for the sake of humanity, I beseech you. Help me to help those who are less fortunate than you. May ALMIGHTY ALLAH Bless you all."
Allah Hafiz