Sada-e-Watan Sydney ™
sadaewatan@gmail.com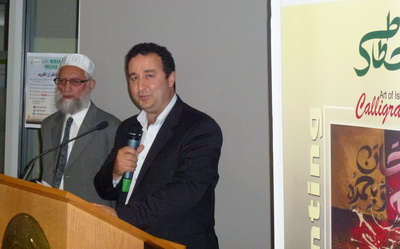 Transcript of the Chief Guest Honourable Shaoquett Moselmane MP's Speech
OPENING OF ANJUM AYAZ ARABIC CALLIGRAPHY EXHIBITION
Delivered on Sunday,28 April 2012 at The LMA Function Hall, 71 Wangee Road, Lakemba Sydney
Consul General of Pakistan in Sydney Hon. Azam Muhammed, Defence Advisor Pakistan High Commission Brig. Zahoor Ahmed, Legendary poet FAIZ Ahmed Faiz's Daughter Moneeza Hashmi,President of the Commonwealth Broadcasting Association,our honoured guest and international artists, Mr Anjum Ayaz, representatives of the Central Coast Islamic cultural Centre; Distinguished members of the Pakistani & Arab Community, Pakistani media, my friend Zafar Hussain from Sada-E-Watan and many other distinguished guests; Friends, Ladies and Gentlemen,

I wish to acknowledge the traditional owners of this land and pay my respects to their elders past and present.
I also recognise the support of the sponsors of this event, Khan's Corner and of course special thanks to our host, The Lebanese Muslim Association for kindly hosting this beautiful exhibition and for their endorsement of this as a charity event.

Special thanks also to Mr Syed Zafar Hussain of Sada-e-Watan Sydney, whose Pakistani news website came up as a main number one source when at Internet, I was searching for information on our guest artist today, Mr Anjum Ayaz. Mr Zafar Hussain's dedication to informing the Pakistani community in Australia deserves recognition, and I thank him for all his hard work in service of the community.

However, friends, today we are here to appreciate the Islamic calligraphy artwork of world renowned and award-winning Pakistani artist, Mr Anjum Ayaz.

Islamic calligraphy has a long and proud history, with major styles branching-off as various calligraphers mastered the art-form and spread it across the globe.

In using different mediums and unique interpretations, these artists throughout history were able to express their views and feelings in a way which can both communicate the experiences of people from across Asia, Africa, the Middle East, or Subcontinent, but also do so in a way that can be understood by each of these cultures respectively.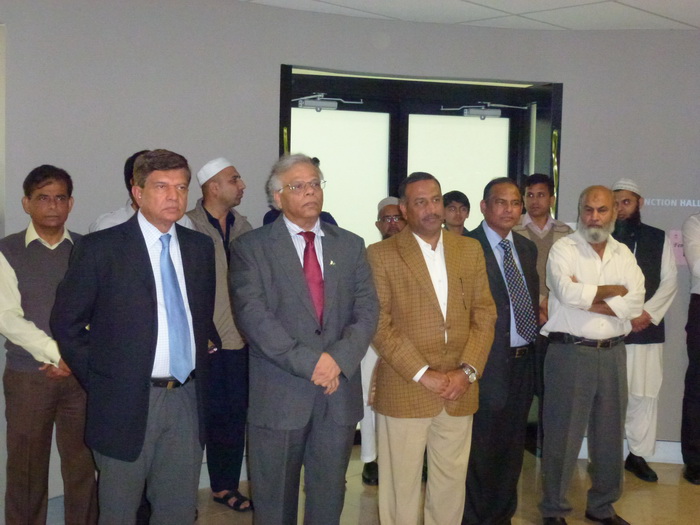 In fact, today there are hundreds of artists, too many to name and recognise in the field of Islamic calligraphy, but the artwork of Mr Anjum Ayaz, an internationally recognised artist is of standard comparative to other distinguished Pakistani artists whose work we see in that of Mustafa Halim Afendi, Wissam Shawkat, or Mukhtar Albaba, and indeed the most senior master calligrapher from Pakistan, Khalid Javed Yousuf, as well as with Mr Muhammad Badawi Derani, Hashem Muhammad Alkhatat and Hafiz Muhammad Yousuf and many others.

Mr Anjum Ayaz today brings us his artwork for all to appreciate and enjoy – irrespective of culture or creed.

His work has been exhibited right around the world, and according to Sada-e-Watan Sydney, Mr Ayaz is an artist with a mission. Like a poet, he is able to discern forms and compositions in his environment which are not normally seen by the rest of us.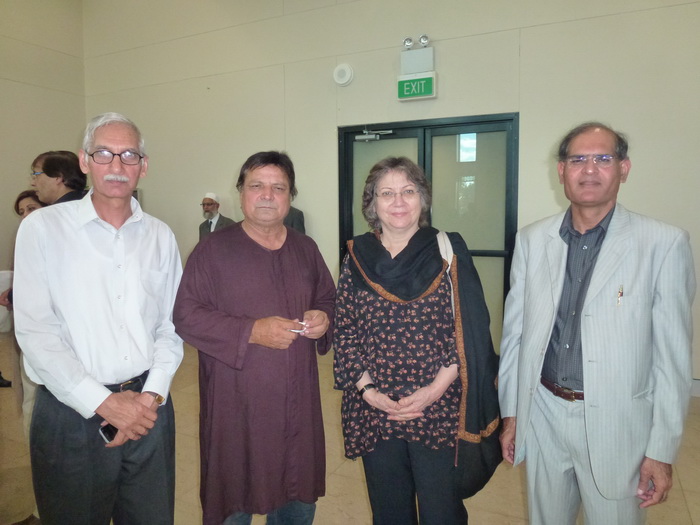 It is his mission to convey this world to us – one which, as a contemporary artist, allows us to bear witness to his faith in Islam and love of Islamic culture.

This kind of art, and indeed other Islamic art, has not always been readily recognised by sections of the Western media, but it is my hope that exhibitions such as this can build bridges between East and West, and wash away some of the misconceptions and barriers that hinder dialogue between the two worlds.

Friends, it is artists such as Mr Ayaz who will play an important part in building bridges between cultures, and convey the beauty of Islamic art for all to see – irrespective of their own background.

Mr Ayaz is a modern artist, who is in sync with contemporary world and his calligraphic paintings on display bears testimony to his love and commitment to what Islam and Muslims are all about.

I thank you all for putting this wonderful art exhibition together, and hope that it can play a part in promoting Art, Islamic art and Islamic culture.