Sada-e-Watan Sydney ™
sadaewatan@gmail.com

Motion moved and agreed to by the NSW Legislative Council Of NSW,noting Anjum Ayaz and his extensive creations in painting,sculpture,the fine arts and Islamic Calligraphy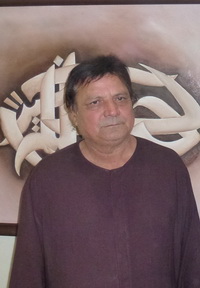 ARTWORK OF ANJUM AYAZ Page: 2
Motion by the Hon. SHAOQUETT MOSELMANE agreed to:
1. That this House notes that:
(a) Mr Anjum Ayaz is an internationally renowned Pakistani artist and sculptor and an Islamic calligrapher, born on 22 March 1942,
(b) Mr Ayaz graduated with a degree in fine arts in 1970 and his life is captured in the extensive work he has exhibited worldwide,
(c) Mr Ayaz's exhibition of Islamic calligraphy was opened by the Consul General of Pakistan, His Excellency Mr Azam Mohamed, and the Hon. Shaoquett Moselmane MLC,
(d) Mr Ayaz's work has also been exhibited in Montreal, Paris, Marseille, Tokyo, Dubai, New York, Beijing, The Hague and regularly in Pakistan for the past 30 years,
(e) Mr Ayaz has produced public sculptures in important cities of the world like Tokyo, Beijing and Montreal,
(f) in Tokyo, Mr Ayaz's stone sculpture entitled "Smile" is placed by the roadside near Azabu Market, his art piece entitled "Indus Bull" was exhibited in the Athens Olympics and in Beijing his work "Life", an 18-foot high stone piece, was placed in the Sculpture Garden for the 2008 International Olympics,
(g) Mr Ayaz is also an actor, beginning his acting career when he joined the Young Player Theatre Group, an active amateur group in Lahore,
(h) Mr Ayaz began acting in the new medium of television in Pakistan and later joined Ali Ahmed, who is a highly committed playwright and director of the group Natak, with whom he produced many plays including Qissa sotey jagtey ka and Bara Sahib,
(i) when Anjum Ayaz came to Karachi in the seventies he formed a theatre group called Creative Workshop where he adopted and directed leading plays of the world and also adapted Saadat Hassan Manto's short stories Badshahat ka Khatima, Kali Shalwar, Spgamdi and Safar ki Taraf, and
(j) Mr Ayaz is currently a member of National Academy of Performing Arts [NAPA].
2. That this House notes the artwork of Anjum Ayaz and his extensive creations in painting, sculpture, the fine arts and Islamic calligraphy.
The Hon. Shaoquett Moselmane MLC.
Parliament of New South Wales
Parliament House,
Macquarie St, Sydney NSW 2000 Australia