Sada-e-Watan Sydney ™
sadaewatan@gmail.com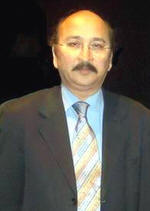 Famous Poet Ashraf Shad is in Australia Again
Mr. Ashraf Shad, the Head of Group SBS Radio Sydney and eminent writer, journalist and poet is back in Sydney and resumed his responsibility at the SBS, presenting radio program last Sunday 14 January. Ashraf has been on long leave and is currently based in Al Ain, the Garden City of the UAE, only about one-hour-drive from Dubai. He is working for the major University of the Emirates, UAE University, as the Academic Editor and the Editor of its magazine "Research Affairs".

Ashraf Shad, who is a close friend of Zafar Hussain, the Chief Editor of Sada-e-Watan, will be here for a month and would go back to Al Ain and will return again in few months. The wife of Mr. Shad, Yasmeen Bhabi (Dr. Kaneez Fatima Shad), who is running a scientific research project at the UAE University Al Ain, has also taken up a position as a foreign faculty professor with the Higher Education Commission of Pakistan, setting up research labs and is supervising PhD students in areas of molecular medicine and neuro-physiology.

Mr. Ashraf Shad told Sada-e-Watan that as long as Yasmeen Bhabi is committed to Pakistan he would spend most of his time in Pakistan and the UAE. Mr.. Ashraf is the author of half a dozen books and his novel "Bewatan" received the Prime Minister Literary Award from the Pakistan Academy of Letters. Sadre-Mohtaram was his last book and he is now researching for his new novel "Judge Sahib".