Sada-e-Watan Sydney ™
sadaewatan@gmail.com
Rockdale City Council Australia Day Celebration was held in Sydney







Member of the Parliament of NSW Honourable Shaoquett Moselmane's Australia Day 2012 Speech
Mayor, Councillors, distinguished guests, ladies and gentlemen and our newest Australian Citizens, good morning to you all and welcome to this Rockdale City Australia day celebration and special welcome to members of our Australian Chinese Community who are today also celebrating Chinese new year - happy Chinese new year.
I would like to take this opportunity to thank Kamahl for gracing us with his presence today and to thank Koomurri Australia....................................for welcome to country and show my respect to and acknowledge the traditional owners of this land, of elders past and present.
We must always in celebrating Australia day remember who we are, where we came from and who this land belonged to. We must always reflect on the journey our country and our people have made but in doing so we must always remember that this land is and will always be Aboriginal land. 2 centuries of non native settlement should never extinguish the rights of Aboriginal Australians. They cared for and inhabited the land not for a couple of centuries but for thousands of years.
In my short speech today, I would like to focus a little not on whether or not racism still exists in Australia or whether or not we are a multicultural nation or even to speak of Australia's magnificent beaches or its bluer than blue skies.
Rather, I would like to talk a little about our aboriginal people whom I respect. I believe that it is time that we properly recognise our first Australians and that we treat them with the genuine respect and dignity that they deserve.
I recently visited Lebanon and on one occasion there was some discussion that centered around Arab people's revolutions and about human rights in Africa and the Middle East. Only to be jolted by a stinging remark made by one Lebanese citizen that you Australians should be the last to speak of human rights, just look at the way you treat the owners of the land he said.
Sadly the remark thrown at me is not far from the truth. We only recognised Aboriginal Australians as worthy of counting in our census in the 1960s and here we are today in the 21st century, in January of 2012 still talking about whether or not we ought to recognise the first Australians in the nation's founding document, celebrating their culture and language, and ridding the constitution of the last vestiges of racism.
Today we have more than ever a compelling argument for change. A panel of indigenous thinkers, representing all sides of politics and including several of the nation's most respected indigenous thinkers and brightest legal minds – have argued for change and acceptance.
It is one of the most fundamental human rights to accept the existence of the other as a human being and to treat those people with the respect and dignity they deserve.
We recognised our first Australians in our census in the 1967 referendum, and then we recognised their land rights through Mabbo the land mark high court case. In solidarity with our Aboriginal Australians and in our thousands we walked the bridge in 2000. We even shed tears as we apologised in 2008 to the stolen generations and the past wrongs committed against our first Australians. All such steps though important and powerful remain symbolic. None afforded real recognition or remove all racial discrimination in our national constitution.
Today, we should no longer speak of this objective as a challenge but as an opportunity to harness the passion of reconciliation. I want one day soon if not today, to talk no more of we or us and them, but of all of us as Australians.
Mayor, councillors, staff distinguished guests Ladies and gentlemen I thank you for the opportunity to speak with you today and wish to congratulate all of the citizenship recipients and welcome their families and friends who I believe will treasure this special day for the rest of their lives.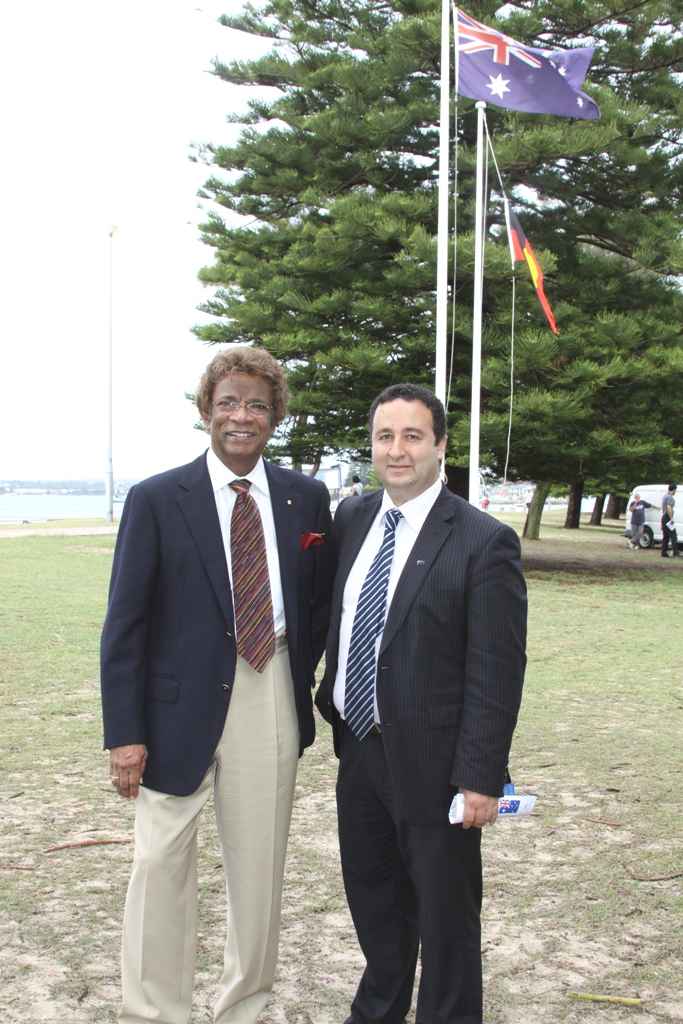 Rockdale City Australia Day Ambassador Kamahl with Hon.Shaoquett Moselmane
Hon.Shaoquett Moselmane MLC Presenting a Certificate of Rockdale City Citizen of the year to Mr Mikall Chung