Sada-e-Watan Sydney ™
sadaewatan@gmail.com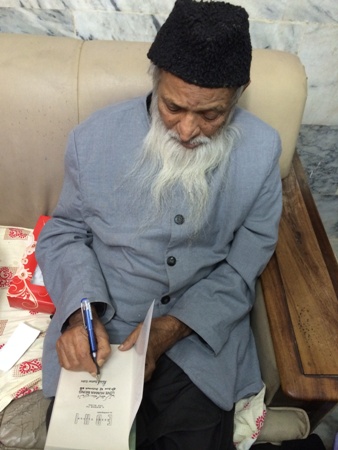 Australian Delegation meets Abdul Sattar Edhi in Karachi Pakistan
(Exclusive Report with Photos to Sada-e-Watan by Hon. Shaoquett Moselmane MLC)
Australian delegation meets Abdul Sattar Edhi at his home / office in Karachi. Mr. Sattar's quarters were a simple room with a kitchenette and an office. Meeting with Abdul Sattar was a humbling experience, knowing that Mr. Edhi has given 60 years out of his 85 year life to the needy people in Pakistan.
It was an honour to spend a short but valuable moments with a great humanitarian. We had the honour of showing him the work of the western Australian based humanitarian foundation known as " Wheel Chairs For Kids" and formally advised him of Edhi foundation receiving a Bill of Lading of a container of 340 wheel chairs. Mr. Edhi was thankful and most impressed by the kind and valuable humanitarian work that Wheelchair For Kids is doing for disabled children around the world.
We were invited by Mr. Edhi to visit his home and see his way of living. It was a moving experience to see such a simple life produce such monumental humanitarian achievements.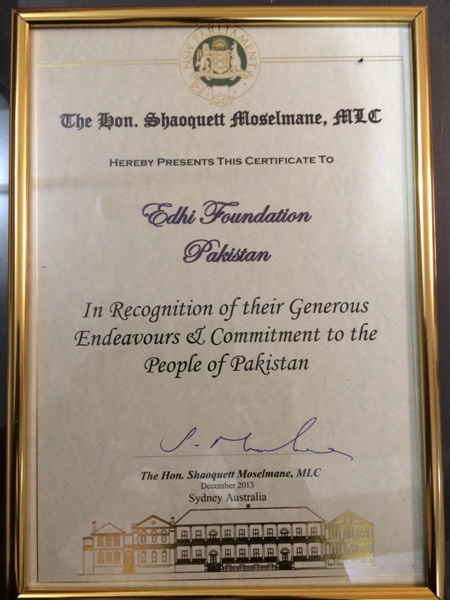 We had the pleasure of exchanging gifts. Mr. Edhi presented us with a couple of his books which he happily autographed. We then presented him with a certificate in recognition of his generous endeavours and commitment to the people of Pakistan. The following is a brief background of the Edhi foundation.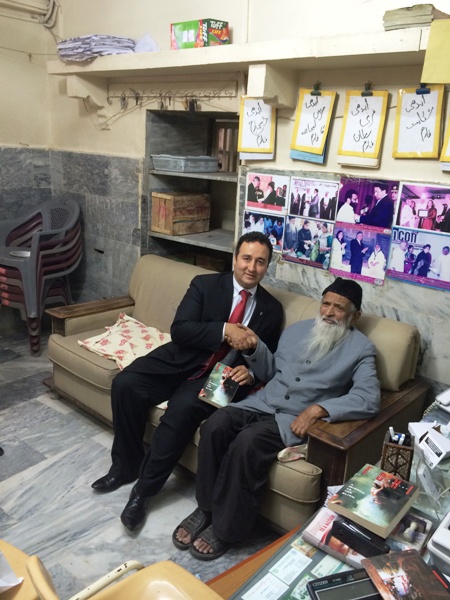 The Edhi foundation is the most trusted name in Pakistan when it comes to relief work within distressed areas in Pakistan and the rest of the world.
Edhi foundation is a NON Profit organization that has been in the business of providing social services like medical care, emergency services, air ambulances, burial services, mental habitats, old homes, child welfare services, abused women safe houses and training facilities for the disadvantaged.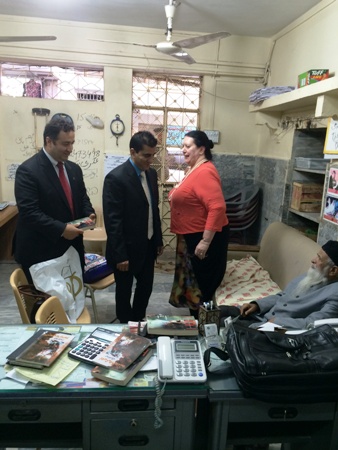 Edhi's founder is Abdul Sattar Edhi who established the first clinic in 1951.
Edhi Foundation's activities include a 24 hours emergency service across the country through 250 Edhi centres which provide free shrouding and burial of unclaimed dead bodies, shelter for the destitutes, orphans and handicapped persons, free hospitals and dispensaries, rehabilitation of drug addicts, free wheel chairs, crutches and other services for the handicapped, family planning counselling and maternity services, national and international relief efforts for the victims.
Currently the Foundation is a home for over 6,000 destitutes, runaways and mentally ill, and it provides transportation to over 1,000,000 persons annually to the hospitals, in addition to other wide ranging services.