Sada-e-Watan Sydney ™
sadaewatan@gmail.com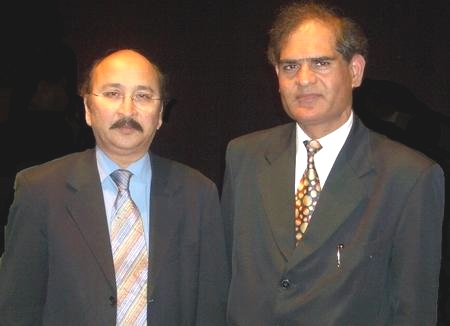 Mr.Mirza Ashraf Shad Baig & Syed Zafar Hussain
Ashraf Shad shifted from UAE to Brunei but coming on short visit to Sydney
The literary community of the UAE paid rich tributes to Ashraf Shad, a leading novelist, poet and journalist, for his contribution to Urdu literature and creativity. A farewell party was organized at the UAE University Social Club in Al Ain where poets and writers from different emirates of the UAE highlighted his creative achievements. Ashraf Shad has left the UAE where he has been working for the UAE University as the Editor of its magazine 'Research Affairs' and the other English language publications of the University. He has now moved to Brunei to join the University of Brunei where his wife, Prof. Kaneez Fatima Shad (Yasmeen), has joined the Institute of Health Sciences of the UBD.
Ashraf Shad is reaching Sydney from Brunei on Thursday 24 February where his contact number will be 0431 029 388
The readers of the Sada-e-Watan can see the report of his farewell party and Moushaira in Al Ain may be viewed at facebook or by clicking the following link.
http://www.facebook.com/l/77464aN2gnxmpKfAtyt9HhV8npA/saliqamag.com/free-online-urdu-magazine-اردو/3296