Sada-e-Watan Sydney ™
sadaewatan@gmail.com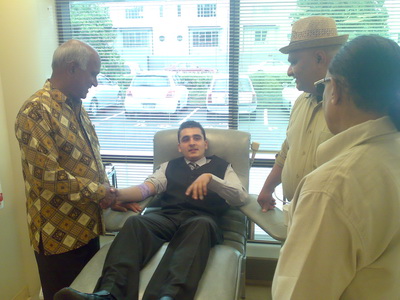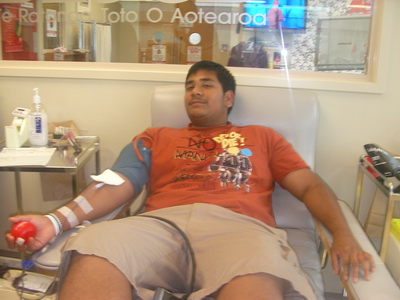 Blood Balti (Blood donation): a fantastic contribution to humanity by Pakistani community in New Zealand
(By:Dr Ashraf Choudhary QSO JP - Former Member of Parliament New Zealand)
It is often said that migrant communities do little voluntary contributions to the host community. But not so says this Auckland based Pakistani community group called Sohni Dharti. Sohni Dharti claims to be the first Pakistani community website started in New Zealand a number of years ago.
This group is led by Zuber Saleem aka BillaG includes Raja Naeem Alam, Jamshaid Ul Hasan, Haji Mumtaz, Javed Iqbal and Yaqoob Bhatti; all Pakistani New Zealanders.
Ten years ago this group started the first and only one ethnic community initiative called 'Blood Balti'. The initiative is called so because it collects 'bucket loads' of blood. The Blood Balti, in association with the New Zealand Blood Bank, collects blood donation from community members once a year at a pre-organised event.
The organiser Zuber Saleem aka BillaG says that "the success of blood Balti is a very small human effort in the way of Almighty God for humans to survive and thrive".
He says that "when we announced the first Blood Balti in 2002, we did it just for the sake of fun. It started from my home in Penrose, Auckland. Nine people gathered together and we had a massive BBQ for lunch and then we all went off to the NZ Blood Bank. The whole plan was already coordinated with the Blood Bank and all of us donated blood. Afterwards, we came back to my place for another round of BBQ dinner. Everyone was happy, gathering ended with the determination that we will do this again'.
The NZ Blood Bank has declared the Sohni Dharti's as one of the best organised group collecting blood in NZ.
This effort is now in its 10th year. Last year even a Motion was passed in the NZ Parliament, through Dr Ashraf Choudhary MP, where the group was congratulated on this fantastic community work and great achievement.
Blood Bank of NZ is the sole provider of all requirements of blood in NZ's hospitals. Blood Bank collects it, processes it and sends it whenever and wherever it is required. To meet the demand the Blood Bank needs healthy blood donors all the time especially during holiday period because need for blood doesn't stop.
BillaG says with pride that "attendance at the annual Blood Balti function is not conditional upon donating blood. Just come along and bring a friend or two with you and enjoy FREE BBQ, Music and Gup Shup. It is all about educating and bringing awareness to our community that how a little act of donating blood can change the world of recipient.
This year's Blood Balti event was held on Tuesday, 10th January at the NZ Blood Bank premises in Epsom, Auckland. This is the time when requirement for blood donation is highest as holiday toll goes up. This time approximately 160 people of many ethnicities attended the event and 64 people donated blood. Approximately 500 ml of blood is collected from each healthy person.
A fantastic BBQ lunch (cooked by BillaG and Haji Mumtaz and others) and food and drinks were provided courtesy of sponsorship by Yaqoob Bhatti, who although a NZ citizen, now resides in Melbourne, and comes back for this event every year.
Posted to Sada-e-Watan by Dr Ashraf Choudhary QSO JP.
(He is a regular attendee at this event and encourages such community contributions.)