Sada-e-Watan Sydney ™
sadaewatan@gmail.com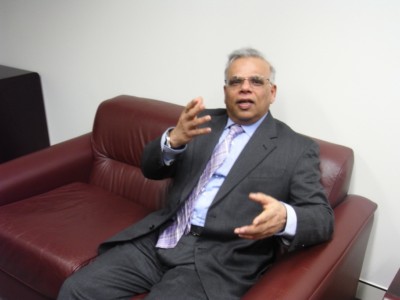 Managing Editor Paklink (Muhammad Asif) interviews Pakistan Consul General mr.Azam Mohammed) in Sydney on 1 August 2012

Q: Thank you for agreeing to this interview.
A: You are most welcome. It is a privilege for me to get this opportunity to talk to the most important print magazine for our community in Australia which is also now available online. Congratulations on completion of very successful three years of the publication.

Q: Thank you. When we first launched the magazine three years ago, you were the Consul General In Sydney and when we celebrated our third anniversary along with many Australians politicians, dignitaries you also attended our function. What comments do you have for our magazine which evolved in front of you?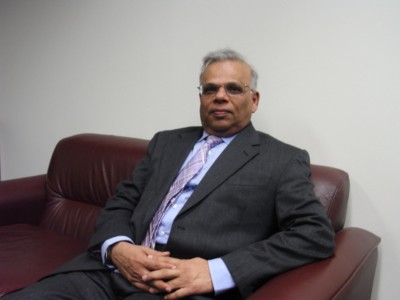 A: I remember in my speech in that event, I particularly highlighted the positive role of your publication. You and your team deserve all our thanks for not only keeping our community well informed but building bridges. The appreciation letter Paklink got from the Prime Minister speaks volume of its contribution.

Q: Coming to Community matter, the most important question in every mind is when is the facility of Machine Readable Passport going to be available?
A: We expect it to start hopefully before the end of this year.
Q: But why has it taken so long? We see the machines and computers are installed both in Canberra and Sydney for over a year now.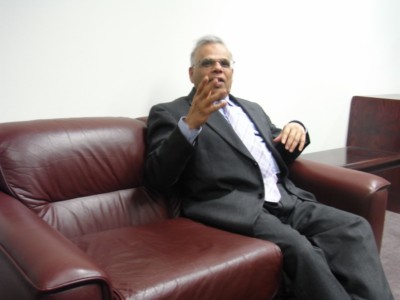 A: The Hardware part is the easy part. We are all connected and ready. We are waiting for the personal to be posted and as soon as he/she is posted, we will commence.
Q: Pakistan's Overseas Minister said in his party's dinner in May 2012 Sydney in which you were also present that he would immediately have this matter solved but it is still not solved?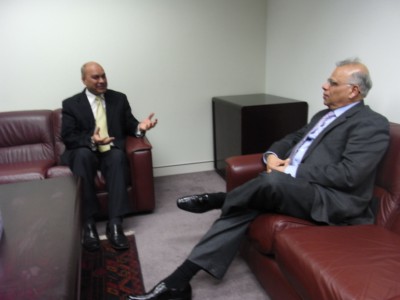 A: The Minister came to Australia as he does to other countries primarily for the welfare of the Pakistani Community for which he met Australian dignitaries and large numbers of community members in Sydney, Melbourne and Canberra. Among the community's concern, MRP was brought to his notice and after returning to Pakistan he took up this matter with his ministerial colleague to have it expedited. The operators have to be well trained and in Pakistan it was needed to train many persons for passport offices all over Pakistan and for our overseas embassies where these facilities are required . The trained staff willsoonbe posted in our High Commission in Canberra and Consulate in Sydney.
Q: I remember when consular services were not available in Sydney, you had promised to restart this and to start registration database for Pakistanis. Thank you for keeping the promise as both have been done. We will now see how your promise on MRP goes.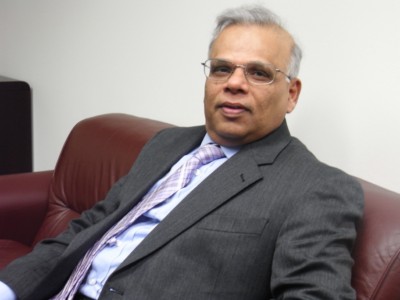 A: When there is a genuine need of the Community, our Government is always keen to facilitate and thanks to the Ministry's quick decision, this was done. MRP would also be done soon in the same spirit. With regards to Registration, we have a database and request for all our brothers and sisters to register via our website www.pakistan.org.au. We have many registrations but still much less than it should be.The registrationis very important as we would be able to serve them better especially for dissemination of information or for knowing whom to contact for any unforeseen emergency. This is done with a good spirit but unfortunately some malicious rumors were aired that we do these things so that government can keep a big brother eye. Such irresponsible attitude may discourage persons from registering with unfortunate results. I can only pray that such irresponsible people opt to serve community rather than love to falsely project themselves as saviors.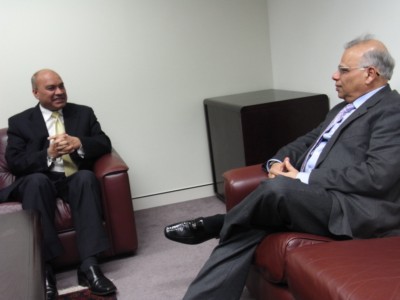 Q: In these years, what impression have you formed of our Community?
A: Thanks to the government service, I got a chance to visit many countries and serve in a few too. I can honestly say that our community in Sydney is among the best in the world. It has been a great honour and pleasure for me to have served here. I am sure that despite our best intentions, there must be many short-comings but we are open to always improve. Whenever, we get a good suggestion, we immediately implement. I wish to take this opportunity to inform your readers that both in our HC and CG as well as in our website, we have informed that if you have any complaint with our services then insist on seeing our Deputy High Commissioner in Canberra and Consul in Sydney who will be glad to hear you out and solve an issue as much as they can. We have dedicated emails mentioned for this in our website.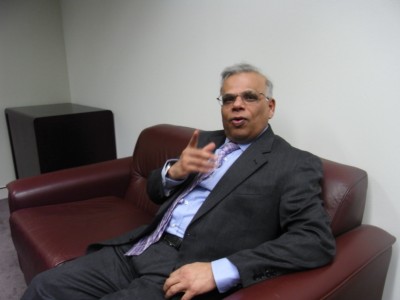 Q: There are some complaints that consulate in Sydney does not attend phone calls except for given two hours in a whole day. Is that true?
A: Unfortunately, yes, that is true for consular section. Of course we always attend the trade section phone which is not transferrable to consular section. We are a very small consulate and most of our time the consular staff is at the reception and then of course preparing the consular documents. So pl call only between 10-11 am and 2-3 pm. We encourage all to visit our website www.pakistan.org.au ; all information and online fillable and downloadable forms are available. For specific consular service related enquiry , we also mention dedicated emails for Canberra and Sydney in our website . For Sydney, it is enquiry@pakistan.org.au. We respond to each such email on same day or latest by next working day.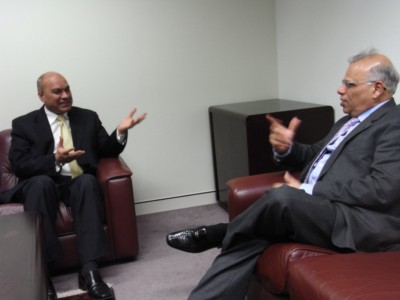 Q: What message would you like to give to Community?

A: What I would like to tell them, luckily they already are; that is to be good Australians and good ambassadors for Pakistan. I would like to encourage more of our brothers and sisters to enter into trade and import more from Pakistan. There is lot of scope in clothing, textiles, food items, sport goods and many consumer goods. We also invite them to contact us and/or email us at tdo@pakistan.org.au for more information and facilitation.
Q: Most important question: When will we taste the Pakistani mangoes in Australia?
A: InshaAllah regularly by before next Ramadan. The process is over 95% complete as Australian quarantine officials did their final audit in July this year. Now, only minor formalities have to be undertaken and all would be ready well before next season.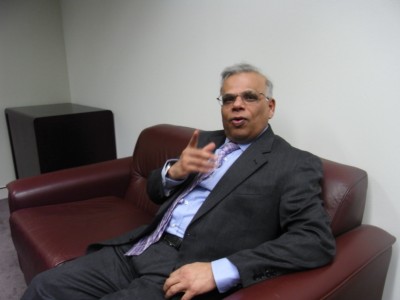 Q: The High Commissioner and you met with all representative of the Community twice in last 12 months doing what many said impossible to put so many different cross sections all in one roof. The Community is really impressed with this achievement. Many feedbacks were given, what is the implementation status?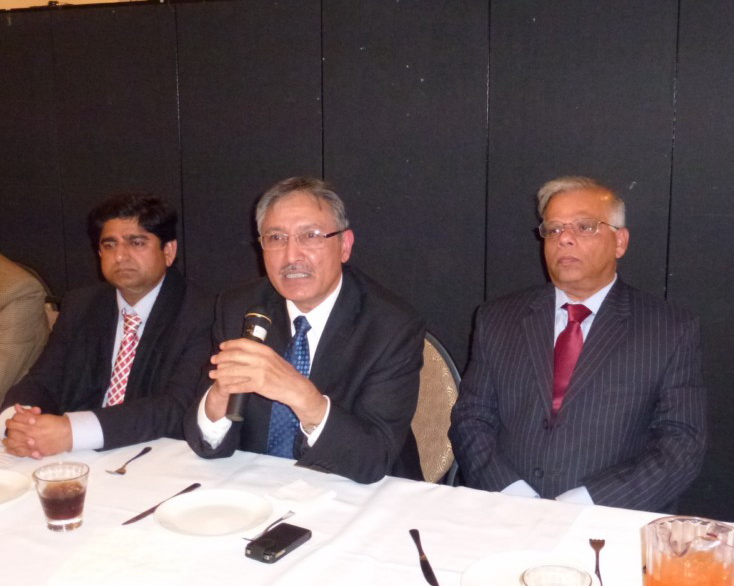 A: As the High Commissioner said, it is our job to meet with community members on regular basis. It is equally important to have representations from all segments. Besides, Sydney, the High Commissioner also meets with our community in other major cities .You will have noticed that we had our Pakistani brothers and sisters from all faith groups, all regions, all affiliation, age groups and contributors from all profession and it is important that voice of all be heard. For us it was enough reward to see persons interacting so positively as after all, we were all Pakistanis and Pakistani origin there. Many useful suggestions came for improving consular services and image and status of community which have already been implemented. Many relate to well wishes for our country.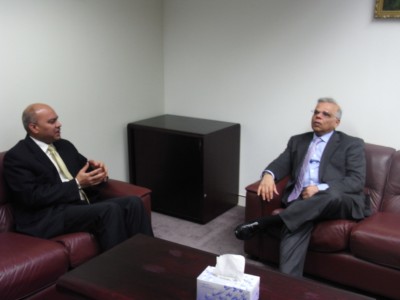 Q: Please continue such good interactions in the future also.
A: with cooperation of our community leaders, we definitely hope to do so more often.
Q: Thank you very much for your time.

A: Thank you sir for this opportunity. May I wish you , your team and your readers Happy Eid Mubarak and Happy Independence day of Pakistan.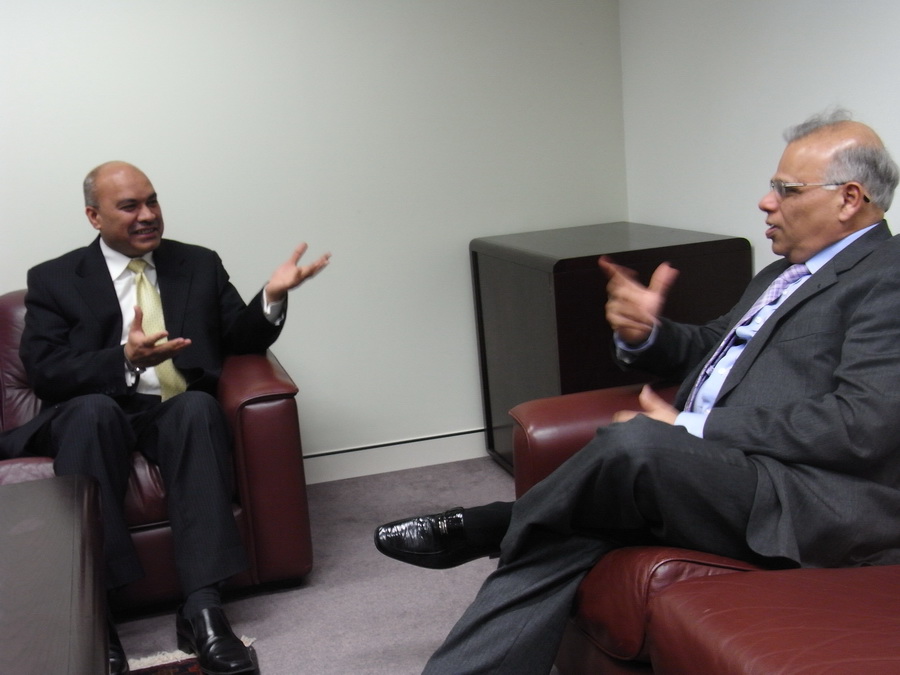 Mr.Muhammad Asif talking to Pakistan Consul General in Sydney Mr.Azam Mohammed