Coverage by Syed Zafar Hussain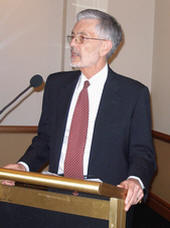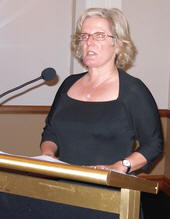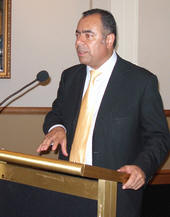 CG Stephen Smith Lucy Turnbull Nick Kaldas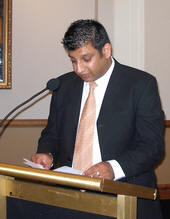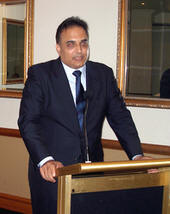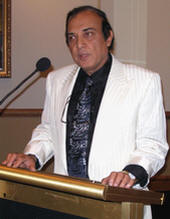 CG Azam Mohammed Kashif Amjad Ejaz Khan Dr. Shaukat Javed
Friday 2nd February 2007 marked the first time a U.S Consul General to Sydney has addressed an event for Australian Pakistani Muslims. The exclusive event was organised by Slimtel's Managing Director, Kashif Amjad, and was held at Crowne Plaza Norwest with cooperation of the Pakistan Australia Association.

Among other guests were Consul General Pakistan Azam Mohammed, Dr Akram Hassan, Dr Farooq Wasti President Pakistan Medical Association Australia, Mohammad Asif Manager Habib Finance Australia, Dr Aman Ullah Khan, Dr M. Amjad, Hafiz Shahid Vice President Pakistan Association, Mehdi Juddani Director Best & Less Travel Parramatta, Sadaqat Siddiq from Cheetha Securities, Umar Ghani cultural secretary Pakistan Association and Syed Zafar Hussain Editor in Chief Sada-e-Watan Sydney. Dr Shaukat Javed was the Master of Ceremony. He is an excellent debater as every one knows. He amused the guest with his skills of holding such kind of ceremonies.

A variety of notable speakers also addressed the intimate gathering: Nick Kaldas (Assistant Police Commissioner of NSW); Lucy Turnbull (Commissioner on the Commonwealth Commission on Respect and Understanding), and Azam Mohammed (Pakistan Consul General to Sydney).

Ejaz Khan President PAA welcomed guests and introduced Nick Kaldas. He highlighted his carrier achievements and feelings about Pakistani Australian community. Nick Kaldas touched on important issues such as the role of police integrating with the local community and working closely with various religious, ethnic, and community groups to assist them in preventing violent
activity. Other issues that were discussed were lessons learnt from the Cronulla riots, ways to avoid similar situations, and how we all as a broader Australian community should deal with terrorism.

Mr. Kashif Amjad official spokesman PAA introduced Mr. Smith with the community, it has to be noted that this dinner was Mr. Kashif Amjad's initiative.

The chief guest for the evening, U.S Consul-General Stephen T. Smith, decided to accept the invitation to address the gathering following a luncheon for U.S Ambassador HE Robert D. McCallum, where The Ambassador was asked by Kashif about the United States' relationship with the moderate Muslim world and what they were doing to rectify it. Kashif introduced
Consul General Smith as the key note speaker with his impressive biography.

Consul General Smith talked about the relationship between the U.S and Pakistan, Australia and the U.S and the parallel that could be drawn. He also spoke about Muslims in the U.S and the differences in ethnicities, which also included profiles of various Muslim groups. Pakistani Doctors Association in North America was given as an example. Discrimination was also discussed to the extent where the U.S has now set up a complaint service at the Consulate here in Australia, if a person is mishandled at the American airport. US Consul-General Smith talked on a lighter note of the many cricket clubs in New York. Concluding his address, the Consul-General explained how various religions besides Islam use criminal activities such as terrorism to justify their cause for political or financial gain. Consul-General Smith already had Sada-e-Watan's previous article.

The significance of the dinner was that 10 people did not turn up after accepting the invitation, because they wished to register their protest against the US policies in Afghanistan and Iraq. PAA president Ejaz Khan conveyed this to Mr. Smith who politely said that he is willing to meet these people any time for discussion.

Lucy Turnbull, renowned businesswoman and former Lord Mayor of Sydney was also kind enough to grace the occasion. Lucy spoke of her role as Commissioner on the Commonwealth Commission into Respect and Understanding. This Commission was set up following a request as an outcome of the last Commonwealth Heads of Government Meeting (CHOGM) in 2005 and will present its findings at the 2007 CHOGM. Lucy has been working on this initiative which seeks to break down the barriers of conflict and provide peaceful resolutions, and the Pakistani community was privileged to be one of the first communities. She has contacted as it is a fellow member of the Commonwealth. Lucy also handed out a survey to audience members as well.

Finally Pakistan's Consul General Azam Mohammed spoke on Islam, in a very simplistic manner including the roots and meaning of Islam. He spoke at length on how suicide bombing is not part of the religion, and how a few fundamentalists tarnish the image of Muslims worldwide. Consul General Azam delivered a key message that Islam is about following a book, The Quran, and that one should gain meaning from it by the simplest rule of humanity- to each his own- that is, the Quran cannot be instilled in others, but it gains meaning by applying to the intensity of ones own life, faith and experiences.

Delicious dinner was served followed by dessert.

This is hopefully the start of many dialogues on resolving community issues not just for Pakistanis or Muslims but all faiths and backgrounds living in Australia.

Further Developments:

Amongst the great atmosphere of the dinner two good news stories already, with one person willing now to travel to the United States after the US Consul Generals speech on complaints on profiling at the airport, and one of the VIP guests moved by the Pakistani Consul General speech they bought a Quran on the weekend to read.

There are more dinners of this nature to come soon on various topics for which discussions have already commenced which are going to be on a different platform and set up. PAA has passed resolution to arrange such kind of functions frequently to enhance our community profile and relation with outside world and mainstream Australian community.