Sada-e-Watan Sydney ™
sadaewatan@gmail.com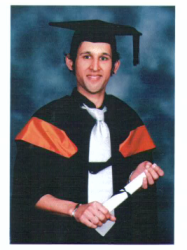 Young Pakistani Farhan Nawaz Alam passed away in Queensland Australia
It is with deep sadness we inform the readers of Sada-e-Watan that a young Pakistani Farhan Nawaz Alam passed away in Queensland at the age of 33.He was married with 3 kids. Farhan was Son of former trustee of Pakistan Association of Australia Bashir Alam Marhum. Farhan has spends his most of life in Sydney and he was very popular in the circle of friends & professional colleagues.
On Saturday, 23rd January 2016, his Janazah prayer was held at his mother Nur Jehan Alam home and later Farhan was buried at the Rookwood Cemetery Sydney. Dr Shaukat Javed, Maqsood Malik, Dr Akram Hassan, Syed Zafar Hussain Shah, Tariq Khawaja, Zahoor Sheikh, Moubin Malik, Dr Ahsan Madni,Prof Hashim Durrani and large number of friends & relatives visited family home of Farhan Nawaz Alam and condolences with the family.
Please remember Farhan Alam in your duas, and pray that Allah SWT Grant him exalted place in Jannah and Sabr-e-Jameel to his Mother, Sister, Wife, 3 Children's, Grandparents, Friends and all other family members. The Editorial Board of Sada-e-Watan Prayed to ALLAH Almighty to rest the departed soul in eternal peace and grant courage to his family members to bear this irrepairable loss.