Sada-e-Watan Sydney ™
sadaewatan@gmail.com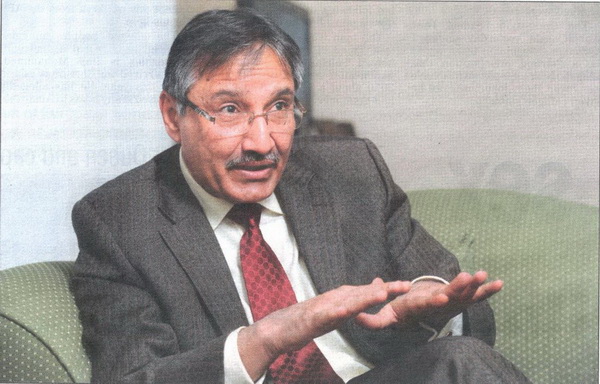 High Commissioner Abdul Malik Abdullah
War exacts its heavy price
Julieanne Strachan June 10, 2012
The High Commissioner of Pakistan in Australia talks to Julieanne Strachan about the human and economic losses suffered by Pakistan
Pakistan has paid a heavy price in its war on terror, its High Commissioner Abdul Malik Abdullah has said, including enduring its first ever suicide bombings and the losses of billions of dollars to its economy.
However, the nation appeared to receive little international acknowledgement for its contributions, he said.
''We are talking about 43,000 Pakistani people who have lost their lives, and that's not including the number of those who have been maimed, crippled, incapacitated,'' he said.
''No other country - not even Afghanistan - has suffered as much.''
Abdullah said the World Bank estimated that the impact on Pakistan's economy of the war to June 2010 was almost $US69 billion and was expected to rise to $US85 billion ($A86 billion) this month.
Abdullah's comments came just days before US defence secretary Leon Panetta made a public statement warning that the US was ''reaching the limits of our patience'' with Pakistan for failing to tackle its Taliban safe havens.
Panetta told reporters in Kabul that it was ''intolerable'' that fighters from the Haqqani Network faction could attack American troops in Afghanistan and then slip back across the border to safety.
''It is an increasing concern that the safe haven exists and that there are those - likely Haqqanis - who are making use of that to attack our forces,'' Panetta said.
The Haqqani Network, an autonomous faction of the Taliban, is alleged to be based in North Waziristan inside Pakistan's tribal region.
However, Abdullah said Pakistan was stretched to the limit, with its military 60 per cent deployed, which was nearly twice as much as the world average for deployment of between 30-35 per cent deployed.
''Our armed forces are already overstretched,'' he said. ''Another point is that given our resources we cannot and we have not been given those techniques and equipment which can help Pakistan fight this war more efficiently. Pakistan armed forces are better trained in the area of conventional war - here we are fighting a guerrilla war against these terrorists.
''This border between Pakistan and Afghanistan is 2611 kilometres long and one of the most rugged mountainous areas. Soviet might could not control this border.''
Abdullah said significant efforts were being made to stop the crossings.
''There are 2106 check points set up on the Pakistan side of the border,'' he said.
''Our allies have set up 142 check points. How do you control the infiltrations? We have been saying 'You have to do something - don't go and blame Pakistan.'
''Without enough check points you have terrorists going from side to side.
''You keep telling us to do more, and what people are asking the government now is 'How many more thousand Pakistanis have to die before you can get a certificate from your allies saying you have done enough?'
''Each side has to take into account the difficulties and the realities.''
Abdullah said Pakistan was grateful to Australia for its support in its flood recovery efforts and as an ally in the war on terror.
''Unlike some other countries, Australia has not raised an accusatory finger towards Pakistan,'' he said.
Australia had more than tripled its economic assistance to Pakistan in the past three years, Abdullah said, rising from $30 million in 2007-08 to $92.8 million in 2011-12.
''We are thankful to the Australian government for the economic assistance to Pakistan,'' he said.
''We would like to strengthen trade and economic ties and strengthen investment.
''Our trade has not been to its true potential so far. Last year Pakistan's total exports to Australia were only in the order of $176.6 million.'' Pakistan's chief export was textiles, which Abdullah said would not displace Australia's own textile industry.
''If we could increase our exports to even 1 per cent of Australia's imports it would substantially help in creating new jobs in Pakistan and address the root causes of extremism and terrorism like poverty and illiteracy,'' he said.
''Young unemployed people are the main people who are vulnerable to the extremists and terrorists in our part of the world.''
Abdullah said Pakistan would be left with a long legacy from the war on terror, well beyond 2014 when other forces were preparing to withdraw.
''This was a war that was foisted on us in the aftermath of 9/11,'' he said.
''Pakistan joined the alliance. Until 9/11 this idea of suicide attacks was unheard of in Pakistan.
''The first ever suicide attack that took place in Pakistan occurred on the 28th of October 2001 - after Pakistan had joined the alliance.
''You can imagine the psychological scars this war is going to leave on our national psyche and the national community.
''Australia and the US are not fighting against their own people. In Pakistan we are fighting our own people. This war is Pakistan's own war. If Afghanistan does not settle down and there's no peace and stability in Afghanistan after 2014, Pakistan will be the worst victim in that situation.
''Pakistan right now hosts more than 3.5 million Afghan refugees and this is by far the largest refugee population anywhere in the world.''
Abdullah said the home-grown terrorist group Tehreek-e-Taliban Pakistan was a chief concern for Pakistan.
''Pakistan is being pressured to do more. Pakistan's first priority is to the TTP, which was formed in 2007-08; it never existed before.
''It was formed by those people in the FATA areas [Federally Administered Tribal Areas] after Pakistan started undertaking major efforts in their areas and they are Pakistani and they hit our schools, police stations, clinics.
''Obviously our first priority is to go after them. The TTP are Pakistani people.
''For Pakistan this war is now our war - it was not initially our war but after these many casualties Pakistan has taken ownership of this war and will continue to fight it with or without the help of our allies.
''But if there is no help we will fight the war correspondent with our capabilities.''
Read more: http://www.canberratimes.com.au/act-news/war-exacts-its-heavy-price-20120609-202ot.html#ixzz1xOaCldl7
Afridi jailing right: Pakistan
Julieanne Strachan
June 10, 2012
PAKISTAN has defended the treatment of a government-employed doctor who has been sentenced to 33 years in jail after helping the CIA locate Osama bin Laden.
Shakeel Afridi made international headlines when he was imprisoned for his role in an elaborate plot, which included conducting a fake vaccine drive in the neighbourhood where bin Laden was hiding, to unveil the terror mastermind's hideout.
US Secretary of State Hillary Rodham Clinton has previously described Afridi's jailing as ''unjust and unwarranted''.
However, high commissioner for Pakistan Abdul Malik Abdullah has defended the move.
In an interview with the Sunday Canberra Times, Mr Abdullah said that Pakistan had sacrificed billions of dollars and thousands of lives in the war on terror and the doctor had a duty to inform the Pakistani authorities of his find, rather than a foreign nation.
Mr Abdullah said Pakistan's intelligence agency - the ISI - had provided the CIA with a phone number for bin Laden's main co-ordinator in November 2010 and asked for help, which never came.
''We did not have the technology to do anything with the phone number so we shared it with the CIA and asked them to check it and they never came back to us,'' he said. Mr Abdullah said the capture of arguably the world's most wanted man should have been done by the Pakistani authorities.
''Pakistan is taking flak - people are accusing us of knowing his whereabouts but had Afridi given this type of information to Pakistan, Pakistan would have taken this action itself and would have been saved from this embarrassment,'' he said. ''If somebody is saying 'you should free him and take the blame for Osama bin Laden living in Pakistan and providing refuge and sanctuary' I think that is totally unfair.
''If you are a government official and you are [working for] a foreign government - albeit a friendly foreign government - is that fair?''
Mr Abdullah said the US had imprisoned one of its own, naval intelligence and security specialist Jonathan Pollard, for life in the 1980s under similar circumstances.
''He passed some information to Mossad - the Israel intelligence agency which is one of the closest allies of the US and of the CIA,'' he said. ''And yet he was given a life sentence. [Israeli Prime Minister] Benjamin Netanyahu threatened not to continue with the peace plan unless Pollard was released. The US said 'no'.
''Why are there these double standards? Also, our doctor has been convicted but he can still appeal.''
The US embassy in Canberra declined to comment on Mr Abdullah's remarks and the US Department of State in Washington DC did not respond to an inquiry.
Mr Abdullah said he did not believe that Pakistan was being properly acknowledged for its contributions to the war on terror.
''What ordinary Australians know is what's being told by the Western press and the Western press has a very clear bias,'' he said.
Read more: http://www.canberratimes.com.au/act-news/afridi-jailing-right-pakistan-20120609-2038q.html#ixzz1xObmDv1j