Sada-e-Watan Sydney ™
Sadaewatan@gmail.com
Inaugural National Indigenous Human Rights Awards brings overdue recognition for First Peoples

The inaugural National Indigenous Human Rights Awards was held in NSW Parliament House on June 24, giving long overdue recognition to Australia's First Peoples and their ongoing struggle for human rights and social justice.
The awards are the first and only national human rights and social justice awards dedicated to Australia's First Peoples.
"This event has two aims – to recognise the phenomenal contribution that many Indigenous Australians make to human rights and social justice, and to also recognise the Indigenous Rights as Australia's greatest human rights and social justice struggle", The Hon. Shaoquett Moselmane, Member of the NSW Legislative Council, said.
"The Indigenous Rights struggle is ongoing – and the inspiration behind this event is to recognise this, but also to recognise the contributions of Indigenous Australians in their community and broader Australian society.
Three awards were established:
· The Dr Yunupingu Human Rights Achievement Award;
· The Edward Koiki Mabo Social Justice Award; and
· The Anthony Mundine Courage Award.
Arrente Elder Rosalie Kunoth-Monks was the recipient of the Dr Yunupingu Human Rights Achievement Award, recognising her work of over half a century as a community leader in Utopia, Northern Territory, and as a stateswoman leading all First People's and others towards greater justice and equality. Her award was presented by multilingual educator and Arnhem Elder Yalmay Yunupingu.
"For the first time in my life I am left speechless, in tears.... These awards are the most important yet because they are for our people, by our people in every layer," Ms Kunoth-Monks said.
The Mabo Social Justice Award was presented to Anna Murray, daughter of posthumous recipients, Arthur and Leila Murray in recognition of their work in north east NSW in fighting for wages equality for their people and their three decade long struggle for justice following the loss of their son, Eddie Murray.
The Courage Award was awarded to Gamilaroy woman, Barbara McGrady for her photography and documenting of the Aboriginal rights struggle over four decades.
The Awards keynote speakers were Yalmay Yunupingu and Gail Mabo, with Wiradjuri women and Deputy Leader of the NSW Opposition Linda Burney providing the Welcome to Country and acting as MC.
During her address Ms Yunupingu called for schools in the remote to be taught in both the first languages and in English, while Ms Mabo called for more to be done to recognise the connection First Peoples have with the Country.
During the evening Mr Mundine delivered a heartfelt speech that more needs to be done for equality, mesmerising guests with his own story of moving away from self-destructive pathways when he was 14.
The awards will be held annually.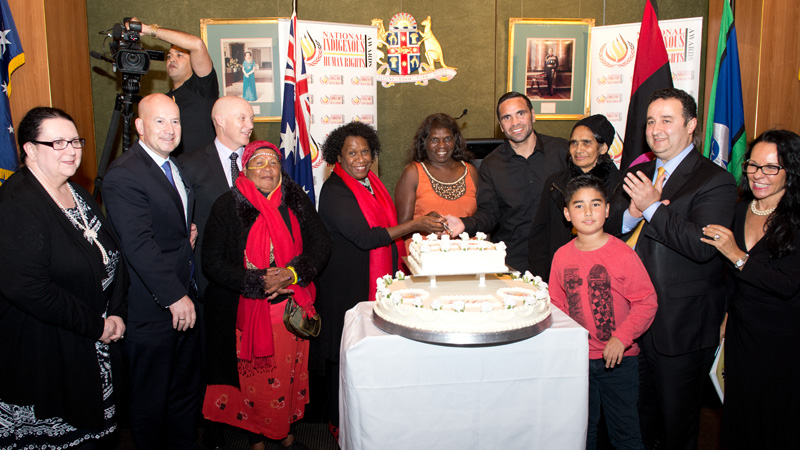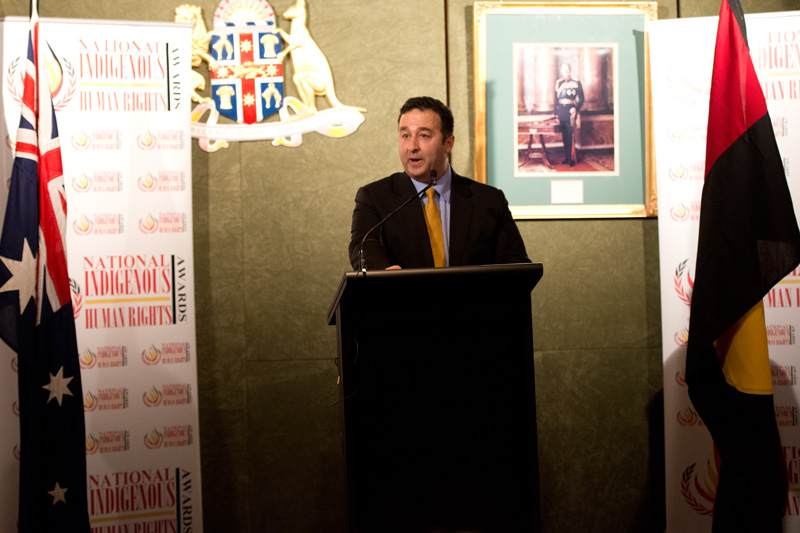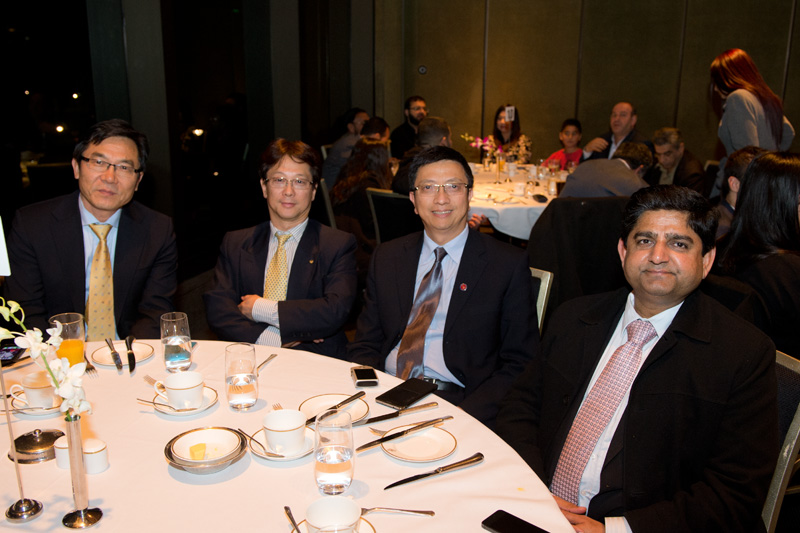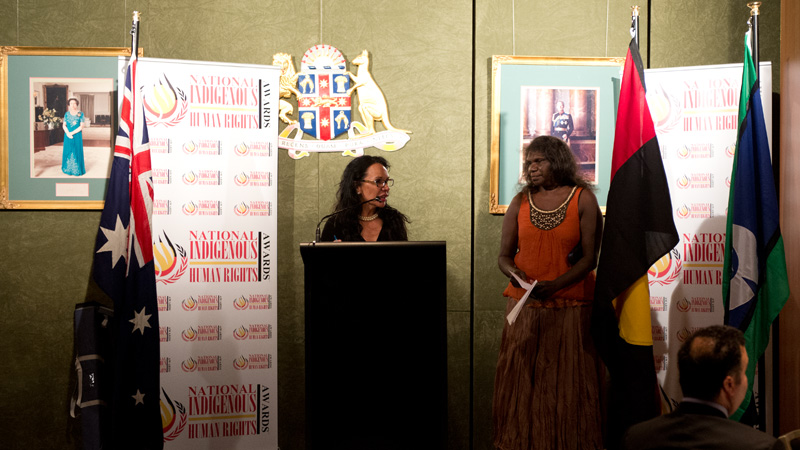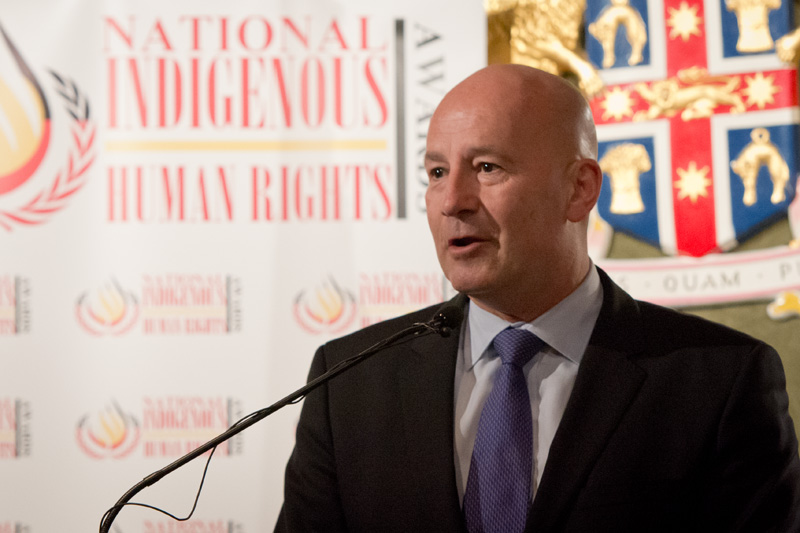 Award Winners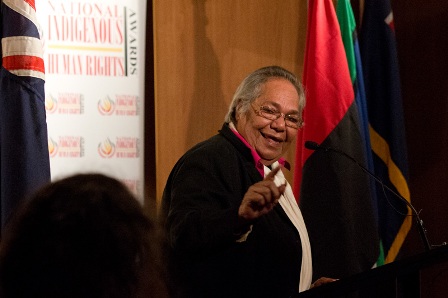 Rosalie Kunoth-Monks OAM
DR YUNUPINGU HUMAN RIGHTS AWARD
For over half a century Rosalie Kunoth-Monks has been one of Australia's most outstanding national leaders, a stateswoman leading all First People's and others in this society towards greater justice and equality. As a local community leader at Utopia NT she has brought all levels of government and outside organisations to discuss the best ways forward to overcome the poverty, lack of housing, education and employment. In opposing the 2007 NT Intervention Kunoth-Monks showed extraordinary courage in journeying to Geneva to present to the UN Committee for the Elimination of Racial Discrimination. Her advocacy and her eloquence on the national stage are unmatched today and she is a great inspiration to all Australians.
Barbara McGrady
ANTHONY MUNDINE COURAGE AWARD
Barbara McGrady has spent four decades as a photographer with an 'Aboriginal eye' capturing one significant event after another, whether heavily attended or with fewer than hoped, in unfolding the Aboriginal rights struggle. Her whole purpose is not just the passion for photography but to document and give rise to the Aboriginal rights struggle, to equality, to justice, to the improving the lot of others. Barbara is known right across Australia and internationally, her coverage of the rights struggle having featured in many exhibitions. Barbara has been featured, her story, on NITV, on SBS, on mainstream television. In Sydney, Barbara is at every Aboriginal event, rally, coalface struggle and at major events. Her visual documenting has been much tapped into by just about everyone. Barbara is well respected and much loved by every layer of society and by all and sundry in the rights movements. Without her steadfast presence at so many events and struggles over four decades much history, much truth would be lost and hence the bricks and mortar to so many potential foundations would not have occurred. Barbara McGrady's photographic work and effective still documentaries have touched lives, communities and rights struggle far and wide throughout this continent. Her courage has been steadfast, always on the front lines of the unfolding human rights and social justice struggles. The quality of her work has been acknowledged with myriad awards.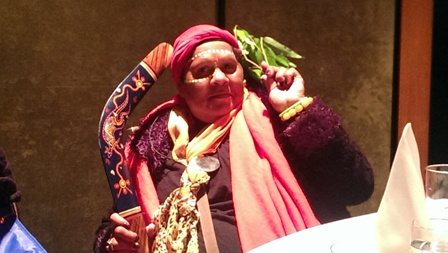 Arthur & Leila Murray
THE EDDIE MABO LIFETIME SOCIAL JUSTICE ACHIEVEMENT AWARD
Arthur and Leila set out on an extraordinary journey for justice for their son Eddie Murray, who died in a Wee Waa police cell in the 1980's, until their own passing. They endured the ignorance and indifference of white society and its multilayered political and judicial bureaucracies. In fighting for justice for their son they also supported the battle for all other Aboriginal deaths in custody, playing an active role in the Royal Commission into Aboriginal Deaths in Custody. They eventually secured the right to exhume Eddie's body, and suffered terribly in the process, in order to prove the true cause of death. Today, Aborigines are incarcerated at five times the rate of black people in apartheid South Africa and their suffering in custody is widespread.
Leila could not read, yet this remarkable woman memorised almost every document and judgment. Arthur and Leila's commitment to the pursuit of justice and advocacy for better treatment and conditions for all Aboriginal and Torres Strait Islander prisoners was unwavering.
NITV Video Coverage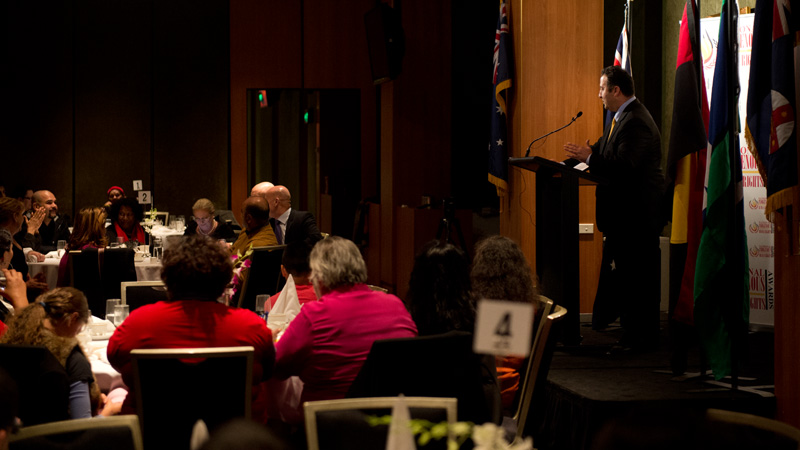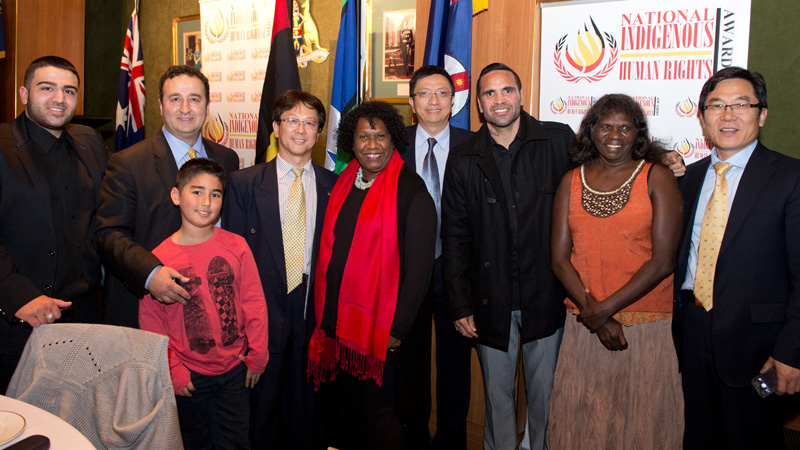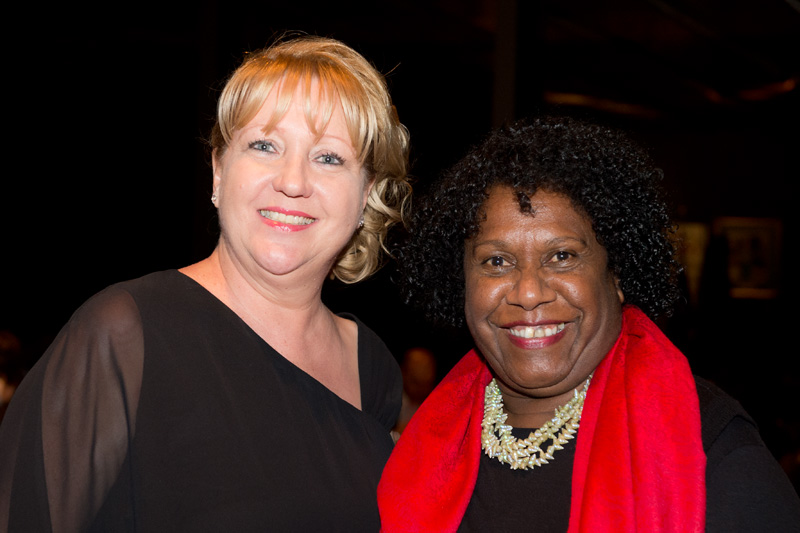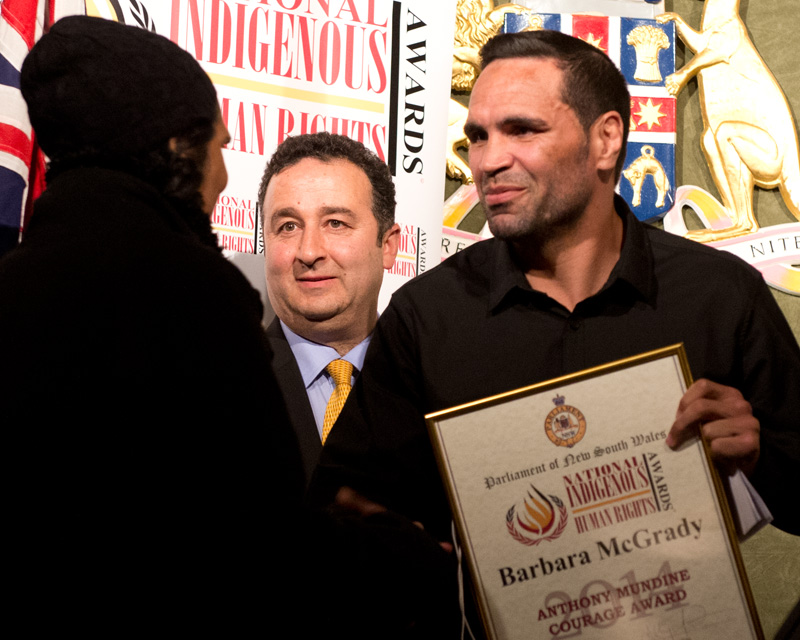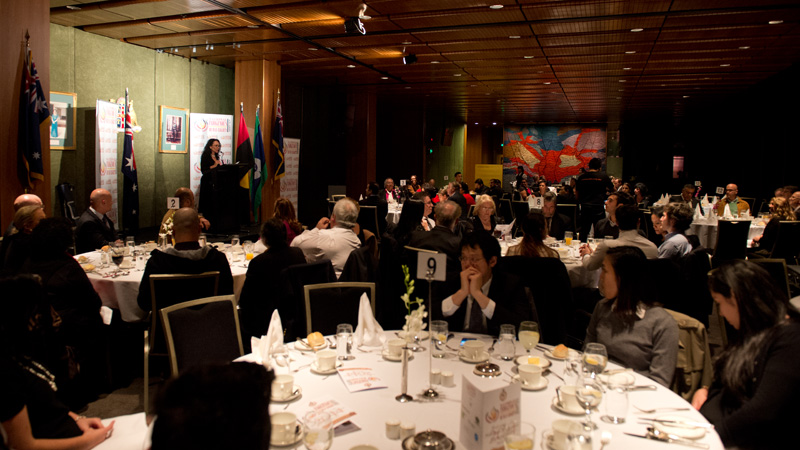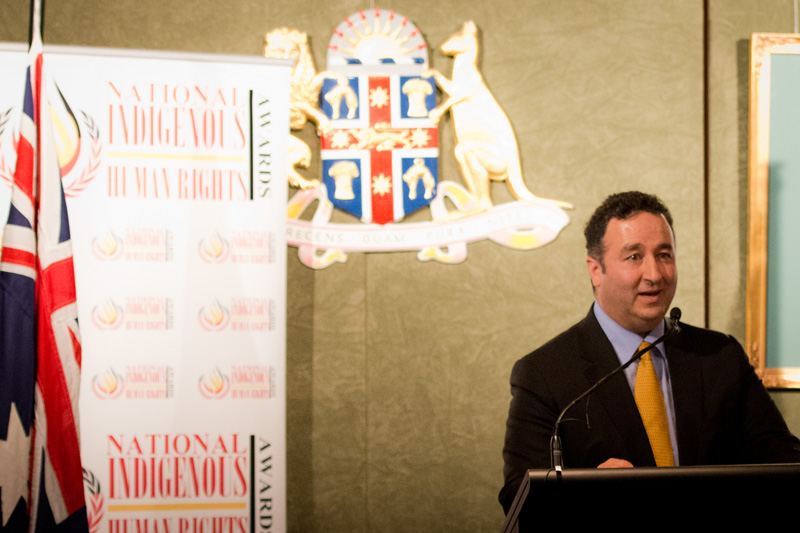 Speech of the Hon. Shaoquett Moselmane MLC
I acknowledge the traditional owners of the land the Gadigal people of the Eora nation and pay my respects to their elders past and present.
As the Convener of The national indigenous human rights awards I also acknowledge the traditional owners of country throughout Australia, and their continuing connection to land, sea and community. I pay my respects to them and their cultures, and to elders both past and present.
Allow me first of all to thank tonight's MC and my colleague the Hon Linda Burney, Shadow Minister for Aboriginal Affairs And deputy leader of the opposition for her support in this significant event.
I acknowledge my parliamentary Colleagues, Mr Bryan Doyle MP representing the Premier, Mr Mike Baird and the Hon Minister for Aboriginal Affairs, Mr Victor Dominello.
I acknowledge my friends in the leader of the Opposition Mr John Robertson, The Hon Amanda Fazio, Opposition Whip and Greens NSW MLC Mr David Shoebridge,
Other distinguished guests, His Excellency the Consul General of France Mr Eric Berti and Mrs Berti, our Key note speakers and award presenters , Mrs Yalmay Yunupingu, Ms Gail Mabo, Mr Anthony Mundine and other special guests amongst us Mr Jeff McMullen, Sunny Bill Williams, Khoder Nasser, judging panel, award recipients, Aboriginal and Torres strait Islander Media, Community Leaders, and of course the sponsors and each and every one of you for supporting us tonight.
As Convenor, It is a great honour for me to be launching these awards. They are in my view unique signature awards.
They are dedicated exclusively to the First Peoples of this nation who have given their best in their struggle for social justice and human rights.
The Awards recognizes the ongoing struggles of the past two centuries and the fight for equality, fairness and social justice for Aboriginal and Torres Strait islander Australians.
These Awards are unique because they are all Indigenous. The Nominators and nominees as well as the judging panel and the award presenters and award recipients are all Aboriginal and Torres Strait Islander persons who have made significant contributions to the advancement of human rights and social justice for Aboriginal and Torres Strait Islander peoples.
There is no greater rights struggle on this continent than that of the Aboriginal and Torres Strait Islander struggle.
Aboriginal people have suffered, and continue to suffer, death, poverty and homelessness. We must continue our commitment to tackle poverty, eliminate homelessness, prevent deaths in custody and combat the causes of suicide. Suicide rates are rising at horrific levels. The statistics are heart wrenching. For first peoples, the crisis is much worse and suicides are unacceptably high
We should invest in Aboriginal and Torres Strait Islander health, education, housing and welfare reform, and we should recognise and support advocates and those who work hard for the wellbeing of the Aboriginal and Torres Strait Islander people.
Witnessing the work of dedicated volunteers who are committed to improving access to justice for socially and economically disadvantaged people is an uplifting and all-exhilarating experience, and one cannot but feel inspired by what they do. For that, We should honour and recognize them.
So ladies and gentlemen, tonight we are not only celebrating the launch of these awards but also the work of a few people who have given their lives to fighting injustice and promoting human rights.
Tonight we will be presenting three awards under three categories, one named after teacher and musician, the late Dr Yunupingu, The Dr Mandawuy Yunupingu Social Justice Award to be presented by his wife Yalmay Yunupingu. Secondly, the formidable land rights campaigner, the late Eddie Mabo, The Eddie Mabo Lifetime Social Justice Achievement Award presented by his daughter Ms Gail Mabo.
The third and final award, for courage, is in honour of three times world champion boxer, non-other than the man, Anthony Mundine.
I wish to thank all three presenters for the honour they have bestowed upon these Awards.
So ladies and gentlemen, I do hope you enjoy the dinner support our first peoples in their struggle for a better, fair and just future.