Sada-e-Watan Sydney ™
sadaewatan@gmail.com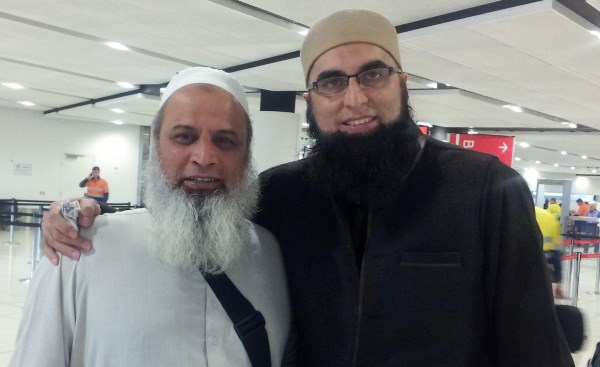 Javed Nazar and Junaid Jamshed in Sydney Australia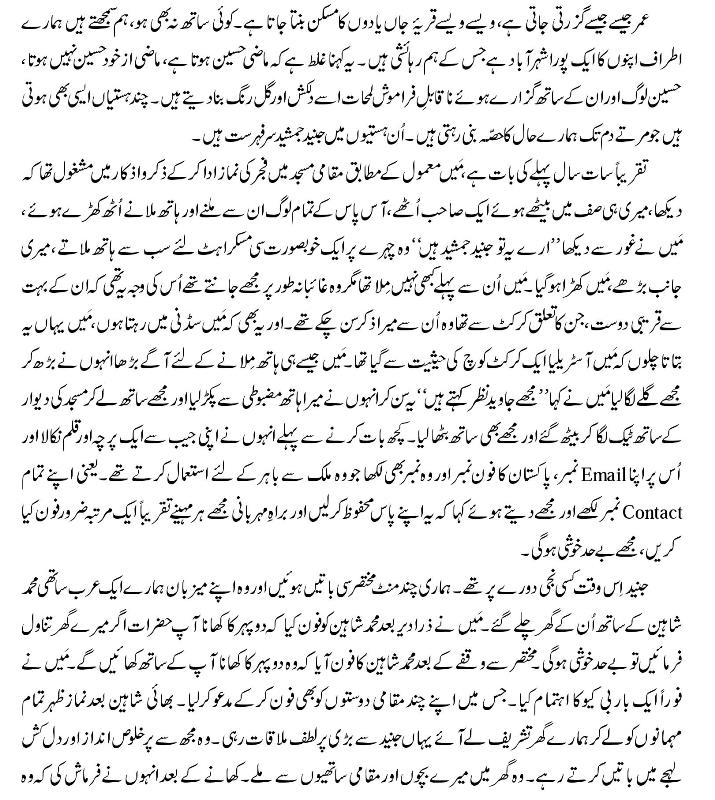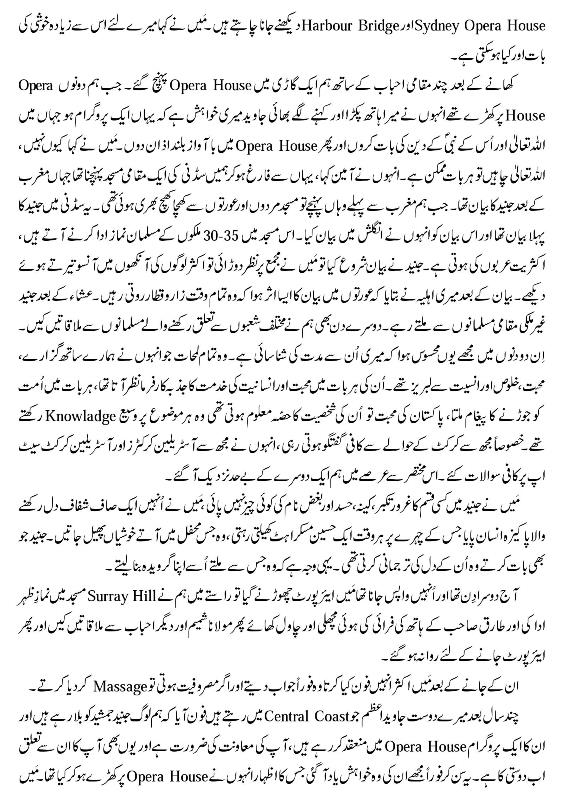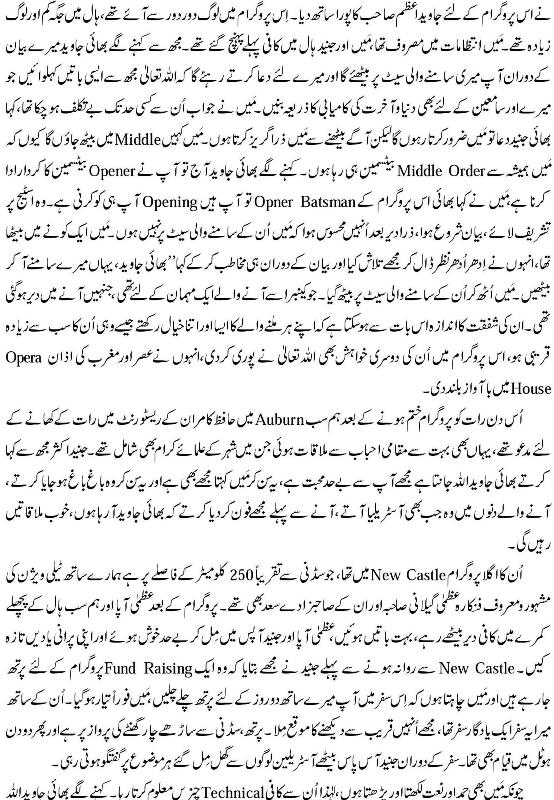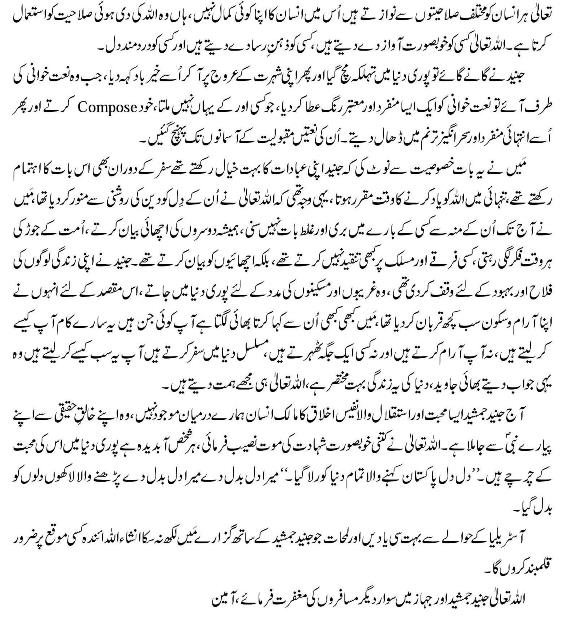 Junaid Jashmed's Last Visit to Australia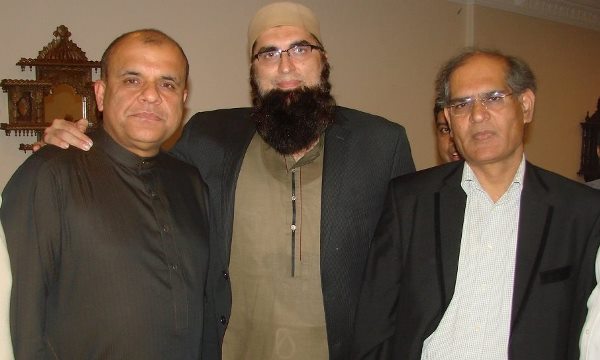 Faisal Shamsi, Junaid Jamshed and Syed Zafar Hussain
Munir Muhammad and Junaid Jamshed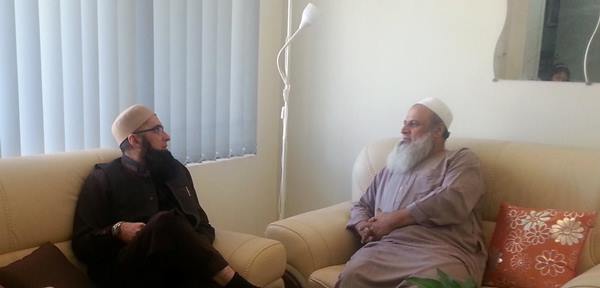 Junaid Jamshed and Javed Nazar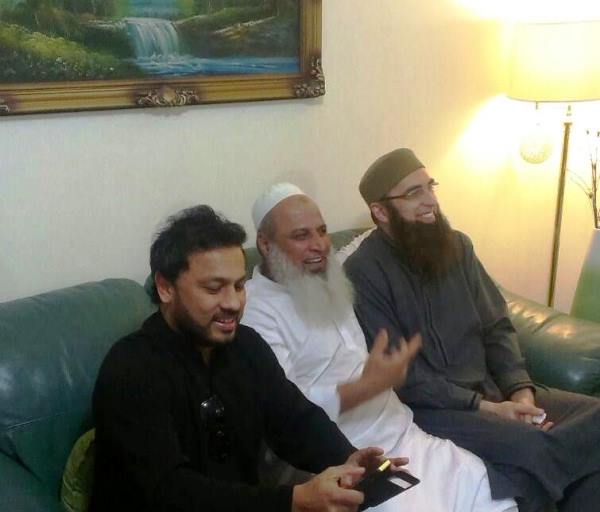 Australia and Junaid Jamshed (Javed Nazar)
As the life passes our mind becomes abode to increasing memories. These memories, in the absence of anyone else around, give the feeling as if we are living in a city surrounded by our own and known people. It is wrong to say that past is beautiful, past is not beautiful in its own sake, it is the people and those beautiful and unforgettable moments that we spent with them make our past attractive and colourful. There are some personalities that remain an integral part of our life till we die and Junaid Jamshed is certainly on top of them.
Around seven years ago, I was busy in my regular zikr (remembering Allah swt) after Fajr prayers in a local mosque, I saw a person who was sitting in the same row as mine, he stood up and people around him also stood up and started shaking hand with him. I looked at him and his face looked familiar. After a little while, I recognised he was Junaid Jamshed. He, with a lovely smile on his face, was shaking hand with everyone and then he walked towards me, I raised up. I had never met Junaid before but he knew me, only by name. He had heard about me through his several cricketer friends. He knew that I live in Sydney and I must tell that I came to Australia as a cricket coach. As I leaned forward to meet Junaid, he embraced me. I said, "I am Javed Nazar". He grabbed my hand and took me aside and we sat down resting to the mosque's wall. After a short talk he took a pen and paper out from his pocket and wrote down his email address, personal phone number and the phone number he used outside Pakistan. He gave me that piece of paper with all his contact details and asked me to keep it safe. He also requested that I should call him at least once a month and that will make him happy.
At that time Junaid was on a personal trip to Australia. We had a few minutes conversation before he left with his Arab host, Mohammad Shaheen, to his house. I knew Shaheen so I called him and invited him and Junaid to my house for lunch. Shaheen said that he would call me back. A few minutes later I received a phone call from Shaheen, he had accepted my invitation. I quickly organised a BBQ and invited some of my other local friends. Just after Zuhr prayers, Br Shaheen came with Junaid and some others. That was a great meeting with Junaid. At my home, Junaid talked to us in his soft and humble style, met my kids and mingled with local friends. After lunch he mentioned that he would like to visit Sydney Opera House and Harbour Bridge. What could be more joyful then visiting these places with Junaid, I hastily agreed to take him there.
After lunch and tea we went to Opera House by car. When I was standing at Opera House with Junaid he said, "Bhai Javed, this is my wish that I organise a program at Opera House where we talk about Islam, Allah swt and our Prophet Muhammad (Peace be upon him) and I give Azan here". I replied, "Why not, if Allah swt wants nothing is impossible". He said Ameen to my response and after visiting Sydney icons we returned to the mosque where Junaid had to give a talk after Maghrib. When we reached mosque both men's and women's sections were full. This was Junaid's first talk in Sydney and he delivered his speech in English. In this mosque, Muslims from some 30-35 countries come to pray with majority of Arab Muslims. When Junaid was speaking I looked at the audience and found many people with teary eyes. After the talk my wife told me that many women in their section were literally crying. Junaid, after Isha prayers, mingled with people. The next day we met several people in the locality with people from various backgrounds and professions. In two days, it felt that I knew Junaid for a long time. The moments he spent with us in that visit were full of love and sincerity on his part. From every word that Junaid uttered I can say it was full of love for people and showed his passion for the service of humanity. In every talk he gave the message of uniting the Muslim Ummah (nation). The love for Pakistan was an integral part of his personality and he had broad knowledge on almost every topic. He discussed with me a lot about cricket and asked many questions about Australian cricketers and cricket set up in Australia.
I didn't find Junaid proud or envy or having grudge for anyone. He was a man with clean and pure heart and had a face with beautiful smile. Wherever he would go the happiness would spread. Junaid spoke from his heart and that was the reason why everyone would become his friend.
At the end of the second day, he had to go back to Pakistan so I took him to Sydney airport. On our way we prayed Zuhr in Surrey Hills Mosque where Tariq Sahab served us with delicious fried fish in lunch and we had meeting with Maulana Shamim and others.
After Junaid left, I would often call him and he would always respond and if he was busy he would send me a message. After a few years, one of my friends, Javed Azam form Central coast called me and informed that he was inviting Junaid for a program that will be held in opera House and he would need my help as I then had a close friendship with Junaid. I recalled Junaid's desire to have a program in Opera House. I fully supported Javed Azam in organising that program. In this program, people came from far and wide and the theatre was overflowing with people. I was busy in arrangements on that day as I and Junaid arrived quite early at the venue. Junaid asked me to sit on the front seat and pray for him that Allah swt make him speak that will become the means for him and the audience a success in this world and the hereafter. In response, as I had become quite frank with him by then, I said that I would certainly pray for him but I avoid sitting in front. I would rather sit somewhere in the middle because I have been a middle order batsman all my life. He replied, "Bhai Javed, today you will have to take the role of an opener. You are the opening batsman of this program and you will have to open today." When he came to the stage and started his speech he realised that I was not on the front seat, I was sitting in a corner. He looked around and found me and during his speech addressed me and said, "Bhai Javed, come and sit in front of me". I then moved to a front seat that was reserved for a guest from Canberra who was late on the day. Junaid's kindness extends to all and everyone feels that he is Junaid's closest friend. In this program Allah fulfilled his another wish – he loudly gave Asr and Maghrib azan at Opera House.
That night after the program was over the organisers were invited to Hafiz Kamran's restaurant in Auburn. Here we also met many people including some local Islamic scholars. Junaid often said that Bhai Javed, Allah swt knows that you are very dear to me and in response I would say the same that will make him extremely happy. After that visit whenever he planned to come to Australia, he would call me and used to say, "Bhai Javed, I am coming to Australia, we will have meetings".
Junaid's next program was in Newcastle, around 150 Km from Sydney. In our journey to Newcastle, we had famous PTV artist, Uzma Gilani and her son Saad, with us. After that program we all sat down in the room behind the hall and chatted for a long time. Uzma Appa and Junaid were happy meeting after a long time and refreshed old memories. When we were leaving Newcastle, Junaid mentioned that he was going to Perth to attend a fundraising program and asked me if I could accompany him for two days, I quickly agreed. This was one of my most memorable journeys where I had a chance to know Junaid more closely. Perth to Sydney flight time is around four hours and we had two night stay in Perth. During the flight Junaid became acquaint with Australians flying with him and had long discussions on many topics.
I also write poetry including Hamd and Naat so I asked him about technicalities from a Naat reciter's perspective. He once said, "Bhai Javed, Allah swt gives every human being different skills. It has nothing to do with that person's excellence. He merely uses the skill that Allah swt gives him. Allah swt gives beautiful voice to some people, intriguing brain to some and a kind heart to some others.
When Junaid started singing he became famous all over the world and at the peak of his popularity he left singing. When he was attracted to reciting Naats, he gave 'Naat Khawani' (Naat recitation) a unique style that is not found anywhere else. He composed Naats himself and generated very unique and mesmerising tunes. His recited Naats also reached the height of fame and popularity.
I noted that Junaid was very particular about his personal ibaadat (remembering Allah swt). Even when travelling he would find time to remember Allah swt in solitude. That is why Allah swt enlightened his heart with the light of his deen (religion). I never heard Junaid backbiting, he always praised people and would mention good about them. He was always concerned about the unity of Muslim nation and would never criticise different sects within Muslims. Junaid devoted his life for people, he would go around the world to help poor and needy and for that he sacrificed his own comfort. I asked him at several occasions as how he could find time to do all that while moving around the world and he would respond, "Bhai Javed, the life in this world is very short and my Allah swt gives me courage".
Today a man like Junaid who was loving, courageous and the one with very high morals is not among us. He has gone to meet his Lord and the Prophet Muhammad (peace be upon him). Allah swt gave him beautiful death, a death of a martyr. Every eye is tearful for Junaid and everyone is talking about him around the world. The one who sang "Dil Dil Pakistan" has made all of us cry and the reciter of "Mera Dil Badal Dey, Mera Dil Badal Dey (Change my heart, Change my heart)" has literally changed the hearts of millions.
There are so many other memories associated to the time I spent with Junaid in Australia that I could not write but will InshAllah record them at some other time.
May Allah swt forgive Junaid Jamshed and all those who died with him in the air crash, Ameen.
>>>>>>>>>>>>>>>>>>>>>>>>>>>>>>>>>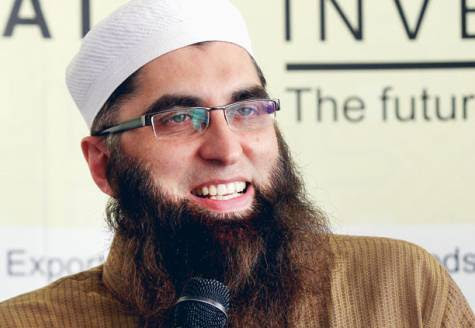 Junaid Jamshed Special Message for Naat Competition 2013 Sydney Organised ByKoocha e Saqafat Australia
http://www.youtube.com/watch?v=JBiC1fbDK4s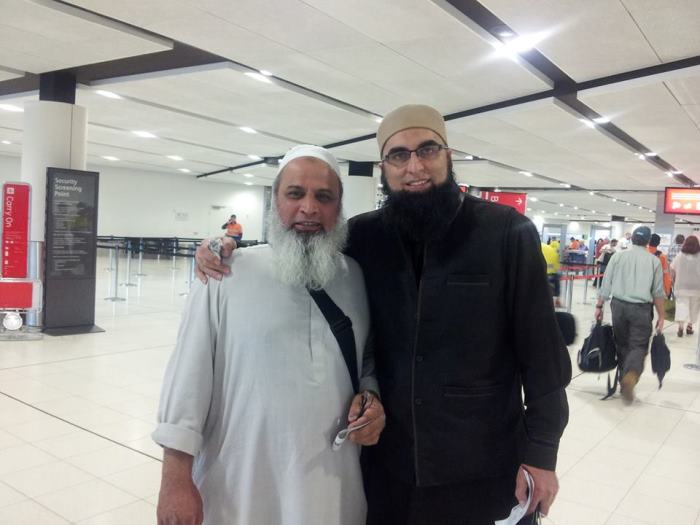 Javed Nazar and Junaid Jamshed at Sydney International Airport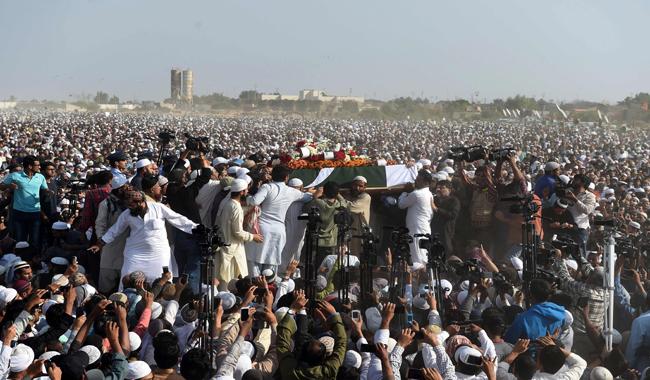 The funeral prayers of former singer turned Islamic preacher Junaid Jamshed

Email Sada-e-Watan to a friend!