Sada-e-Watan Sydney ™
sadaewatan@gmail.com

"Jo Qaum apnay Nabi k tareeqo may apni Izzat nahi mehsoos karti…Aisi Qaum ko kia Haq hai k woh Duniya say Izzat ka mutalba karay…" – Junaid Jamshed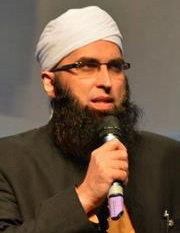 JUNAID JAMSHED'S NASHEED PROGRAM: A FUND-RAISING EVENT AT SYDNEY OPERA HOUSE
(By: Syed Zafar Hussain, Editor-in-Chief Sada-e-Watan Sydney)
On the evening of the Saturday, 14 January 2012, A Fund Raising event was held with GREAT Junaid Jamshed. The program was held at Utzon Room, Sydney Opera House. The entry ticket was $ 50.00 per person and all proceeds from this event go to the "Junaid Jamshed Foundation"... a charitable organization working in Pakistan to benefit the under-privileged people. It was Junaid Jamshed's third Visit to Australia. Junaid Jamshed 's Lecture/Bayaan was appreciated by the audience. Junaid Jamshed speaks about his experience and Services about Islam & Pakistan.
Junaid Jamshed also Give AZAAN At Sydney OPERA HOUSE Australia. According to one of the event organiser's Muqqadas Rehman, An evening with Junaid Jamshed at Sydney Opera House's Video and DVD will be available soon in Sydney.
Junaid Jamshed! Well . . . This man doesn't need any introduction. At first he was a heart throb of millions and he made his millions and millions of fans by his singing. He was a vital member of Vital signs. The very first POP Group in Pakistan. Then JJ took a U-Turn and understood the real meaning of life. Now he is completely changed. He is reborn in religious sense. He gave up singing and started understanding and learning ISLAM.
Now he has billions and billions of his fans worldwide. All love his art of convincing. His style of delivering lectures that is very similar to Maulana Tariq Jameel touches everyone. He is a source of Inspiration for us… Here we are gathered not just to talk about this legend, this great man but to exchange our views regarding our religion, to exchange some good stuff from each other. In 1987, Jamshed took Pakistani media by storm with his band's hit patriotic number Dil Dil Pakistan, viewed as one of the most popular songs of all time. This was a turning point in Pakistan's music history which ushered in a new era of pop musical bands and produced many fine singers and musicians. These bands represented and inspired the youth. Fourteen years later, he announced his retirement from music and devoted a significant amount of his time to religious preaching. Junaid Jamshed now sings Urdu and English nasheeds (Naats).
The readers of Sada-e-Watan can click on the below Link and Listen to Junaid Jamshed 's AZAAN At Sydney OPERA HOUSE Australia.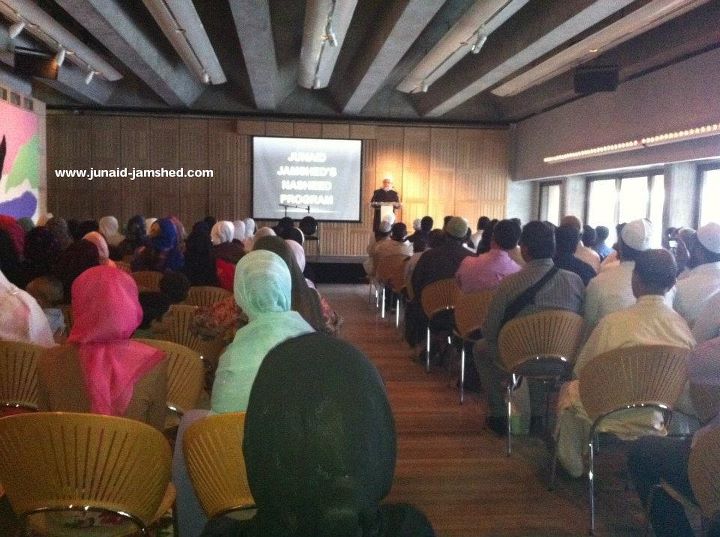 On Saturday,14th Jan 2012,Junaid Jamshed speaking at Utzon Room, Sydney Opera House Australia