Sada-e-Watan Sydney ™
sadaewatan@gmail.com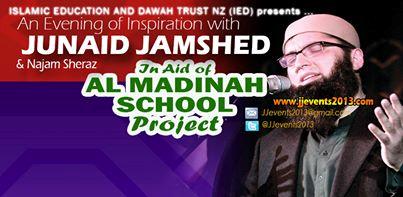 Junaid Jamshed Charity Events in Australia and New Zealand
Junaid Jamshed along with Najam Sheraz and Amjad Hussain will hold up to 6 dates in NZ and AU from 29th Nov till Dec 7th 2013.
These charity events are for the benefit of IED trust projects with foremost Al-Madinah the only Muslim school in New Zealand. Al- Madinah School has a waiting list of hundreds of Muslim kids and roll need to increase to cater for more kids. These events will help pay towards some of the cost needed to build 6 classrooms and admin area for the school.
BRISBANE ------ 29/11/2013 (Friday): 7pm
AUSTRALIAN INTERNATIONAL ISLAMIC COLLEGE
724 BLUNDER RD, DURACK
4077 QLD, BRISBANE
Tickets:$100VIP BANQUET. Includes 3 course meal. Photo opportunity with Junaid Jamshed. Chance to start Sadaqa Jairiya
Tickets and inquiries contact
Shamsher Ali - 0401000135
Hafeez Ali Khan - 0401065457

SYDNEY ------ 6/12/2013 (Friday): 7pm
58 Spencer St Fairfield NSW 2165
IMPERIAL PARADISO
Tickets: $100VIP BANQUET. Includes 3 course meal.
Tickets and inquiries contact
Sydney (Fairfield): Mohammed Naseem - 0416047786
Mohammed Azeem - 0404802250 - Bilal Masjid
Mufti Amjad - 0433971122 - Rootyhill Masjid
Javed Nazar - 0433243223 - Lakemba
Fareed Hakim - 0406285884 – Liverpool

MELBOURNE ------ 08/12/2013 (Sunday): 5pm
AUSTRALIA LIGHT FOUNDATION
291/293 Sunshine Road, Tottenham, Victoria 3012
Tickets: $100VIP BANQUET. Includes 3 course meal.
Contact : Haruun Khan - 0417761882
Akbar Jariwala - 0400131978 - Fawkner
Abid Khan - 0423459183 - Fawkner/Doncaster
Further Information:
Junaid Jamshed NZ and AU tour official page. Please Visit website: www.jjevents2013.com
.. twitter @jjevents2013 .. Email: jjevents2013@gmail.com
Email Sada-e-Watan to a friend!