Sada-e-Watan Sydney ™
sadaewatan@gmail.com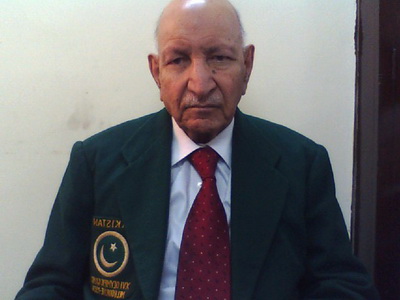 World Known Lawyer of Pakistan Justice (rtd) Aftab Farrukh is coming to Australia
Former Judge of the The Lahore High Court Justice (rtd) Aftab Farrukh,Senior Advocate Supreme Court of Pakistan and his wife Begum Shamim Aftab Furrukh are coming on 2 weeks private visit to Australia. They will visit Sydney NSW and Brisbane. In Sydney they will be guest of Leading Lawyer Mr. Pervaiz Buttar of Buttar, Caldwell & Co Solicitors.
Justice (rtd) Aftab Farrukh is human rights activist,Olympian; He played an important role serving as a judge of the High Court and head of the appellate tribunal. Mr.Justice (rtd) Aftab Farrukh is well-known and Respectable Top Class Lawyer of Pakistan and famous for his specialty in criminal Law.
Justice (rtd) Aftab Farrukh
Mr.Atab Farrukh is one of the eminent and distinguished lawyers of Pakistan, practicising criminal law since 1952. Mr.Farrukh was eleveted as judge of the High Court of Pakistan where he served from 1978 to 1981. He was among the four judges of Lahore High Court who refused to make oath under Provisional Constitutional Order 1981, promulgted by Gen. Zia-ul-Haq, and therefore ceased to be judge of the Lahore High Court.
He is since then continuing with his legal practice as a Senior Advocate of the Supreme Court of Pakistan as well as High Courts of Pakistan. Over the years by his conduct, experirnce and ability he has earned high respect of the Bench and the Bar and leads a low profile, relaxed and top class professional life and has never looked back and since then has almost appeared for one party or the other in almost every high profile criminal case and declined all offers to prosecute the politically motivated cases against top political leadership including Mohtrama Benazir Bhutto Shaheed and Asif Ali Zardari and late Yahya Bakhtiar in Zia-ul-Haq times.
Mr. Farrukh has over the years gained international repute, some of his famous cases being the defence of Air Force Officers tried by PAF on Treason Charges; as Chief Prosecutor PAN AM hijacking case; in the trial for the murder of Late Aqai Sadiq Gnanji, Iranian Cultural Director, Lahore; as a defence lawyer in the plane hijaking case set up against Mian Muhammad Nawaz Sharif on the successful military coup against his government; defence of former Chief Minister of Sindh Justice (Rtd) Syed Ghous Ali Shah in the above said hijaking case; and prosecution of murder case of former Chief Minister of Punjab Ghulam Haider Wyne.
In 1993 Mr.Farrukh was nominated as the Pakistan Delegate to the 46th UN General Assembly Session, was leader of the Pakistani Delegation to the 6th committee and in the same session he was elected Chairman of the Working Group on UN decade of International Law established by the 6th Committee of the UN and for his dedicated work exemplary tributes were showered on him by delegates representing the entire world.
In 1996 nominated as delegate to the 51st UN General Assembly Session.
He is on the panel of Legal Experts of the International Tele-Communication Satellite Organization; was selected in 1987 on the Panel of Conciliators in the International Centre for the Settlement of Investment Disputes, with Headquarters in Washington.
On the establishment of the Hauge Tribunal for the trial of crimes committed in Bosnia Herzegovina was selected as proecutor which position he had to decline due to family commitment.
Mr. Farrukh was elected as a member of Punjab Bar Council in 1973; was elected as member of the Pakistan Bar Council in 1974; chairman of the Executive Committee of Pakistan Bar Council; was elected as vice chairman of the Punjab Bar Council.
Mr.Farrukh and his family has been associated with Pakistan Movement and he as well as his father and mother were awarded Gold Medal for his services in Pakistan Movemnet.
Mr. Farrukh is a keen golfer, in his college days he was an outstanding cyclist, having won the National Championship quite a few times. He participated in 16th Olympic Games held in Melbourne, Australia in 1956.