Multicultural Eid Festival & Fair at Fairfield Showground Sydney
(Coverage By: Syed Zafar Hussain)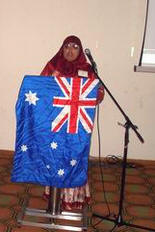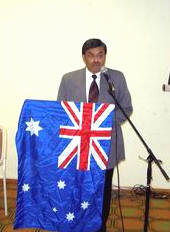 Mehar Jahan Ahmad Mr. Zia Ahmad welcoming Iranian Ambassador Mr. Zahid Hussain

The 22nd Multicultural Eid Festival and Fair was held on Sunday 29th October 2006 at Fairfield Showground Sydney. The entry ticket was $5 per person and according to official figures more than 32,000 people attended the major event.
There was 270 Stalls selling Food, Clothing, Books, Toys and a Variety of Gifts. At the event, there were over 20 entertaining Rides for all ages. AMU Alumni of Australia, SBS Urdu Service and a few other important organizations were also present on the day.
The official opening ceremony was held at 1pm. The Parliamentary Secretary to the Minister to Immigration & Multicultural Affairs Hon. Andrew Robb AO MP was the chief guest of MEFF. In the first session of the Cultural Programme, Hafiz Waliullah Bokhari Recited the Quran followed by a welcoming address from Ziaul Islam Ahmad, President of MEFF. Hon. Andrew Robb also addressed the audience. He congratulated Dr. Qazi Ashfaq Ahmad, Zia Ahmad and the management committee of MEFF for organizing the wonderful event. Mr. Andrew Robb also read the special message of the Prime Minister Hon. John Howard. MP John Howard congratulated MEFF and offered full support to the organisers of the Multicultural Eid Festival and Fair. After his speech, Hon. Andrew Robb visited more than thirty five stalls and talked with the stall holders. Dr. Ali Alsalami & Syed Zafar Hussain introduced major community & religious leaders to the chief guest who had come especially from Melbourne. At the festival there were Cultural performances by school children. The traditional Song & Dance performances and the Band were highly appreciated by the audience. The MCCA MEFF started early in the morning until 7pm. Through Sada-e-Watan Sydney, President of MEFF Mr. Ziaul Islam Ahmad would like to thank all govt officials, Police, Media, Organizations, Educational Institutes, Artists, Public & Business Community. Mr. Zia would also like to announce that Inshallah next year, MEFF will be held on Sunday 28 October 2007 at Fairfield Showground Sydney.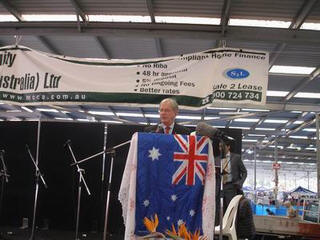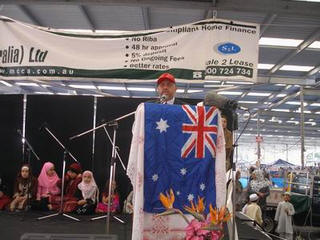 Chief Guest Hon. Andrew Robb President Mr. Ziaul Islam Ahmad