Sada-e-Watan Sydney ™
sadaewatan@gmail.com
Renowned Pakistani poet Faiz Ahmed Faiz's daughter Moneeza Hashmi is visiting Australia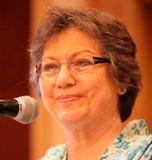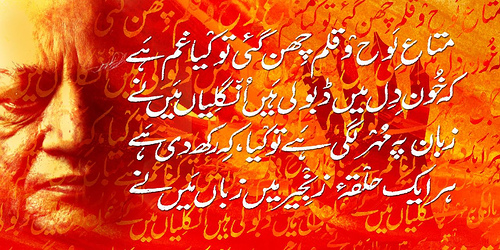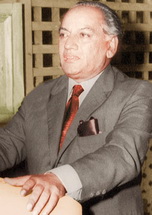 Bazm-e-Sarfraz 2012
Faiz Ahmed Faiz: Progressive Thinkers in Pakistan
Mrs Moneeza Hashmi is the President of Commonwealth Broadcasting Association (CBA) based in United Kingdome which is the largest global association of public service broadcasters, creating the leading forum for exchange of knowledge and supporting members through Digital Transition. Moneeza Hashmi has been associated with Electronic Media (TV) for the past 4 decades. She retired from Pakistan TV as Director of Programmes. She is also a Media Consultant and Gender Trainer.
Mrs Moneeeza Hashmi is among the rare women media persons to to have reached a senior management position with Pakistan's national television, PTV. Amongst other her other achievements she has introduced gender training programs at PTV and produced through a UNDP-PTV project a documentary on the "Portrayal of Women in the Media." She was also instrumental in the launch of Khawateen Times, an hour-long programme for women each night. She holds a Masters Degree from University of Hawii and has played a major part in shaping debates on media and women in Pakistan. Currently she is associated with Hum TV which enjoys wide viewership in Pakistan, India, US, UK and Australia. The plays telecast on Hum TV are reshaping attitudes to women, gender, religion, Muslim minorities in the west, and Indo-Pakistan relations.
Moneeza Hashmi is daughter of the renowned Pakistani poet, Faiz Ahmed Faiz (1911-1984), who was the recipient of Lenin Prize for Literature, and a leading Progressive Writer in Pakistan. He worked closely with Yasser Arafat and his poetry has been translated into numerous languages. The Pakistan Government declared 2011 to be the Centennial Year for Faiz in recognition of his contribution to literature and drawing attention to issues that continue to affect developing countries.

The CMSS has invited Mrs Moneeza Hashmi to be the Keynote speaker at the Bazm-e-Sarfraz that commemorates the contributions made by Begum Sarfraz Iqbal to Urdu literature (1939-2003). Begum Sarfraz Iqbal and Faiz Ahmed Faiz were close friends and she authored Daman-e-Yusuf including his letters to her while in exile during the 1978-84 period. Faiz Ahmed Faiz's progressive thinking and his friendship with Begum Sarfraz Iqbal is being celebrated on 2 May 2012 at the University Club, UWA from 6-9 pm.

Other speakers include:
Mr Muhammad Yousaf (Mr Books), a publisher and patron of literature in Pakistan.
Ghulam Abbas Gillani Councillor, Liverpool Council, NSW
Ms Victroria Schofield,Renowned Journalist,Associate at Pakistan Security Research Unit, UK Mr Rizwann Zeb, PhD Scholar , CMSS
Dr Mohammad Ali, Urdu Society, Canberra

A poetry reading competition of Faiz Ahmed Faiz's work will be open to all attendees. Please register in advance with Ms.Beth Meertens, Centre for Muslim States and Societies, Ph: 0421192328, email: cmss-sscs@uwa.edu.au.
Date: Wednesday 2 May 2012
Time: 6:00pm - 9:00pm
Venue: UWA Club (Case Study Room)
Tickets: $10 Includes refreshments.

Professor Samina Yasmeen
Director
Centre for Muslim States and Societies (CMSS)
University of Western Australia
35 Stirling Highway
Crawley WA 6009
Australia.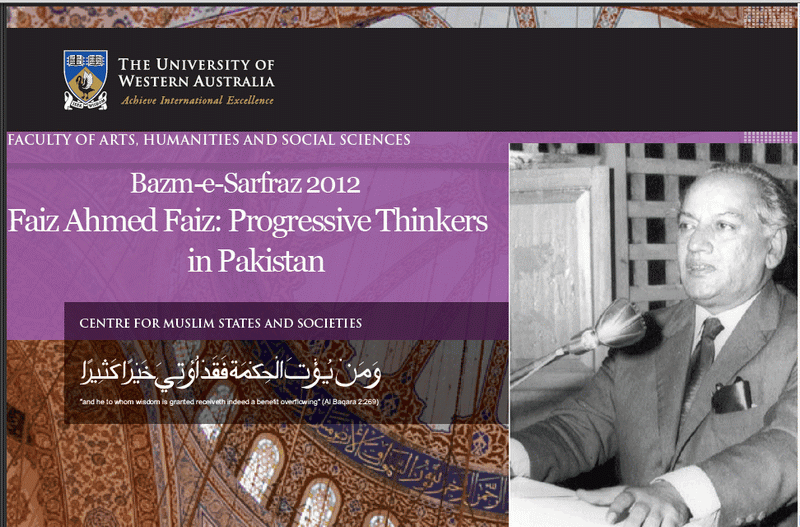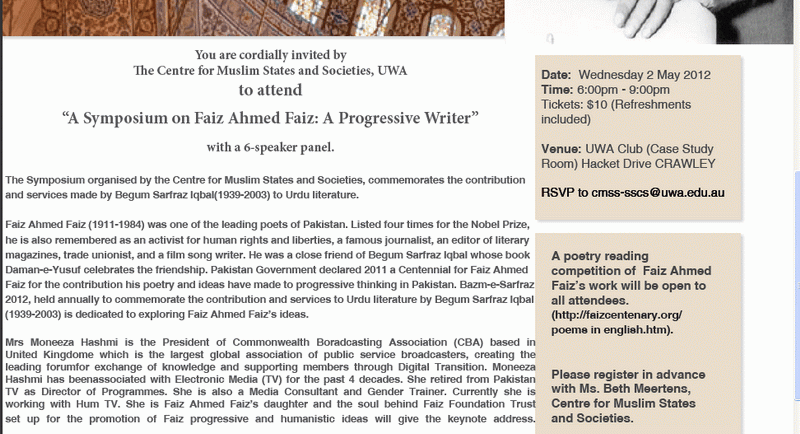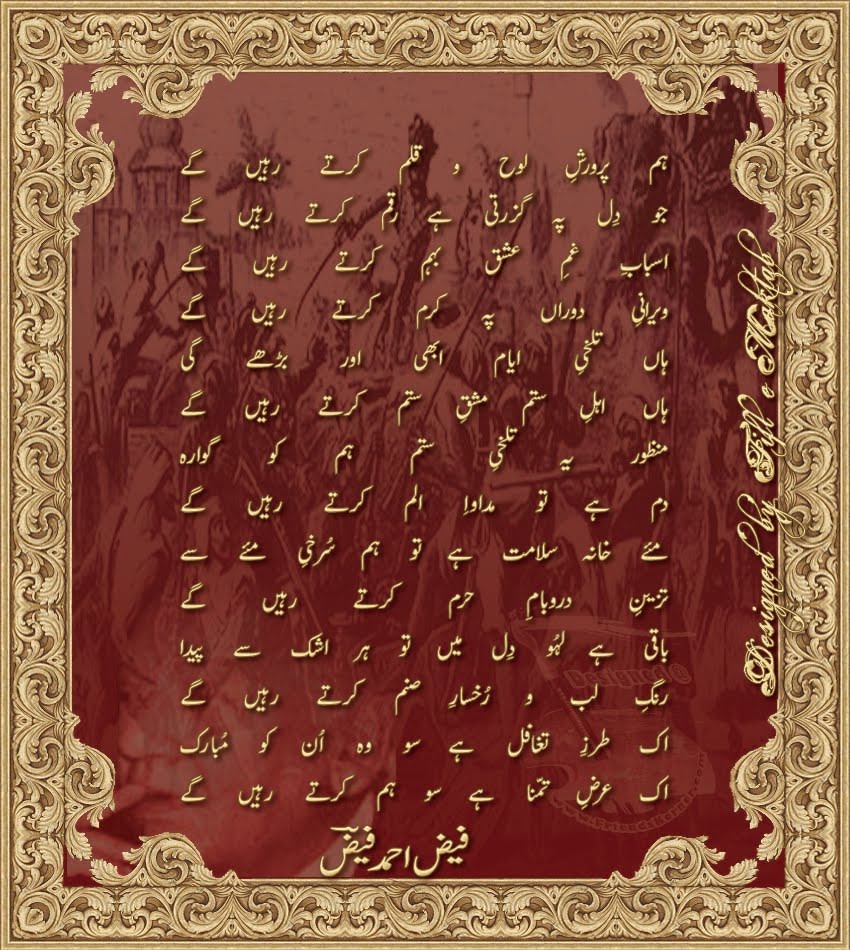 Email Sada-e-Watan to a friend!