Sada-e-Watan Sydney ™
sadaewatan@gmail.com
H.E. Governor QLD Penelope Wensley President CBA Moneeza Hashmi
Moneeza Hashmi, General Manager International Relations HUM TV Pakistan has been re elected for a second term as President of the Commonwealth Broadcasting Association.
The unanimous decision was taken in the elections which were held at the 29th Conference of the CBA which recently got ended in Brisbane, Australia.Mrs. Hashmi's electronic media career spans more than four decades and she headed the programming division of Pakistan Television Corporation before joining HUM TV network in 2005.She was awarded the President of Pakistan's Pride of Performance award in 2002 for services rendered on the electronic media. She has represented Pakistan on many national and international forums and is a well respected figure in the Pakistani Media.On the behalf of the Australian Pakistani Community, Sada-e-Watan Sydney Congragulates Mohtrama Moneeza Hashmi & family.
President of the Commonwealth Broadcasting Association Moneeza Hashmi's Speech at the CBA Conference, Brisbane Australia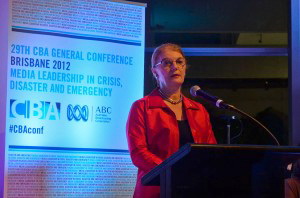 Your excellency.The Governor of Queensland Her Excellency Ms Penelope Wensley AC
The Honorable Mr. James Spigelman. Chair of ABC
Distinguished guests.Ladies and Gentlemen
It is indeed my privelge and an honour to welcome you all today at this opening reception of CBA conference in Brisbane Australia.
On behalf of CBA I must first extend our thanks to our generous hosts ABC,MD Mark Scott and his staff for putting in so much effort and hard work over the past many months in organizing and planning of this conference..·
I must also mention here our sincerest thanks to our sponsers Tourism Queensland,SBS.Thomason Broadcast,The Vienna Philharomonic and the BBC And ofcourse to all of you who have travelled far and wide,long hours and long distances from all over the Commonwealth and beyond to be with us for these few days.
What brings us together is a shared belief in and passion for public broadcasting.
Although the theme of this conference is focusing on "disaster,crisis and emergency" it moves on to a positive aspect when we discuss "recovery,rebuilding,a new life,a new beginning".
That must be the role of each and every Public broadcaster across the world.To bring that hope back into the lives of people who have seen their homes,their livelihoods destroyed .Helplessly watched their loved ones fade away before their eyes.Wanted to end their lives rather than live in guilt and despair.
It is a difficult challenge no doubt but it has been done.
Right here in Brisbane after the 2011 floods.
In Pakistan after the devastating floods of 2010.
In Japan after the Tsunami in 2011.These are just some of the most recent examples of natural disasters.
The Public broadcaster plays a critical role in not only reporting the havocs played by nature but also rebuilding the nation back inch by inch,hauling it's people back from the abyss of despair,hopelessness and helplessness in finding a reason to go on living.
It is not an easy challenge.It is no easy task as so many of my colleagues and friends here know.
But it is what we as Public Broadcasters believe in.
To go beyond the call of duty is our code of honour which builds that trust with our audiences,to hold out that hand that pulls them out of that abyss .We do not only provide information.We provide them reasons for living again.Hoping again.
This conference will be all about sharing such experiences.Learning from such experiences.Building relationships and bringing our audiences,our listeners into a more global environment of media coverages.
I thank you all once again for coming and wish this conference all success in the days ahead.