Sada-e-Watan Sydney ™
sadaewatan@gmail.com
The Message of Love - Koocha-e-Saqafat's another novel program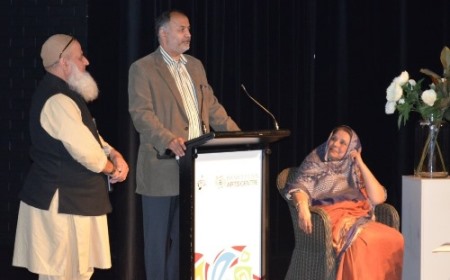 Javed Nazar, Consul General Abdul Majid Yousfani and Uzma Gilani
Koocha-e-Saqafat arranged an impressive Religious Special Event at Bankstown Theatre Hall
The Bankstown Sydney Theatre Hall audience glued to the seats from the mesmerising performances of guest speakers and Naat reciters for the complete two hours. This was the impression that an outsider got who attended Koocha-e-Saqafat's another unique and novel program on 17 December 2017. The program's every section was meaningful that was made impressive by a lovely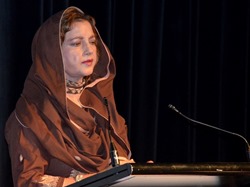 audience and an equally attractive speakers line-up. Famous PTV artist Uzma Gilani, Shagufta Zia,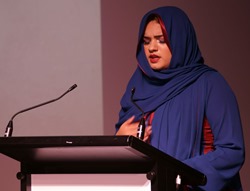 Mehreen Javed, guest speaker from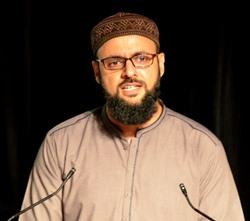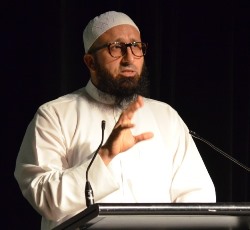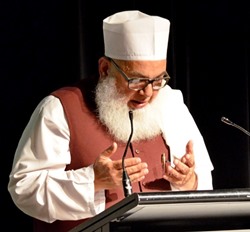 Nizam-ul-Haq Thanvi
Brisbane Imam Uzair Akbar, Imam of Central Coast Mosque Nizam-ul-Haq Thanvi, Qari and Naat Reciter Hafiz Abdul Rahman all of them impressed the audience through their faith increasing talks, Naats and Hamd.
Javed Nazar during the event
Javed Nazar hosted and welcomed the audience and introduced the guests of the event. The program was dedicated to birth of Prophet Mohammad (SAW), which happened in the month of Rabi-ul-Awwal.Hafiz Abdul Rahman opened the program with the recitation of Quran and a Naat praising Prophet Muhammad (SAW) which was followed by another beautiful Naat by Ms Shagufta Zia that mesmerised the packed hall.

Koocha-e-Saqafat showed its own video compilation, 'Message of Love', which included short speeches by various prominent figures from different walks of life. It offered tribute to late Junaid
Jamshed and 42 fellow passengers who died in a plane crash in 2016. It also remembered late Abdul Sattar Edhi (Founder of Edhi Trust, one of the largest and most respected charity organisation in Pakistan), Amjad Sabri (a well-known Naat reciter in Pakistan who was shot dead in Karachi in 2016),and those innocent kids of Peshawar Army Public School who were killed in the terrorist attack in2014. The video showed previously recorded messages from Junaid Jamshed, Pakistani cricketer Mushtaq Ahmed, PTV artist Qavi Khan and World Boxing Champion Muhammad Ali, which was greatly appreciated by the audience.

Uzma Gilani read her own prose in Allah's praise and also read a story written by Javed Nazar titled 'Tajdeed-e-Wafa'. On her reading performance the crowd could not control their emotions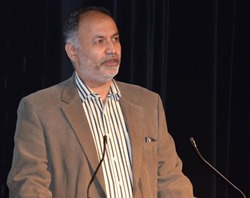 CG Abdul Majid Yousfani
and she made not only the audience but herself cry.Consul General Pakistan Abdul Majid Yousfani made a short speech and congratulated Koocha-eSaqafat Team and praised the good work this organisation is doing for Pakistani community in Australia through sending positive messages. Ms Mehreen Javed also recited a beautiful Naat, Mera Dil Badal Dey, which touched the hearts of the audience. Following this Naat, Hafiz Abdul Rahman recited another Hamd that was very much liked by
the audience.

In the next session, Imam Uzair Akbar gave a speech relevant to the program title the Message of Love in the light of Quran and Hadith. It was a simple, warm and an impressive speech that left many people particularly the youth asking for more and suggesting to organise another program where they could listen to the Imam for little longer.In the end, Maulana Thanvi gave a short talk about the love of Prophet Muhammad (SAW) and made a concluding Dua (supplication) in which he prayed for Muslim Ummah, peace for all humanity, longevity of Pakistan and for success in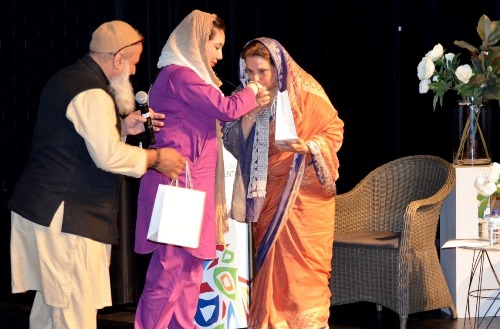 Pak Diplomat Bushra Salam presenting gifts to Uzma Gilani
this world and the hereafter for everyone in the hall. Mr Javed Nazar thanked all guests, speakers and the organising committee for their continued support and asked Consul of Pakistan Consulate Sydney Bushra Salam to present the gifts to the guests. Koocha-e-Saqafat Australia continued with its tradition of offering delicious food after the Dua and Maghrib prayers.