Sada-e-Watan Sydney ™
sadaewatan@gmail.com

Pakistan's High Commissioner touched by affection of Canberra children after terror attack
Henry Belot
Just hours after learning more than 130 school children had been murdered in a Peshawar classroom, Pakistan's High Commissioner was moved to tears when Canberran children brought her flowers.
How can anyone who believes in God, irrespective of the religion, how can anyone do such a heinous act? Naela Chohan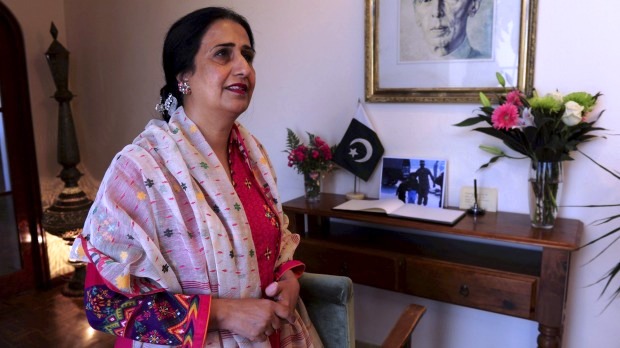 Pakistan High Commissioner to Australia, Naela Chohan was moved to tears as Canberra school children delivered flowers. Photo: Graham Tidy
With the Pakistan flag lowered to half-mast outside her office, Naela Chohan said this week's tragic events demonstrate the importance of coming together as a community.

"We are deeply touched by the love and affection that Australian children have shown after the loss of innocent lives, young students in Pakistan, in this heinous terrorist attack," she said.

Ms Chohan described the massacre as a tragedy and was close to tears when reading a handwritten note from a local resident, resting beside flowers brought by children.

"Deepest sympathies to all the people of Pakistan on the horrific loss of your precious children," read the card.

Ms Chohan said the High Commission was yet to receive any queries from members of Canberra's Pakistani community concerned about their loved ones in Pakistan.

"But whether you're related by blood or not, it's the bond of humanity and everyone is concerned about it and everybody is in grief for this," she said.

Ms Chohan said she was deeply touched by the words of Prime Minister Tony Abbott on Wednesday morning about the loss of young life in Pakistan.

"It was only on Monday that you were going through what the Prime Minister said was a brush of terrorism, and I was so sad," she said.

"It's never ever right to kill innocent people and basically using Islam is the worst thing to do because they're enemies of Islam.

"Islam does not call for any such violence. We are all believers of one God, who is a loving God, a caring God, a forgiving God.

"How can anyone who believes in God, irrespective of the religion, how can anyone do such a heinous act?"

Mr Abbott told the ABC it was "impossible to put into words the mixture of grief and fury that must be felt by people in Pakistan and around the world at this latest terrorist atrocity".

Ms Chohan, who was wearing a black armband to pay tribute to the lost children, was in Sydney when gunman Man Haron Monis held 17 hostages captive in the Lindt Chocolate Cafe in Martin Place.

"It's coincidental that it has happened in worse form in Pakistan. This is a common threat, this is a common menace," she said.

"Our thoughts and prayers are with the victims and their families of the Sydney siege."

Ms Chohan said Canberrans had come to pay tribute with flowers, messages of condolences and expressions of support before the High Commission had announced the condolence book, which will remain open for anyone to sign during three days of mourning.

"They just wanted to reach out and show their support, and it's very touching," she said.

"Thank you Australia. Thank you Australians."

Ms Chohan said education remained an important thing for "resilient" Pakistanis and the "cold-blooded cowardly" school attack would not weaken the country's resolve to combat terrorists.

"These are enemies of Pakistan, enemies of Islam and enemies of humanity," she said.

"We pay homage to our brave soldiers who are engaged in a valiant effort to root out terrorism from the country. The Pakistani nation stays united in condemning this heinous crime."
The High Commission is holding a candle light vigil at the High Commission on Friday December 19, 2014 at 9:00 pm at the High Commission(4 Timbarra Cres, O'Malley, ACT 2607) for those martyred in Tuesday terrorists attack at the Army Public School, Peshawar.