Sada-e-Watan Sydney ™
sadaewatan@gmail.com
IFTIKHAR RANA PRESIDENT OF PAKISTAN ASSOCIATION OF AUSTRALIA HOSTED A DINNER FOR THE HONOUR OF HIS EXCELLENCY PETER HEYWARD HIGH COMMISSIONER OF AUSTRALIA PAKISTAN AT SPICE OF LIFE, HARRIS PARK SYDNEY
(Report : Aurangzeb Rana)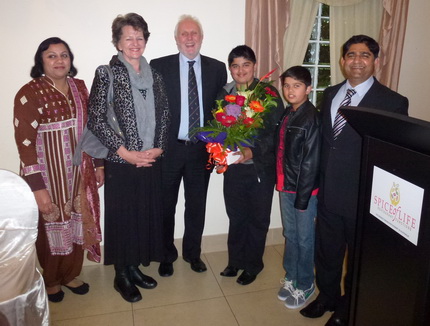 The Pakistan Association of Australia (PAA) hosted a welcome dinner for His Excellency Peter Heyward on Monday 18 June 2012. His Excellency Peter Heyward is the designate High Commissioner of Australia for Pakistan, who left on Wednesday 20th June 2012 Islamabad Pakistan to commence his tenure.
At the reception President PAA Mr.Iftikhar Rana welcomed Mr & Mrs Heyward during which Aurangzeb Rana and Saud Rana presented a bunch flowers to the honourable guests Mr & Mrs Heyward.After this entree was served the formal section of the function had started people enjoyed the entree.
Mr.Ashraf Chohan General Secretary of PAA welcomed His Excellency Peter Heyward on behalf of the Pakistan Association of Australia and all the Pakistani community. Followed by Anwar Shad recite of the Holy Quran.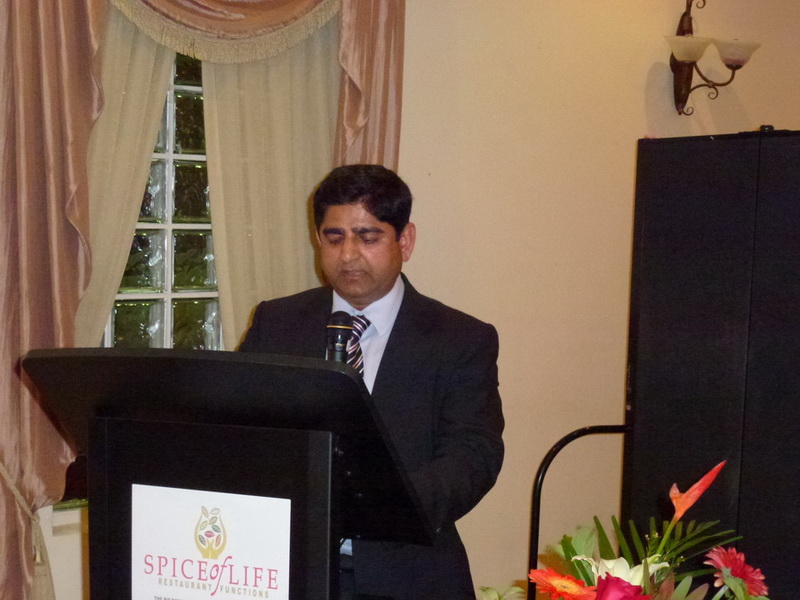 Iftikhar Rana President of the Pakistan Association formerly welcomed His Excellency Peter Heyward during his speech. His speech also included a farewell message to The Hon. Peter Heyward. The President also stated the current issues which many Pakistani people are facing, during this Peter Heyward dotted down these points, showing he was very keen on making a difference whilst he is in Pakistan.
NSW Parliament was represented by The Hon. Shaoquett Moselmane MLC and the Hon. Geoff Lee MP Member for Parramatta.
His Excellency Peter Heyward then thanked Iftikhar Rana President of PAA to the great gathering and Pakistan Association of Australia to arrange a nice dinner to his honour.
Mr.Azam Mohammed Consul General of Pakistan Sydney thanked HC Peter Heyward whom did interact with the Pakistani Community.
The Hon. Peter Heyward presented his speech; he stated he would review the points raised by Mr Rana, was touched by the display of hospitality at all the events he had been too and that bilateral trade and investment was his number one issue. Secondly he urged whilst in Islamabad when you are visiting, do visit the Embassy as you are all Australians as well.
After The formal presentation the food was served by Spice of Life Restaurant during that people integrated with each other and socialised with His Excellency Peter Heyward.

At the end Pakistan Association of Australia thanked the Pakistani community living in Australia and the respected guests for their attendance and support that night.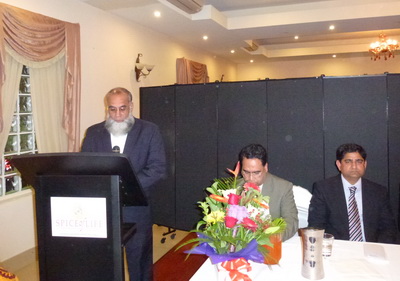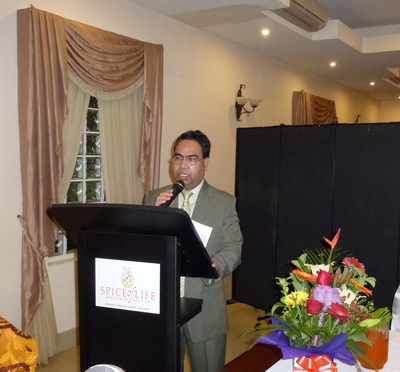 Mr.Anwar Chaudhary Mr.Ashraf Chohan