Sada-e-Watan Sydney ™
sadaewatan@gmail.com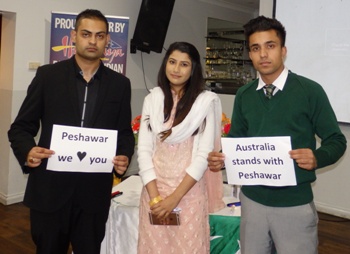 Talal Shah, Sidra Hameed and Faraan Mirza
Australian Pakistani Community Marks the First Anniversary of the Peshawar School Massacre
For the innocent Shaheed students of Peshawar School Pakistan, the Australian Pakistani Community marked the first anniversary & memorial ceremony in Sydney. Miss Sidra Hameed, Faraan Mirza and Talal Shah of Young Pakistan Association of Australia arranged a Candle Vigil on Thursday, 17 Dec 2015 at the Himalaya Function Centre. Prominent Community leaders, Politicians, Parliamentarians and youth are attending this tribute ceremony & dinner.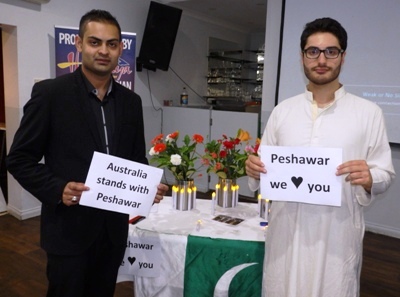 Talal Shah and Francis Ventura
Acting Consul General of Pakistan in Sydney Bushra Salam, Prominent Community leaders, Religious scholars, Politicians, Parliamentarians and youth attended this Candle Vigil. The High Commissioner of Pakistan Her Excellency Naela Chohan was Chief Guest of the event who especially travelled from Canberra to Sydney with Ambassador Musa Javed Chohan for the event.
Within the next week, Sada-e-Watan will publish the full coverage of the function. Below is the brief speech of the Hon. Shaoquett Moselmane MLC, Opposition Whip Parliament of New South Wales.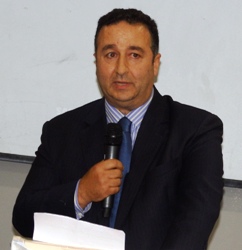 Transcript speech of The Honourable Shaoquett Moselmane, MP
I acknowledge traditional owners of the land and pay my respects to their elders past and present and I acknowledge my colleague and friend former president of the Legislative Council NSW Parliament the Hon Amanda Fazio a strong supporter of the Pakistani People, the High Commissioner for Pakistan Her Excellency Naela Chohan and Ambassador Musa Javed Chohan represent.

I also acknowledge the Defence Advisor Pakistan High Commission Canberra, Brig. Muhammad Asghar Chaudhry, the Acting Consul General of Pakistan Bushra Salam, a dear friend former Consul General Mr Azam Mohammed and former and current community leaders Mr Iftikhar Rana, Dr. Sayeed Khan, lawyer Ejaz Khan, Abbas Rana, Hafiz Shahid Iqbal, Bashir Malik and the many others present including my dear friends Mr Zafar Hussain Shah, his younger Brother Javed Hussain Shah and the very active community minded young man Talal Zafar Hussain Shah.
For arranging this event on very short notice, I would like to acknowledge the efforts of Mr. Francis Ventura, Miss Sidra Hameed, Faraan Mirza and Talal Shah of Young Pakistan Association of Australia.
To you all, I express my respect and my condolences for the loss of life as perpetrated on the children of Peshawar. An act that has scarred the consciousness of the nation.
Terrorism spares no one and has no boundaries. It can come in many forms and committed by individuals groups or even by States, as we see it happen on a daily basis against the Palestinian people or in Lebanon, in France, in Turkey, in Iraq, in the U.S.A, in Russia and in Pakistan.

Today we remember those young lives lost, taken away by a brutal force we must all unite against.
Bearing automatic weapons, seven foreign nationals, a Chechen, three Arabs and two Afghanis, in a calculated cold blooded act, enter the school, open fire and proceed with a plan to kill. It was a plan to commit the deadliest terrorist attack ever to occur in Pakistan.

Before entering the school, the gunmen set fire to their own van in which they had arrived.

They were there to kill and be killed for they believed the heavens were awaiting them. In their twisted minds they believed they served the will of god and in heaven they would live the life of eternity.
So without mercy, they entered and they killed. 141 people including 132 children and injured 121 others.

An appalling act of terror.

A most heinous of crimes.

We are thankful to Pakistan Army's special Services Group for their quick response. If it was for them, the terrorist would have killed the remaining 960 children and staff.
It is hard to fathom the cruelty of this act.
The entire world now shares a common sense of grief and outrage at such senseless murders.
The people of Pakistan are known for their generosity and kind spirit. The children of Pakistan did not deserve such evil.
As we grieve over the tragic loss of the innocent lives lost in the Sydney Siege, one cannot but feel the shock and horror many of you and in Pakistan must feel.
As a friend, I express my deepest sympathies to you and stand in Solidarity with you as you grieve and remember those innocent children, whose lives were taken in a most barbaric way.
I hope that this tragedy would never be repeated.
I take this opportunity at this time of celebration of the birth of Prophet Mohamed and the birth of Jesus Christ pbuh them, I wish you Eid Mawlad Mubarak, Merry Christmas and a happy and safe 2016.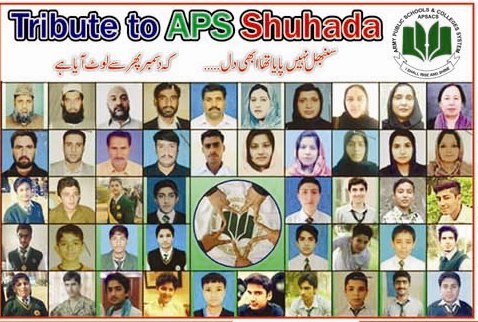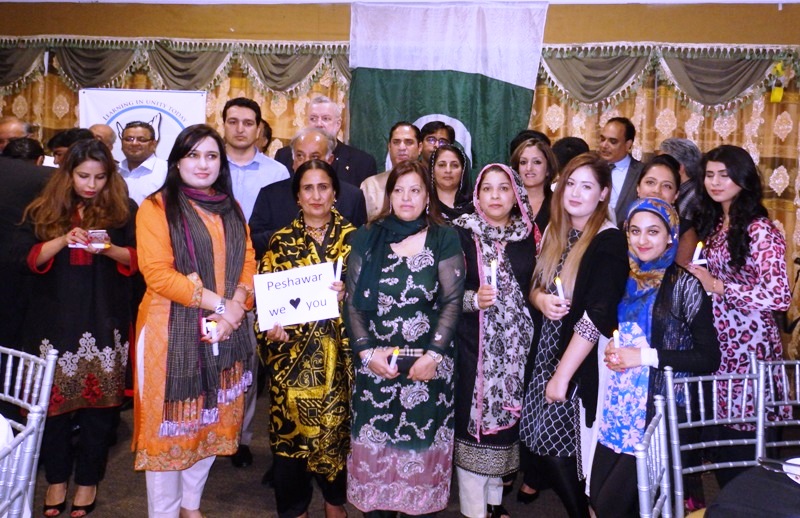 During the Candle Vigil Ceremony, a Group Photo with High Commissioner H.E. Naela Chohan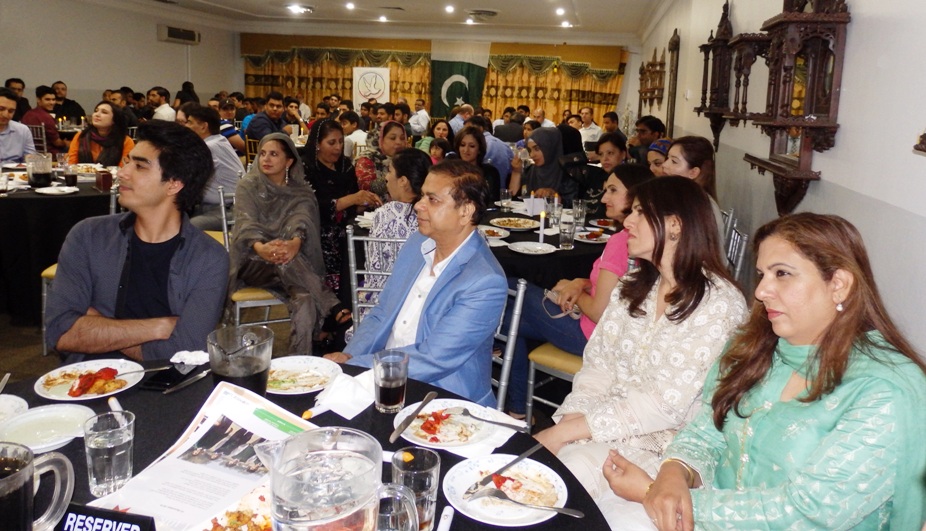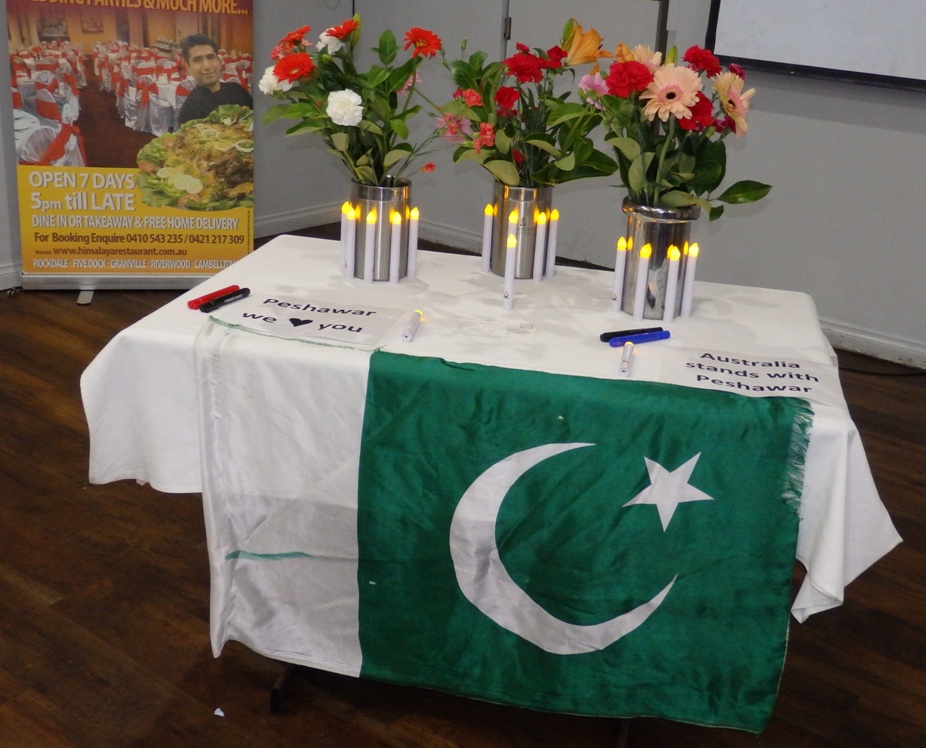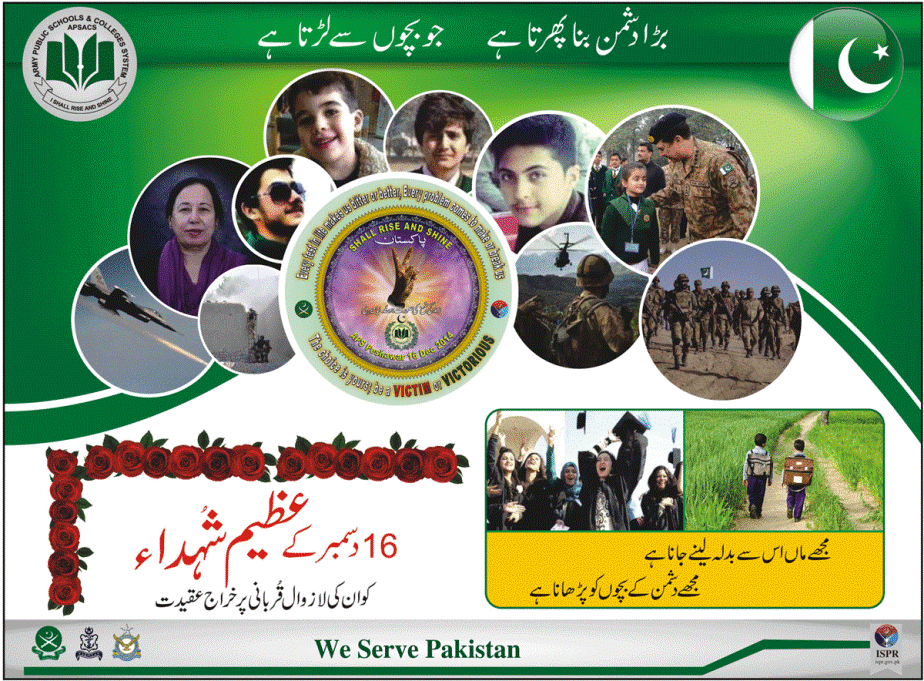 To listen to the Pak National Song for Peshawar School, Please click this link:
https://m.youtube.com/watch?v=uGug_C-b0S4