Sada-e-Watan Sydney ™
sadaewatan@gmail.com
Every soul shall have a taste of death: in the end to Us shall ye be brought back
.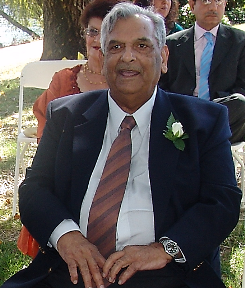 Well known Prof Abdul Qadir Qureshi Passed away in Canberra
Professor Abdul Qadir Qureshi, founding Principal of Sir Syed College Rawalpindi and an icon of Pakistani community in Australia has sadly passed away on Sunday, 5th of June 2016 in Canberra.
His Namaz Janazah will be held on Wednesday, 8th June after Zohar at 12:30pm at Canberra Mosque.
Address of Canberra Mosque: 130 Empire Circuit, Yarralumla ACT 2600
Names of Children of Prof Abdul Qadir Qureshi:
Lala Sheikh
Zia Qureshi
Amer Qureshi
Ayesha Qureshi
Pervez Sheikh (son-in-law)
Nausheen Qureshi (daughter-in-law)
Tina Qureshi (daughter-in-law)
Imran Amin (son-in-law)
Prof. Qureshi, H.E. Jalil Jilani & Prof. Khalida Qureshi
The editorial Board of Sada-e-Watan Sydney expressed their profound grief on the sad demise of renowned personality Prof Abdul Qadir Qureshi .In condolence message, the editorial board sympathized with the family members of the deceased and offered 'Fatiha' for the departed soul.