ABOUT US (PROMOTIONS)
Sada-e-Watan Sydney Promotions offers social media marketing, advertising options and media/public relations solutions. We have worked with many large multinational organisations such as Facebook, Kodak, Pakistan International Airlines, Habib Finance and more. Our wide range of clients includes UK-based HStarr Culture Mix, rising Multicultural Australian cricketer Faraan 'Ferrari' Mirza and more. Please contact our executive director Syed Talal to find out how Sada-e-Watan Sydney Promotions can cater to your individual or business needs.
Director : Syed Talal
s.talal@sadaewatansydney.com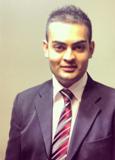 Syed Talal is a communications and media specialist across digital and print platforms. He has extensive industry experience and is a social media branding expert. With the rise of social media, our promotions director has established himself as one of the leading consultants in his field over the last few years. Mr. Talal has managed accounts across a variety of platforms including Facebook, Twitter, LinkedIn and YouTube for many individuals and businesses with great success.
Syed Talal made the now infamous statement "This is the age of social media, if you're not on social media, you're not anywhere." The Sada-e-Watan Sydney Facebook page is recognised as Australia's largest Pakistani-Australian social media forum with over 15,000 likes and a weekly reach of over 3,000 users.
Syed Talal has worked on digital campaigns with government and non-government organisations as well as many multinational corporations and entities. He has been an active campaigner for e-democracy initiatives. Syed Talal is very passionate about the importance of digital media when it comes to promoting a message to modern Australia. This includes email, sms, websites, social media and other digital channels.
At the inaugural NSW Premier's Multicultural Media Awards in 2013, Syed Talal was nominated as a finalist for his work with the Sydney Thunder cricket team.
Contact our Promotions director by email s.talal@sadaewatansydney.com and see what we can do to help develop your brand/image.