Sada-e-Watan Sydney ™
sadaewatan@gmail.com
Return of the King - Ustad Rahat Fateh Ali Khan
LIVE IN SYDNEY - 24th MARCH SYDNEY
Tickets Selling Fast – don't miss out !
24th March, 2012 will see the Sydney Convention Centre come alive with the mesmerizing voice of Ustad Rahat Fateh Ali Khan. The King of Qawwali, The ustad of Ghazals and the soulful behind the latest Bollywood hits, Rahat Fateh Ali Khan is all set to perform in Sydney next year, presented by none other than Red Chillies Entertainment Australia.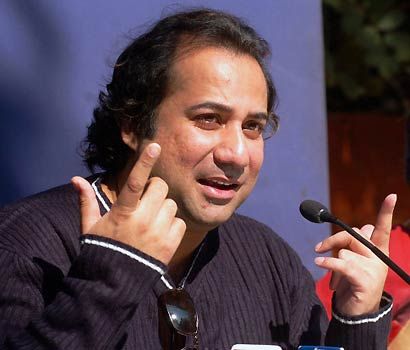 Red Chillies, who first presented Rahat – Live in Sydney back in 2010 were flooded with requests to bring back the Ustad after a sell-out performance. Rahat's voice, his passion, his 'andaaz' has always been a delight to witness live and Red Chillies are presenting Sydney with another, not-to-be missed opportunity in March, 2012.
Hailing from a strong musical family, Ustad Rahat Fateh Ali Khan, a world-renowned musician is primarily known for his melodic renditions of Qawwali, however, with his distinct sufi voice, unique style and a long list of hits, Rahat Fateh Ali Khan has become one of the most popular playback singers in Bollywood, lending his voice to the likes of Akshay Kumar, Saif Ali Khan, Salman Khan, Naseerudin Shah and Ranbir Kapoor.
Starting his career at a tender age of eleven under the tutelage of his uncle Nusrat Fateh Ali Khan, Rahat made his mark in the Hindi Film Industry, with hits like 'Mann Ki Lagan' from the movie 'Paap', Jiya Dhadak Dhadak' from 'Kalyug', 'Aaj Din Chadeya' from the movie 'Love Aaj Kal' and more recently 'Tere mast mast do Nain' from the movie 'Dabangg' ,'Dil toh Bachha Hai jee' from the movie 'Ishqiya' and 'Rabba main toh Mar Gaya' from Mausam.
The Ustad who believes music is his priceless possession, his greatest knowledge and the pride of his life will also pay a tribute to his Late Uncle, Ustad Nusrat Fateh Ali Khan during his 2012 Sydney show. Rahat often says, "Qawwali music is not only music, it is a message. It was created by Sufis, and when we compose and practice this music, it stays forever. Other music comes and goes, but Qawwali never goes. Once you start listening, it goes in your soul, goes in your spirit, and you become more human. I feel that this music is myduty, to go and give the message of Sufism. My future is that one day I will fulfil the desire of Nusrat to give this message to the world."
Having received rave reviews in Australia and in all the other parts of world where Rahat has performed, the musical genius is all set to regale Sydney at one of the most highly anticipated concerts of 2012 at the Sydney Convention Centre. Spellbinding', 'soothing', 'unbelievable', 'dreamy', 'magnificient' are only some of the words used to describe the experience of watching Rahat – Live in Concert.
The strength of his vocals knows no boundaries, he hypnotizes his audience like no other, and his masterful singing and the genius of his ensemble are not to be missed. After a sell-out performance in 2010, witness the one and only Rahat Fateh Ali Khan and his group of musicians live in concert. Expect a mixed repertoire of memorable Qawwalis, including a tribute to his late Uncle, Ustad Nusrat Fateh Ali Khan, devotional Sufi renditions and his greatest Bollywood hits like Dil toh Bachha hai jee, Jiya Dhadak Dhadak, Tere mast mast do nain, Sajda. Meri ada bhi from blockbuster movies. Come and be transported to the beautiful world of soulful music.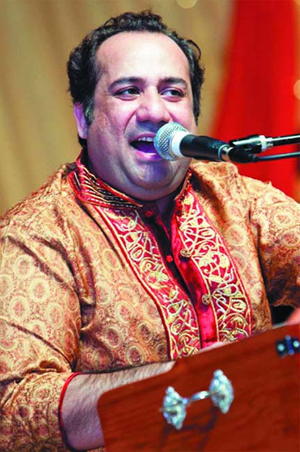 Concert Date – SATURDAY 24th March 2011
Venue – Sydney Convention Centre at the BAYSIDE AUDITORIUM DARLING HABOUR.Sydney's Most Prestigious Venue.
Rahat Fateh Ali Khan - Awards
2004
"Mann Ki Lagan" from Paap
Best Playback singer – Sahara Awards, 2004
2010
"Aaj Din Chadheya" from Love Aaj Kal
Best Playback singer – Star Screen Awards, 2010
2011
"Dil Toh Bachcha Hai Ji" from Ishqiya
Best Playback singer – Filmfare Awards, 2011
Best Playback singer – Star Screen Awards, 2011
"Tere Mast Mast Do Nain" from Dabangg
Best Playback Singer – IIFA Awards, 2011
Best Playback Singer – BIG Star Entertainment Awards, 2011
Best Playback Singer – Mirchi Music Awards, 2011
Best Playback Singer – Apsara Award, 2011
"Sajda" from My Name Is Khan
Best Playback singer – Mirchi Music Awards, 2011
Rahat Fateh Ali Khan - Nominations
2010
"Aaj Din Chadheya" from Love Aaj Kal
Best Playback singer – Filmfare Awards, 2010
Best Playback singer – IIFA Awards, 2010
2011
"Sajda" from My Name Is Khan
Best Playback singer – Filmfare Awards, 2011
Best Playback singer – Star Screen Awards, 2011
"Dil Toh Bachcha Hai Ji" from Ishqiya
Best Playback singer – IIFA Awards, 2011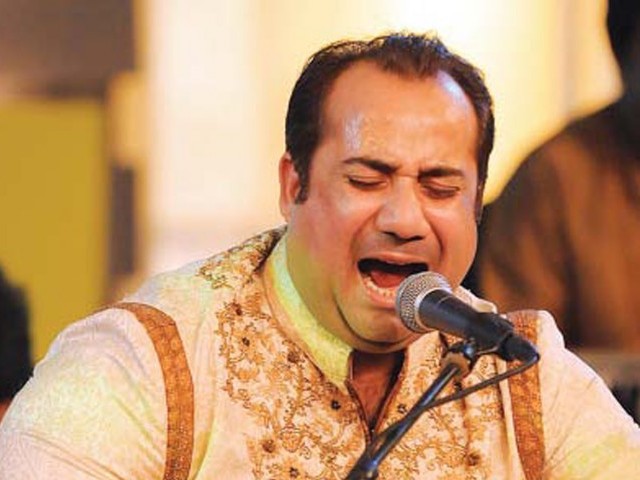 Rahat Fateh Ali Khan – Popular Songs
Mann Ki Lagan – Paap (2004)
Jiya Dhadak Dhadak – Kalyug (2005)
Naina – Omkara (2006)
Bol Na Halke Halke – Jhoom Barabar Jhoom (2007)
Jag Soona Soona Lage – Om Shanti Om (2007)
Main Jahan Rahoon – Namastey London (2007)
O Re Piya – Aaja Nachle (2007)
Teri Ore – Singh is King (2008
Aaj Din Chadeya – Love Aaj Kal (2009)
Rabba – Main aur Mrs Khanna (2009)
Bahara – I Hate Love Storys (2010)
Fakeera – Badmaash Company (2010)
Surili Ankhiyon Waale – Veer (2010)
Dil toh Baccha Hai Ji – Ishqiya (2010)
Sajda – My name is Khan (2010)
Tum Jo Aaye – Once Upon a Time in Mumbai (2010)
Tere Mast Mast Do Nain – Dabangg (2010)
Aas Paas Khuda – Anjaana Anjaani (2010)
Meri Ada bhi – Ready (2011)
Rabba Main Toh Mar – Mausam (2011)