Sada-e-Watan Sydney ™
sadaewatan@gmail.com
Rehan Alavi's Book Launch Ceremony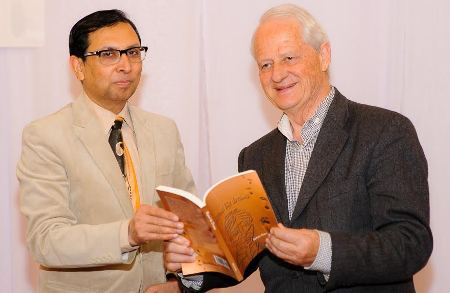 Rehan Alavi and Honourable Philip Ruddock
A celebration of literary contribution of Migrant community and acknowledgment of Diversity of Australia
An extra ordinary and memorable literary evening left its footprint in Sydney's literary event history on the evening of 3rd. This was Rehan Alavi's Urdu and English fiction book launching ceremony that was held at Spice of Life function centre, Harris Park Sydney. Bilingual event was unique forum from various aspects. Firstly due to its cross-cultural Literary, media and political gentry from Urdu, English and many other language audiences. Tamil, Hindi, Malayalam, Nepali and aboriginal language group's representatives also attended the event.
Chief Guest of the evening was Australian Federal government special envoy for citizenship and community engagement MP Philip Ruddock who is not only a former immigration Minister and ex-Attorney General but also one of the longest servicing MP of Australian parliamentarian history.
The Council General of Pakistan Abdul Aziz Uqaili was a special guest of the evening. Facilitation messages with well wishes are received from Prime Minister Malcolm Turnbull, former Foreign Minister and one of the longest servicing NSW Premier Bob Carr, Labor MP Tony Burk and MP Chris Bowen.
Function hall was full with capacity crowd and speakers proved themselves on literary merit of their talent. Talib Haider of Geo News anchor and poet Huma Mirza were the best pair for inviting and introducing the guest speakers though most of the guests were introduced with their impressive profile by their predecessors.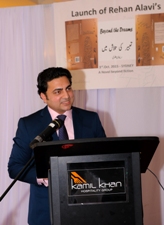 Talib Haider
Talib Haider specially came from Canberra where he is working at ABC news as journalist.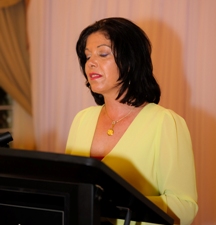 Michelle Aleksandrovics
Michelle Aleksandrovics of SBS radio "Living Black" firstly came to the podium and acknowledge the original owner of the land. Michelle mentioned the link between Australian native aboriginals with Ghans.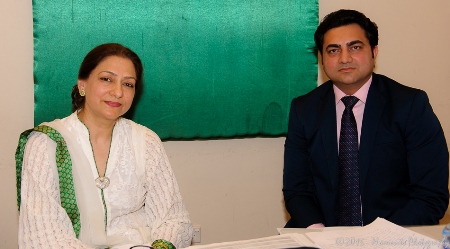 Huma Mirza and Talib Haider
MC Huma Mirza who is Local Poet with a beautiful poetry Book on her credit read the reviews and comments about the novel written by famous authors such as Amjad Islam Amjad, Mustansar Hussain Tarar, Shams Ul Rehman Faruqi, Ashraf Shad and Dr Ali Mohammed.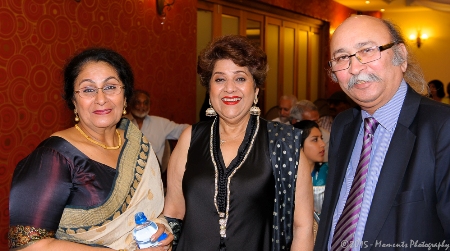 Saba Abdi, Kumud Mirani and Ashraf Shad
Saba Abdi is Daughter of eminent poet & writer Prof. Sajida Zaidi and born in a literary family of Maulana Hali that has served Urdu literature for seven generations. Saba is graduated from AMU Aligarh and National School of Drama, Delhi She is award winning drama director/presenter and business women. Saba Abdi selected a very sensitive layer of the story and beautifully narrated that chapter from URDU Book. Her accent, dialogue delivery and reading style was sufficient to engage the audience fully till the end of the reading.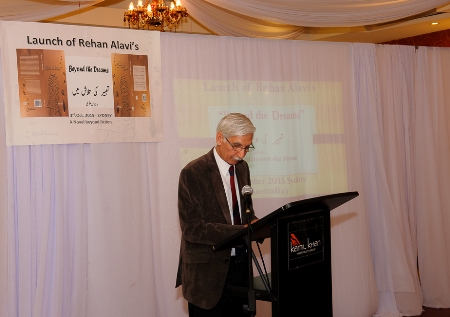 Arif Sadiq
Poet/Literary figure-Associated with Urdu Int. Urdu Society and Urdu International Mr Arif Sadiq selected two traditional characters from the novel to compare the conflict of Indian subcontinent society. Mr Arif introduced SBS Hindi language award winning Executive producer Kumud Mirani. Kumud who mesmerized the audience by narrating an emotional part of the English book. Her delivery and voice variation per character is praised by audience with loud applaud at the end.
Mr Mohammad Ali who is founding and executive member of many literary and social organizations praised the writing style of the fiction and also shed light on one of the main character of the novel.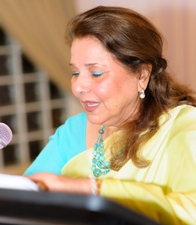 Uzma Gilani
Uzma Gilani is household name of Pakistani TV Drama industry and first ever winner of Pride of performance. She is acting for more than 42 years and still popular. Her impressive style of reading, dialogue delivery and expressions took the reading to its peak and audience listened her selection from Rehan Alavi Urdu book with pin drop silence for more than fifteen minutes.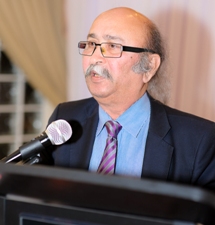 Ashraf Shad
Renowned journalist and Author of award winning novel Mr Ashraf Shad acknowledged that novel. He praise the writing as crafting in impressive way. He mentioned the fact that bilingual Novel is first ever work from an Australian's URDU author that is written in two languages by a single author.
Host Rehan Alavi highlight the work and contribution of migrant community of Australia.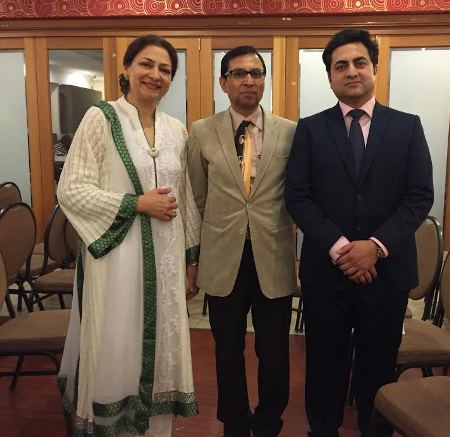 Huma Mirza, Rehan Alavi and Talib Haider
After the host speech and brief reading, an interactive video was played. Multimedia video had messages from various distinguish figures such as Ms. Ameena Saiyid, Managing director of oxford University press, Dr Ali Mohammed of F C college Lahore who also informed that book is selected for M-Phil in Lahore college university. Professor Samina Yasmeen of UWA took time out during her overseas visit and sent videorecorded message to acknowledge the books. Mustansar Husain Tarar and Australian High commissioner H.E. Peter Heyward also spoke briefly about the book and the author.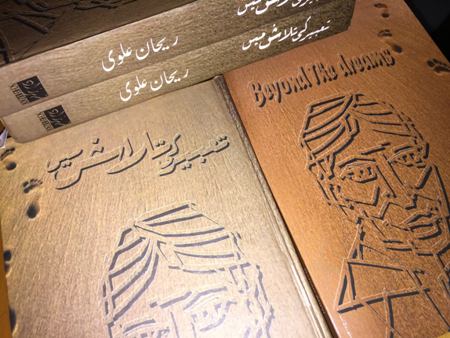 Video also had highlights of Book launch ceremonies of Islamabad Literature festival, Australia Day in Pakistan, Arts Council of Pakistan and many other functions held to acknowledge the book and the author.After the video, formal opening of Urdu book was performed by Counsel General of Pakistan Abdul Aziz Uqaili and English book was opened by Honourable Philip Ruddock.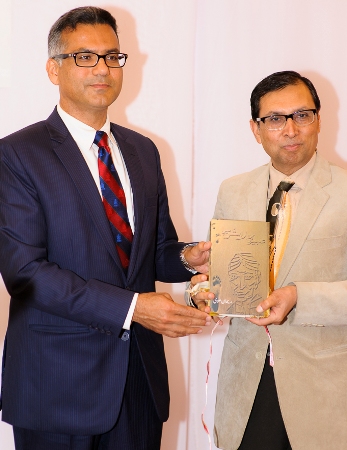 CG Abdul Aziz and Rehan Alavi
MR Uqaili praise the author's ability of writing and agreed with famous writer Mustansar Hussain Tarar comments that writing style does not reveal it as first Novel of Rehan Alavi.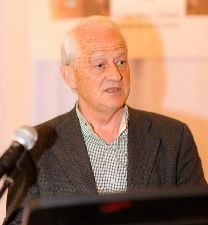 Hon. Philip Ruddock
Federal MP and former immigration Minister/Attorney General Hon. Philip Ruddock who is one of the most senior members of in Australian parliamentary history, call the gathering his next family gathering. He mentioned about this visit of Pakistan when he travelled Karachi, Lahore and Peshawar. Mr Ruddock thanks the community for its efforts to bridge the gap and assured his presence of future events of similar nature.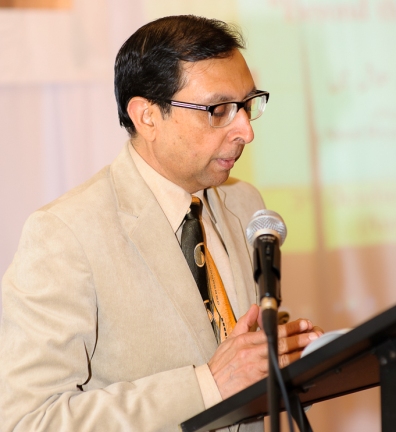 Mr. Rehan Alavi
At the end, Host and MC thanks the audience for attending the beautiful literary evening. Delicious dinner was served and during the time literary lovers flock to the book table for authored signed copy.
After long time, any literary event was able to portrait a positive image of migrant community as it was one of the most punctual events that started on-time and followed by running sheet to finish on time. Host and distinguish guests also appreciated the audience for their concentration during two hour un-interrupted literary session and quality of content during the ceremony.