Sada-e-Watan Sydney ™
sadaewatan@gmail.com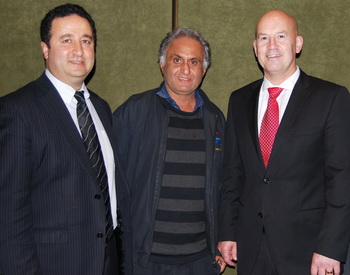 Shaoquett Moselmane MP,Harish Velji & John Robertson MP
Hon.Shaoquett Moselmane host a dinner at the New South Wales Parliament House for Sub Continent Community Leaders
(Sub Continent Community to work collectively for Community Good)
Coveragr By:Harish Velji
Recently a group of Sub Continent community leaders participated in a dinner organised by the Hon Shaoquett Moselmane MLC at the New South Wales Parliament House Sydney.

Those who participated were Prof Nihal Agar, Prakash Chandra, Sneh Channdra,Nur Rehman, Amarinder Bajwa,Syed Zafar Hussain,Munir Mohammed,Ganesh KC and Tapindra Thapa.NSW Opposition Leader John Robertson also joins for few minutes because he was busy at the Parliament session.

The Hon Shaoquett Moselmane MLC said of the function " It was an absolute pleasure for me as a member of the legislative council to host a dinner at parliament house NSW bringing together a group of distinguished people from across the Indian, Pakistan and the Subcontinent."

"Over the past year or so that I have been a member of the NSW Legislative Council I have been hosting many different groups of many different backgrounds and many different faiths. I know as a member of a migrant community how important it is to have access and to have a voice where it counts."

"Participation and inclusion in the democratic process is most empowering and I want to be able to help such minority groups and growing communities to settle into our Australian society but be able also to settle in and understand their rights and of course their obligations."

"I want to be able to represent such communities in the NSW parliament but also bring them into the corridors of parliament where they can meet politicians of all persuasions. I wanted them to be able to meet those that matter when it comes to policy and policy decisions and those that count when it comes to matters of funding and support.

"I wanted the newly established and settling migrant communities and minority groups to have a say and understand what really happens in the NSW parliament and how they can benefit their communities said The Hon Shaoquett Moselmane MLC .

I have therefore decided to form a number of advisory groups that I can call on, consult and discuss issues and for that group to advise me on issues of concern to them, to their group and to the wider communities from which they come. I am also forming a group to advise me and I represent them on Chinese community matters as well as Arabic and other groups of different faiths.

"That empowers me with the relevant information and from there take up community issues in Parliament. I effectively want to be their voice and raise issues of concern where I possibly can. That is The purpose of the dinner meeting and it was certainly an honour to have met old and new friends and special thanks to Harish Velji for assisting me get such a diverse group of people from India, Pakistan, Bangladesh, Fiji Indians and Nepali".

"We hope in the course of future discussions to organise Community Dinners at parliament celebrating various community and religious festivals and to discuss opportunities to promote business, Trade and investment meetings." "One of the many ideas I hope to execute is to host an international trade conference or discussion relating to the Sub continent, followed by a dinner at the NSW Parliament."

"This group will meet regularly and I intend to widen the group to include others of the Sub Continent. I hope the next working meeting will be by the end of the month".

The Hon Shaoquett Moselmane MLC in a recent short speech argued that the Anti-Discrimination Act be amended to include religion as a ground of discrimination there by making it unlawful to discriminate anyone on the ground of religious belief or absence of belief.

He also gave a speech on the need to amend the planning laws to have specific religious development zones for the development of public worship and Prayer houses."

He also urged the relevant Minister to progress the work of the former Labor government, in addressing the shortage of burial grounds for many minority ethnic and religious groups.

Nur Rehman a public officer of the major Bangladeshi Group said " The Sub Continental Labor forum has potential to create opportunities for sub continental Australians to share their views in social, political, work and economic development. "

"A huge number of migrants from the subcontinent have already been contributing to the Australian national economy at different levels. However, these contributions may be recognised appropriately through the voice of this forum. Eventually, this can change the perception about sub continental migrants in Australia."

Prakash Chandra a Fiji Indian community leader said "This forum showed that there are many issues that we can work that we have in common.. This will give us added strength which we did not have and yet maintain our unique identities."

Amarinder Bajwa representing UIA reiterated the need of regular community consultations to address the issues concerning the Sub continent communities. UIA is progressively involved with the communities at the ground level and knows the issues first hand, how these concerns are affecting the communities, how it affects the families that struggle under the social pressures of jobs, security, families, parents, mortgages etc and rising living costs. Indian diaspora is hardworking, intelligent, well educated, law abiding and very social we need advocate their plight so that they can have a fair go in Australia.