Sada-e-Watan Sydney ™
sadaewatan@gmail.com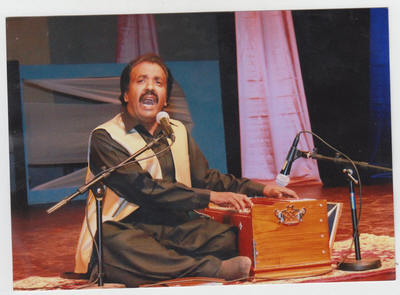 Famous Pakistani Singer Ustad Shaukat Manzoor Ali will Perform Live in Silverwater Sydney on Sat, 5 May 2012
Parwaaz Multicultural arts announce sufinight with Ustad Shaukat Manzoor Ali in the month of May.Shaukat Manzoor Ali is worlds renown folk'sufi ghazal and classical artist.Ustad Shaukat Manzoor Ali who sings Punjabi/Saraiki folk' thumri ;kafi;ghazals and classical was born in a family of musicians based in Kunjah,Gujrat Punjab in 1966.He began his career as a child singer and later at the age of 15 came under the tutorship of a section of kpurthala school of music. Ustad Rehmat Ali Khan of Gujrat after fifteen years training Shaukat Manzoor also has to his credit the honour of getting lessons from maestro, Ustad Salamat Ali khan of Shaam Chaurasi Gharana.
A part from giving regular performances at different cultural forums in the country for many years he worked as a music teacher at Pakistan National Council of the Arts Islamabad. In November 2009 under cultural exchange program between Lok Virsa and Norway, Shaukat Manzoor Ali visited Oslo where along with Norwegian musicians he gave performances.
Ustad Shaukat Manzoor Ali has performed countless times on PTV. He regularly performs in United Kingdom, UAE and many other countries. Shaukat Manzoor has a following in the Pakistani, Indian, Fijian and Bangladeshi communities. He has such a diverse following due to his unique style of ghazal singing. He has perfected the art of singing sufi, Lok and folk songs.He is a undisputed king of classical music. His unique singing style is world renowned.
Parwaz Multicultral Arts is proud to present an unforgettable evening with Ustad Shaukat Manzoor Ali. Parwaz Multicultural Arts has quickly established itself as an organisation which shows pride in the unique style of music of the Indian sub continent.