Sada-e-Watan Sydney ™
sadaewatan@gmail.com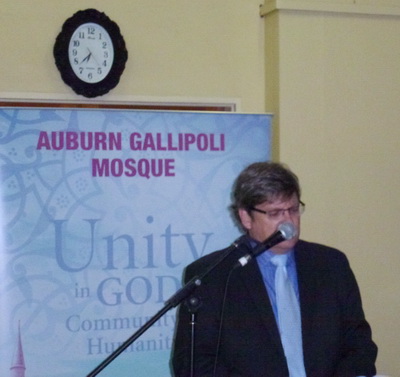 Mr.Alumnus Justin Dowd President of the Law Society of NSW's Speech for the
OPENING OF LAW TERM AT THE GALLIPOLI MOSQUE, AUBURN
6-8pm on Thursday 9 February 2012
Acknowledgements:
 Dr Yusuf Yurt – Turkish Attaché for Social and Administrative Affairs, Turkish Consulate Sydney
 Imam Omer Ozgul – Auburn Gallipoli Mosque
 Mr Ibrahim Din – President of Auburn Gallipoli Mosque
 Sheikh Haisam Farache
 Dignitaries
o Ziad Khan – President of Muslim Legal Network
o Ahmet Keskin – CEO Affinity Intercultural Foundation
 Members of the Muslim Legal network
 NSW Attorney General, Greg Smith, SC, MP
 Members of the Judiciary, distinguished guests and colleagues
It gives me enormous pleasure to be invited here today to speak to you on this very important occasion.
The practice of holding religious services in conjunction with the Opening of a Law Term dates back to catholic France. The first such recorded service occurred in 1245. At that time in history, we have to acknowledge, there were serious tensions between the Muslim and the Christian worlds. The seventh crusade, led by King Louis IX of France, commenced in the Middle East in that year.
Whilst there remain significant tensions in the world today, this ceremony is testament to the ability and willingness of people of goodwill to share traditions, to build bridges and to work together for a better society. This very mosque, named as the Gallipoli Mosque, recalls the battle in April 1915 between the Turkish forces and the many Australian and NZ forces.
The great Turkish leader, Ataturk, in 1934, famously and most graciously wrote a tribute to the ANZACs killed at Gallipoli:
"Those heroes that shed their blood and lost their lives... You are now lying in the soil of a friendly country. Therefore rest in peace. There is no difference between the Johnnies and the Mehmets to us where they lie side by side now here in this country of ours... you, the mothers, who sent their sons from faraway countries wipe away your tears; your sons are now lying in our bosom and are in peace. After having lost their lives on this land. They have become our sons as well."
Today we are here to celebrate the start of the Law Year. In doing so, we celebrate the things we have in common, while recognising and acknowledging and embracing our differences.
One of the talking points now and for the future will be the intersection of Australian civil law and Sharia. These will be opportunities for us to meet and to understand each other better and to work, within the legal frameworks, to a better society.
I express my gratitude to Imam Haisam Farache for his support and friendship over the years I have now known him; he is clearly a leader of substance in this community. I thank Mr Mehmet Ozlap and his assistants in their openness to this ceremony today and I thank the leaders and members of the Muslim Legal Network for their support as well.
I congratulate each of you for participating in this historic ceremony; the first Muslim opening of law term in this country.
(Please Note: Full Report & All Photos will be include in Sada-e-Watan on Friday,24th Feb 2012)