Sada-e-Watan Sydney ™
sadaewatan@gmail.com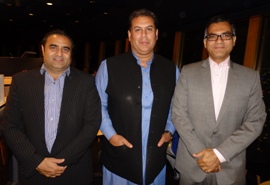 Shahid Iqbal, Taufeeq Butt and CG Abdul Aziz
Renowned Businessman Chaudhry Shahid Iqbal hosted a dinner at Sydney Tower for visiting Columnist Taufeeq Butt
Sydney Tower is Sydney's tallest structure and the second tallest observation tower in the Southern Hemisphere. Auckland's Sky Tower (Auckland) is taller but Sydney Tower's main observation deck is almost 50 m (164 ft.) higher than the observation deck on Auckland's Sky Tower. The Sydney Tower is a member of the World Federation of Great Towers. The tower stands 309 m (1,014 ft.) above the Sydney central business district (CBD) and is one of the most prominent tourist attractions in the city.
Sydney Tower Buffet is the contemporary self-select Restaurant in Sydney Tower Dining. Offering an extensive banquet-style dining experience with uninterrupted revolving views of the city, Sydney Tower Buffet provides the perfect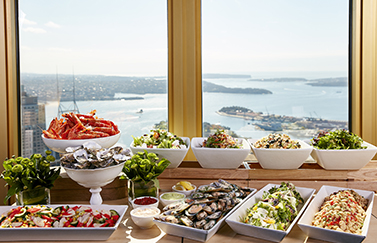 relaxed dining environment for locals and visitors alike, with more than 50 freshly-prepared dishes on offer, guests can sample food from a range of cuisines including succulent fresh seafood, modern Australian, Italian, Chinese, Japanese and Thai. Relaxed dining and friendly service make Sydney Tower Buffet a perfect dining option for families.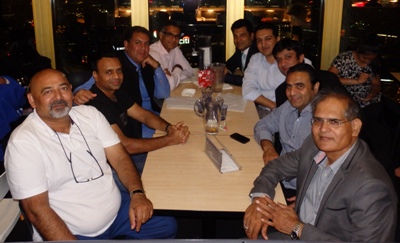 On Tuesday, 16 Feb 2016, Leading Businessman and Former President Pakistan Association of Australia Chaudhry Shahid Iqbal hosted a dinner in the honour of famous Journalist Prof Taufeeq Butt who was on private visit of Australia. The dinner was attended by Consul General Abdul Aziz Uqaili, Vice Consul Bushra Salam, Shoaib Hanif, Malik Saad Bobby, S. Zafar Hussain, Saeed Khan, Ahmed Ali Reza and other friends and their families.