Sada-e-Watan Sydney ™
sadaewatan@gmail.com
Pakistani Businessmens, Manufactures and Exporters delegation visited Sydney and Melbourne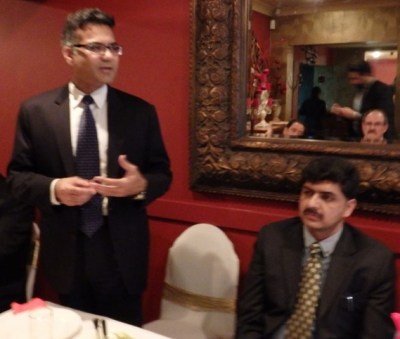 Host of the delegation Mr Abdul Aziz Uqaili
A TDAP sponsored and supported Pakistan Business Delegation, representing various Chambers of Commerce and Industry including KCCI, FCCI and SCCI, and comprising of nine manufacturers and exporters of home / institutional textiles, terry towels, sports apparel, garments, industrial wear and foodstuff came to Australia for one week from 10 to 16 May 2015. The delegates visited Sydney, Melbourne and other parts of the states of New South Wales and Victoria. The Consulate General of Pakistan (Commercial Section) Sydney had been coordinating the visit of the delegation with TDAP and the visiting business delegates for some time. Hence, necessary arrangements were made by the Consulate to make their visit productive and successful.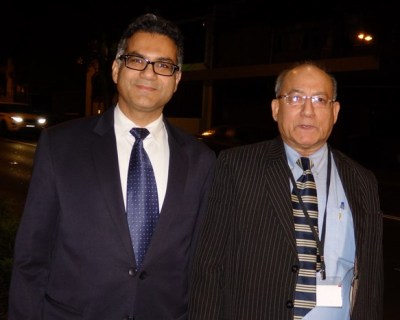 Consul General A.A. Uqaili and Sarfraz Butt of Sialkot
TDAP had constituted and supported the delegation as a consequence of a decision taken in 3rd Australia-Pakistan Joint Trade Committee (JTC) Meeting held in June 2013 in Islamabad whereby both countries agreed to exchange business delegations to further enhance bilateral trade and business to business contacts between the two nations. Mr. Tanveer Ahmed, Interior Fashions Karachi and Ahmed Foods was Coordinator of the Delegation, while other members from Karachi included Mr. Ijaz Nabi, Samaavia Industries; Mr. Muhammad Tasleem, Feroze 1888 Mills Ltd and Mr. Muhammad Saleem, S Afroz & Sons. Mr. Muhammad Sarfraz Butt, Fraz Enterprises and Mr. Awais Amjad, Hundal Group were from Sialkot. Sheikh Asghar Ali, Zafar Fabrics Pvt Ltd; Mr. Bashart Ali, ZF Textiles and Mr. Muhammad Aamir Nawaz, Faisal Mustafa Textile came from Faisalabad.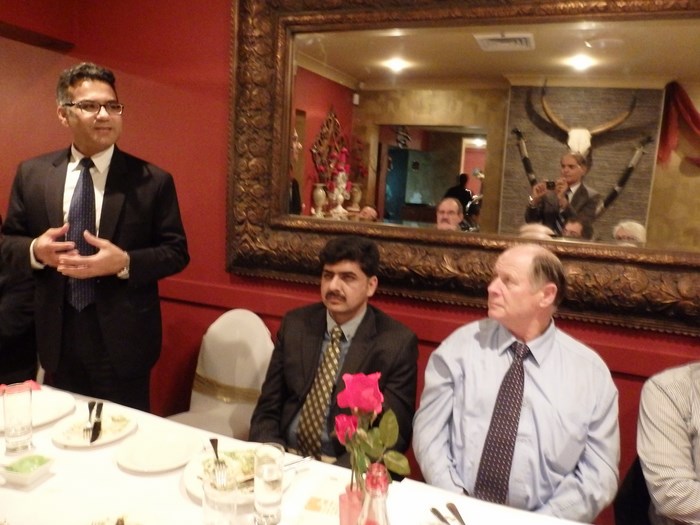 During the dinner at Lal Qila, Host CG Abdul Aziz Welcoming guests
On 12 May 2015, the Consul General and Trade Commissioner of Pakistan in Australia, Mr. Abdul Aziz Uqaili, hosted a dinner in the honour of the visiting delegation, which was attended by all the visiting delegates, Australian business leaders, the officials from DFAT (Ms. Ekram Obeidat), Austrade (Representative of the General Manager) and NSW Business Chamber (Mr. Ian Bannet). The representatives of Community Media in Sydney also participated. Delicious Pakistani cuisine was served.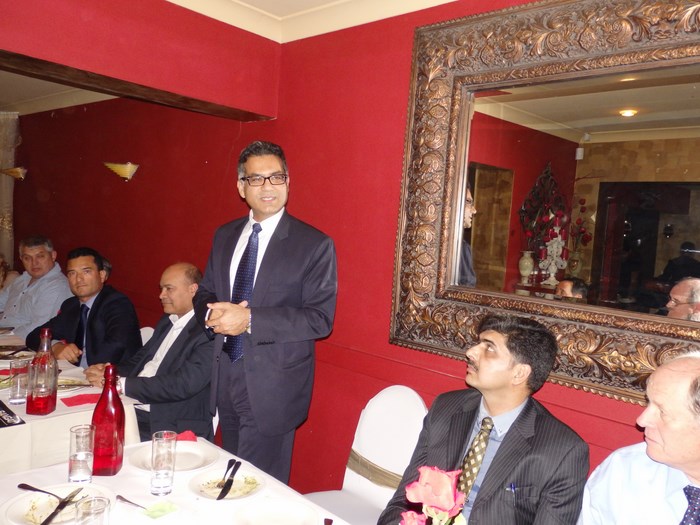 The Consul General welcomed the business delegates and other guests. He briefed the participants about the efforts taken by the Consulate General to make the visit of Pakistan Business Delegation fruitful and successful.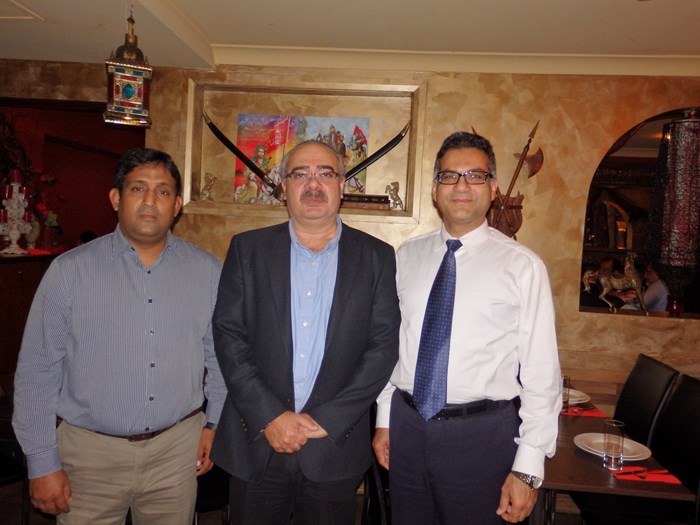 Coordinator Tanveer Ahmed, Ali Kawtarani of Nimco Foods & CG Abdul Aziz
Speaking on the occasion, Mr. Tanveer Ahmed, Coordinator of the group and other delegates, highlighted the significance of Pakistan as an important hub of exportable textile products. They said that Pakistani textile products have proved their competitiveness in the world markets. They asserted that China and India have remained Pakistan's traditional competitors of textile products. However, due to increasing standards of living and rising costs of labour, both have become less competitive. Besides, the consumption of textile products in their local markets was increasing rapidly due to growing affluence in their respective societies. Mr. Tanveer also expressed that despite being small in volume and fewer consumers, they find Australian market very attractive with huge untapped potential for Pakistani manufacturers of textile products particularly home and institutional textiles including towels, bed linen, garments and sport apparel.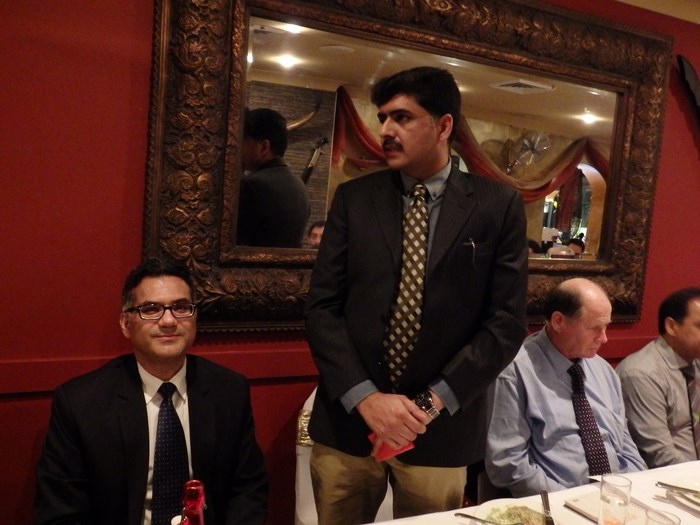 Several Australian businessmen including Mr. David Beauchamp, Mr. Ron Reis, Mr. Ali Kawtarani, Mr. Michael Sivris, Ms. Elizabeth, Mr. Salim Premjee, Mr. Muhammad Aamir, Mr. Zain Sheriff, Dr Toufiq Shah and others attended the dinner. Important networks were established between the visiting delegates and the Australian businessmen. Many Australian Businessmen praised the efforts of this Mission for linking them with Pakistani Businesses of their Business Interests, which felt the Dinner was of some success. The purpose of this dinner was to welcome the Pakistani Business Delegates and introduce them to Australian Businessmen of their Business interest. Mr. Hafiz Shahid Iqbal, President, Pakistan Association of Australia, Syed Zafar Hussain Shah of Sada-e-Watan, Mr. Mohammad Shoaib Haroon, Mr. Pervaiz Buttar, Mr. Muhammad Asif (Sangat Magazine) and several other respectable community members also attended the dinner.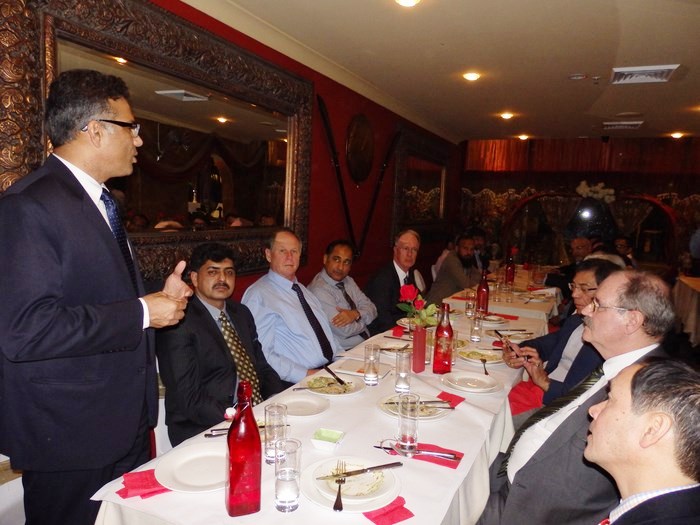 Consul General of Pakistan in Sydney Abdul Aziz Uqaili speaking