Sada-e-Watan Sydney ™
sadaewatan@gmail.com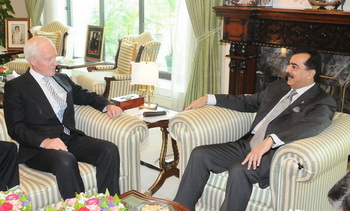 Australian High Commissioner Tim George pays a farewell call on Prime Minister Syed Yusuf Raza Gilani at PM's House Islamabad
Australian High Commissioner H.E.Tim George paid a farewell call on Prime Minister Hon.Syed Yusuf Raza Gilani at PM's House Islamabad and thanked the government of Pakistan for the hospitality and support during his three years period of diplomatic assignment in Pakistan.
The High Commissioner said that Pakistan and Australia have very good relations and disclosed that his government has increased the volume of developing budget meant for Pakistan.
The High Commissioner Tim George expressed his satisfaction over the cooperation in the field of education adding that lot of students from Pakistan have been studying in the Australian Universities and in fact now Australia is the third largest country after USA and UK where a sizeable number of Pakistani students are studying.He added that there is a lot of scope for collaboration in the fields of education, agriculture, infra-structure and defence.
The Australian High Commissioner expressed satisfaction of his government over the electoral parliamentary cycle in Pakistan and assured full cooperation in the forthcoming electoral process under auspices of the UNDP.
The Prime Minister Syed Yusuf Raza Gilani thanked the Australian High Commissioner for his endeavour to strengthen relations between Australia and Pakistan during his stay in the country.The Prime Minister recalled his meeting with the Australian Prime Minister, Ms. Julia Gillard in Perthduring Commonwealth Summit where he had useful exchange of views with her.
The Prime Minister Gilani expressed his deep sense of gratitude for the Australian Government and people for timely relief assistance during the devastating floods and also in earthquake in 2005 in Pakistan. The Prime Minister said that Australia's active participation in Friends of Democratic Pakistan demonstrated its support for democratic dispensation in the country.
The Prime Minister said that he hoped to meet the Australian Prime Minister during his visit to the UK early next month to participate in the Diamond Jubilee Celebrations of Coronation the Queen of England.The Prime Minister Syed Yusuf Raza Gilani underscored the importance of realizing the full potential which is quite substantial. The Prime Minister extended an invitation to the Australian Prime Minister to visit Pakistan.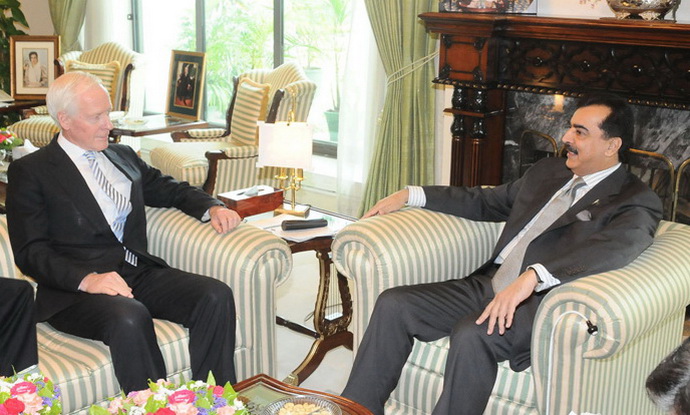 Australian High Commissioner Tim George with Prime Minister Syed Yusuf Raza Gilani at PM's House Islamabad