Sada-e-Watan Sydney ™
sadaewatan@gmail.com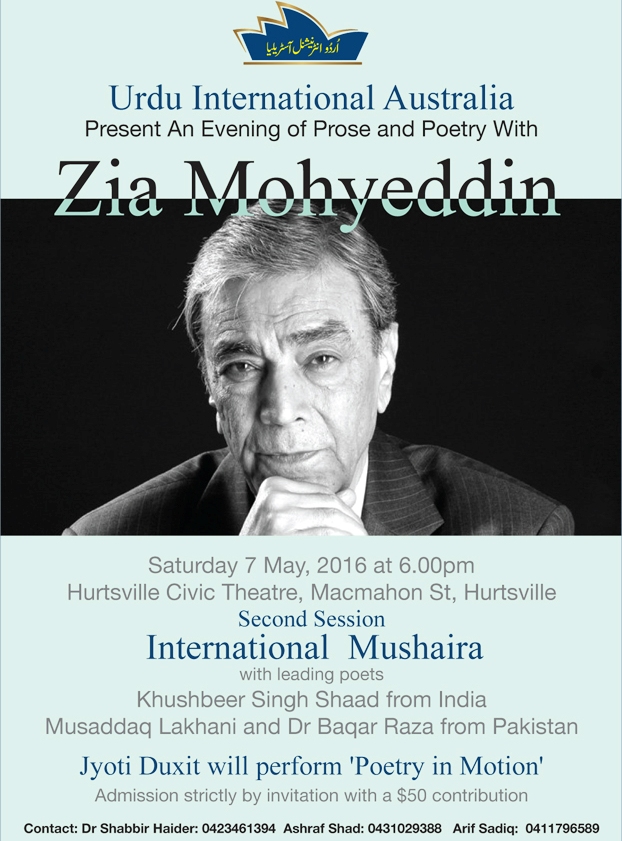 ***************************************
Zia Mohyeddin (Zia Mohi-ud-din)
Zia Mohyeddin was born 20 June 1933, he is a Pakistani actor, producer, director and television broadcaster who has appeared in both Pakistani cinema and British cinema throughout his career.
He was born in Lyallpur, now called Faisalabad, British India (now in Pakistan). He spent his early life in Kasur and Lahore. He was trained at the Royal Academy of Dramatic Arts in London from 1953-1956. After stage roles in Long Day's Journey into Night and Julius Caesar, he made his West End debut in A Passage to India in 1960. He made his film debut in Lawrence of Arabia (1962), playing the role of Tafas (the Arab guide who is shot by Omar Sharif for drinking water from the wrong well). He then made numerous TV and film appearances, and starred as Dr. Aziz in the BBC's television version of A Passage to India (Play of the Month, 1965).
He returned to Pakistan in the late 1960s. There he founded and ran the PIA Arts and Dance Academy, and hosted his own TV talk show. After difficulties with the military regime of Zia-ul-Haq, Mohyeddin returned to England in the late 1970s, shortly followed by his wife. During the 1980s Zia worked in Birmingham, Great Britain, where he produced Central Television's flagship multicultural programme here and Now by Central Independent Television.
He has since travelled the world giving Urdu poetry and prose recitations, and is considered the foremost reader of Urdu literature. In addition, he is also famed for his readings of English letters and literature. In the late 1990s.
In February 2005 President Pervez Musharraf invited Mohyeddin to act as Chairman of the new National Academy of Performing Arts in Karachi. To this date, despite his growing age, Zia is still active among Pakistani media as a speaker and hosts several TV programmes both for National and Private Channels. He is also involved in narrating some abstract short films and commercials.