Sada-e-Watan Sydney ™
sadaewatan@gmail.com
WORLD OF SPORT COMING TO NEW SOUTH WALES IN 2015
Michael Brown (AFC Asian Cup), Victor Dominello, Gabrielle Upton & John Kent (ICC Cricket World Cup) with the two tournament trophies
Multicultural Media Briefing at Governor Macquarie Tower for the AFC Asian Cup and ICC Cricket World Cup
In 2015, New South Wales will host two incredible international sporting events – the AFC Asian Cup and the ICC Cricket World Cup. On Friday, 10th Jan 2014 an exclusive briefing for NSW Multicultural Media, 'one year to go,' was held at Governor Macquarie Tower in Sydney. The event was well attended and has set the ball rolling in the lead up to the biggest sporting spectacles in 2015.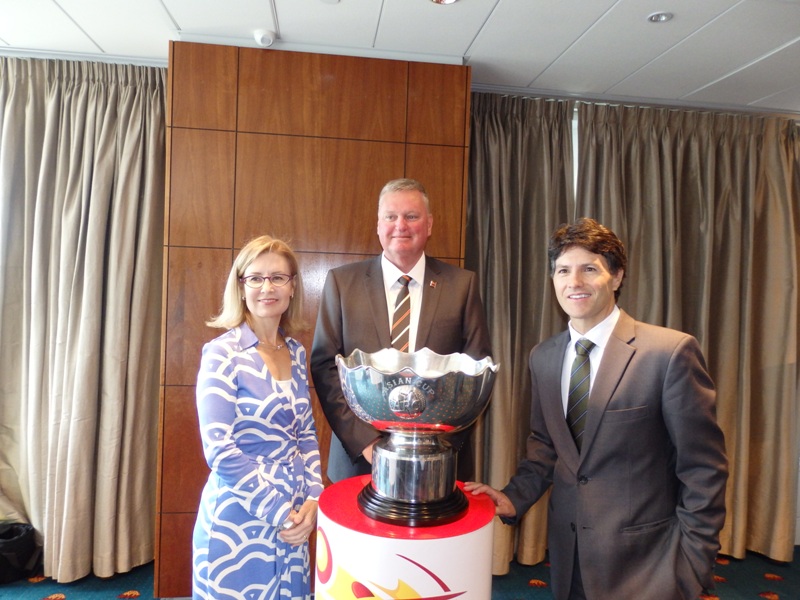 Attendees heard from Michael Brown, CEO of the Local Organising Committee for the Asian Cup, and from John Kent, General Manager Marketing and Communications for the ICC Cricket World Cup.
John Kent was joined at the event by Tim Whittaker the Senior Media and PR advisor for the ICC Cricket World Cup 2015. After formal proceedings were concluded, those in attendance mingled with officials from the two tournaments. Mr. Brown and Mr. Kent both had a similair vision and message, to generate interest in their events aswell as encourage participation. This was reflected by the ticket pricing strategies announced. For the ICC Cricket World Cup, tickets start from just $5 per child and $20 per adult while Mr. Brown said he hoped to employ a similair strategy so that every Australian can be a part of the experience of a prestigious tournament.
Mr. Kent also spoke about the ICC Cricket World Cup organising committee's intention to attract a large number of tourists, particularly from the U.K. and South Asia. Both tournaments are being held in close proximity to each other and are expected to stimulate the NSW economy through tourism. Affordable ticket pricing is expected to increase the lure to foreign tourists. With England, Pakistan, India, Sri Lanka and even Afghanistan having already qualified for the ICC Cricket World Cup, there are sure to be many passionate supporters travelling with their teams. Add to this the media contingent, expected to be above 3000, and it is clear that the ICC Cricket World Cup will easily be the biggest sporting spectacle in Australia since the Sydney Olympic Games in 2000.
Teams that have qualified for the AFC Asian Cup have yet to be finalised but their is a huge likelihood that one of the teams will be China, this would further boost the profile of the sport in Australia and attract even more tourists. Once the qualifying teams are confirmed, the schedule will be drawn at Sydney Opera House on March 26 with over 2,500 people expected to attend including players and high-ranking officials.
Minister for Sport and Recreation, Gabrielle Upton and Minister for Citizenship and Communities, Victor Dominello who jointly hosted Sydney's multicultural media, gave some comments in regard to the upcoming sporting tournaments.
"In 2015, NSW will play host to two of the biggest sporting events on the planet – the AFC Asian Cup and the ICC Cricket World Cup," said Ms Upton.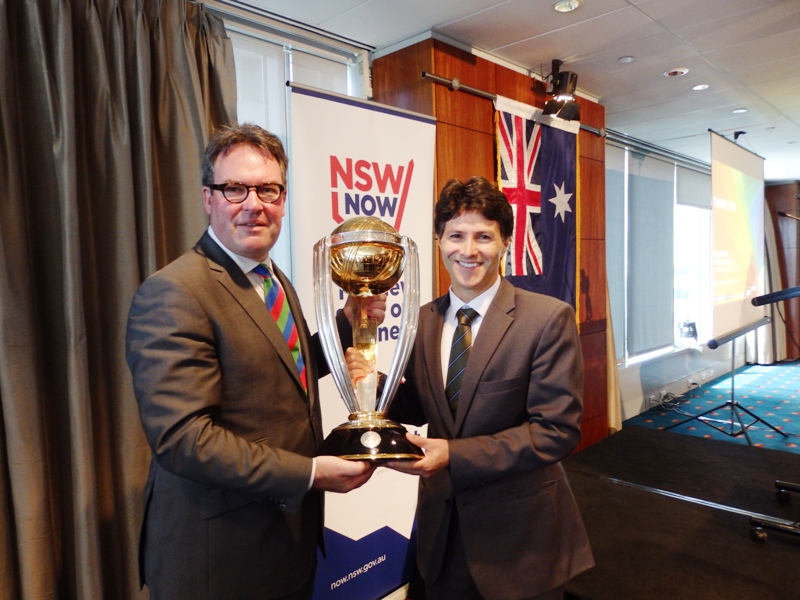 "The Asian Cup will be the largest football tournament ever hosted in Australia and will offer fans a festival of football with 32 games in 23 days to be played between Asia's best 16 nations.
"Just one month later, the ICC Cricket World Cup, the largest sporting event in the world in 2015, will give fans a once in a generation opportunity to see the best players and teams going head to head in our backyard, with Sydney hosting five matches including two finals.
"2015 is going to be an exciting time to be a sports fan in NSW, and our local multicultural media will play a valuable role in covering all the action for their audience," Ms Upton added.
Minister for Citizenship and Communities, Victor Dominello, said the two tournaments would serve to strengthen cultural ties between the people of NSW and the competing nations from across Asia and the Commonwealth. With the countdown already underway there is no doubting that 2015 will be a big year for sport and for New South Wales.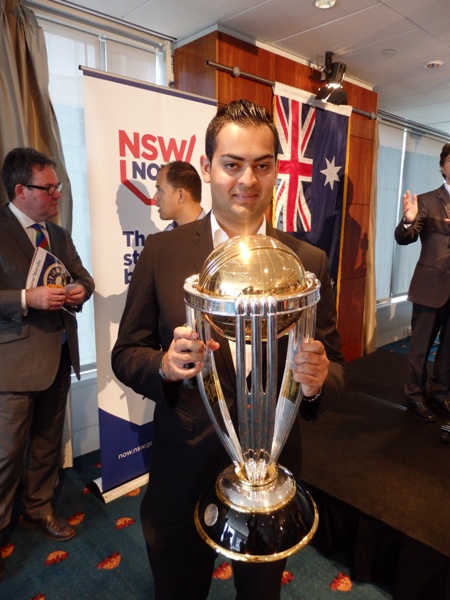 "With a quarter of NSW residents born overseas, we are home to one of the world's most multicultural populations. I know our multicultural communities are very excited to have these major international football and cricket matches coming to NSW next year.
"Our cultural diversity is one of our greatest assets and it will no doubt contribute to the sense of community celebration during these two world-class sporting events," Mr Dominello said.
This sense of community is reflected in the theme behind the AFC Asian Cup which is unity, 'Unite for the Asian Cup' and 'Unite for Football' are two official slogans for the tournament. Michael Brown spoke of the multicultural communities in NSW which are lively and vibrant but with some members who may some times feel uncomfortable outside their own community parameters. This has been addressed by both tournaments' officials through the appointment of community engagement managers. Backed up by a grassroots campaign involving schools and different sporting clubs, the community engagement factor should increase crowd sizes at matches and improve the success of the tournaments.
Ms Upton said "I know both events will create lasting legacies by encouraging participation in both football and cricket at the grassroots in NSW and I would encourage everyone to be involved."
The AFC Asian Cup will kick-off from 9 January 2015 and finishing on 31 January. The ICC Cricket World Cup will take place from 14 February to 29 March 2015.
Tickets for both events will be released shortly, with registration for supporters already open. Those particularly keen for the ICC Cricket World Cup can register at www.cricketworldcup.com for pre-sale access to tickets for all matches.