Sada-e-Watan Sydney ™
sadaewatan@gmail.com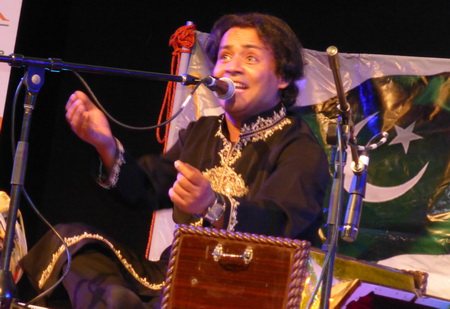 A brief background of Famous Pakistani Singer Ustad Rafaqat Ali khan who is performing Live in C3 Conference Silverwater Sydney on the evening of the Good Friday, 29th March
Leading classical pop singer of Pakistan Ustad Rafaqt Ali Khan performances across the world has won accolades for the country. The son and nephew of legendry musical duo, Ustad Nazakat Ali khan and Salamat Ali khan , appeals to the whole new generation with his mellifluous vocals that have the finesse of unadulterated classical. He has to credit 12 musical albums world wide release. Interestingly his classical albums can be brought from top music stores in London and New York.
Salamat Ali khan and Nazakat Ali khan were the most famous classical singers of Pakistan in the post independence time.Ali brothers were born in Sham Churasi in Hoshiar-Pure district of Punjab. They received rigorous classical training from their father Ustad Wilayat Ali Khan, the doyen of Sham Churasi Gharana and began giving concert at a very young age.Rafaqta Ali khan done his masters in Punjab University. He loved gymnastics and rose to become university and later national level champion.
Rafaqat can play the tabla, dholak, harmonium, electric drum and synthesizer. He writes the lyrics of his songs and also composes them himself. He is equally at home singing local languages as well as song in Urdu. Recognition came to rafaqat early in life as he started performing at a very young age. Trained in the art of classical music by his elders, the young singer soon started appearing in TV and radio programs. Inheritor of the rich legacy of classical music, Rafaqat live due to the expectations of his elders by excelling in all the genres of music. The greatest thing about the singer is his humor and humility. He does not have the airs and graces. Fame never could make him a stiff neck.
The Lahore press club had honored ustad rafaqat ali khan by bestowing upon him life membership of the club, an honor that prior to him went only to politicians and statesmen like Benazir Bhutto, Indian Prime Minister IK Gujral, Former President Farooq Leghari are among the luminaries who have been given this honor on the past. Recently former Federal Minister for information Qamar Zaman Kaira also received this honor.
Rafaqat Ali khan is the part of visiting faculty at the national college of arts, which runs four year graduation program in music. He regularly delivers lectures on classical Music, history of Music, Khayal singing, modern Ghazals, play back singing and music software's. The Sham Churasi Gharana is over 4000 years old. The music that appeals to the majority of people today had elements of classical Music.
Ustad Rafaqat Ali khan has performed in many countries of the world including India, UK, USA, UAE, Canada, Australia, Middle East, Far East and many European countries. His 2009 tour of USA was considered the most successful tour ever of a Pakistani artist. He performed in concerts in 16 states in the month of July and August. During the tour he also performed in the program of the famous Association Physician of Pakistani descent of North America (APNA). There is a huge Pakistani community in Detroit. In 2009 besides the tour Ustad Rafaqat was invited to perform in the city three times. There are about 2,000 Pakistanis living in phoenix. They especially invited Ustad Rafaqat Ali khan to perform in the city.He went o Norway to record his album which will be truly the rhythm of the soul and a treat for true music lovers.
He is the first Pakistani singer ever to perform at the opera house in Oslo, which was an honor for him and the country. Rafaqat performed at opera continuously for three days. The event organized in Norway by the multi cultural festival was also attended by the queen of Norway Sonja Haralson. During his dazzling performance at opera, he recited Pakistani and bollywood songs. His singing of classical songs was highly appreciated by the audience and brought tears in the eyes of music lovers. He was accompanied by bollywood Brass Band and Nafees Irfan and Jasvant Singh. Rafaqat Ali Khan also presented classical songs at inaugural ceremony of festival at Rudd house (City hall) in Oslo.
Besides the performance at the opera in Oslo Rafaqat sung in top music festivals of Europe and North America. His performances in top music halls across the globe are something that perhaps no other musician or singer from south Asia has had the honor. Rafaqat Ali open to diversity has also featured on the Rishi Rich album 'The Project'. He says it was an experience that was totally different but very good. He has also sung tracks for the music genius peter Gabriel. September last year Rafaqat performance with bolloywood Brass Band in Sydney, Australia was fabulous.
Ustad Rafaqat Ali khan has performed in most of the cities of Pakistan in all the four provinces. He has shown in his performance in all the music festivals that are held in Pakistan.Every year he has performed at the world performing arts festival that used to be held at the Alhamra cultural complex in Lahore. He has made much international collaboration in the field of music at this festival. Musicians and artist from different countries participated in this festival and Ustad Rafaqat Ali made collaboration with almost all of them.
Last year he solo performance at Shakir Ali Museum remains a memorable event. The event was organized by Pakistan national council of arts. The audience was mesmerized by the four hours live performance. On January 20th this year his performance at the Amman Sufi music festival held at the Multan arts council has declared the best performance of the year.
Rafaqat has performed free of cost for the leading charity organizations in the country. He has performed at a number of fund raising concerts for Shaukat Khanem Memorial Cancer Hospital and Muslim Care (UK charity organization). In 2008.He performed at the concert organized by Fatmeed at London in 2008.Rafaqat's songs as a playback have been highly appreciated; he is flooded with offers but says he is very selective.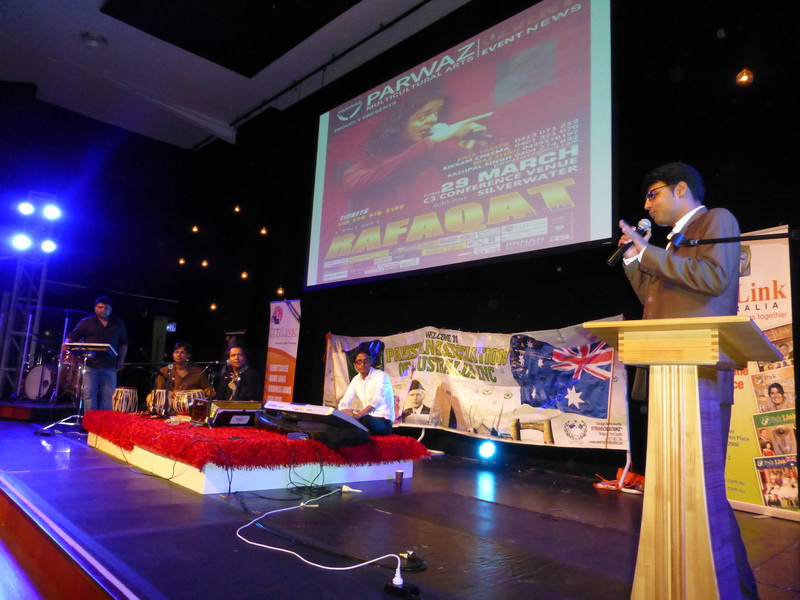 Rafaqat has to his credit many hit songs from the 11 albums.Some of these songs have proved to great hits when they were included in bollywood movies.His play back hist includes 'main haun aasman', from film krish, 'maula meray maula' from silence please. His other hit songs include 'Allah tera shukria', 'kash hum bhi parhay hotay', 'chand sa chehra', 'kahein yeh akhian','ishq da warqa', 'duma dum', 'Allah janey', 'Tere ishq nachaya', 'Meda ishq vi toon', 'dewana ban gaya' and 'agar ham tumhare'. The songs Maula Meray Maula remained on top of the listeners chart in India for long time. Maula Meray Maula with Rafaqat grand taan is a memorable song. He has also sung the title song of upcoming film 'Nach Laye London'.Ustad Rafaqat Ali has come a long way carrying on in the footsteps of his father and uncle. His fusion of different genres of music as well as innovations in pure classical will long be remembered. Rafaqat's contribution to the music industry is huge. He is truly Pakistan's pride.