Sada-e-Watan Sydney ™
sadaewatan@gmail.com
Counsellor Welfare Pakistan Consulate Sardar Balakh Sher Khosa meets Pak Community in Brisbane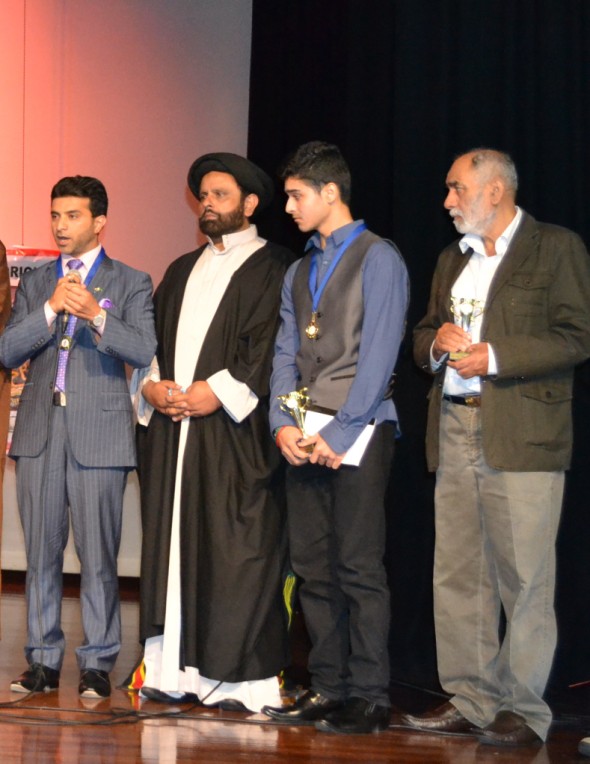 FUND RAISER DINNER in Brisbane for the SUPPORT of the OPPRESSED FAMILIES in QUETTA
and across PAKISTAN
On Saturday, 11th May 2013, the Counsellor Welfare Pakistan Consulate Sardar Balakh Sher Khosa visited Queensland and meets Pak Community members in Brisbane. He attended a charity program arranged for the Shia Assassination in Pakistan to support their families, in which CWA made a speech as justice will Insha Allah be give to the Shuhada family and state will rest assure protection of life and liberty to its citizens, which the constitution of Islamic republic of Pakistan guarantees on them. Community at Brisbane demanded a full-time officer here for providing facilitation to community as regards to Nicop,Mrp, attestation of driving license and other documents, on this CWA replied, the same desired request of the overseas Pakistanis will be forwarded to the concerned authorities for kind consideration and how to facilitate the Overseas Pakistanis.
May 11, 2013 three community organisations of Brisbane named Fatima Zahra Islamic Centre, Islamic Shia Council of Queensland and Zainbiayh Islamic Centre jointly held a fund raiser dinner. The objective of the programme was to support the families of victims of terrorism in Pakistan and raise a voice against Shia genocide, on a call from Maulana Sibtain Hasni. The programme was organised by a joint committee of six members, named Syed Misbah Hussain, Urfi Hashmi, Imran Qami, Essa Muhammad, Ahmed Murtaza and Riazali Pilsara.
The event was attended by a large number of families from Indian, Pakistani and Afghani communities. Mr. Sardar Balakh Sher Khosa, first Diplomat of Pakistan arrived in Brisbane to attend this programme as a Chief Guest. Among the other distinguished guests were His Eminence Maulan Syed Abul Qasim Razvi (Melbourne), Maulana Shiekh Ghulam Ali (Melbourne) and Syed Ali Shanawar (Sydney).
Syed Urfi Hashmi facilitated the programme as master of the ceremony, whereas Syed Misbah Hussain welcome the guests on behalf of the committee. Programme started with recitations from holy Quran by Maulana Syed Sibtain Kazmi, followed by a mystical Naat by Syed Ali Shanawar. Syed Ali Shanawar's presence was higly acknowledged by all, specially the youth, and he was requested to spare some time for a Noha Khawani programme in Brisbane, in the future.
Maulana Sibtain Hasni opened the function with his inaugural speech, welcoming all the guests and highlighting the importance of the event. Maulana Hasni stressed on the need of getting together on all communal matters and coming forward in serving the humanity and the religion. He elaborated his stance in the light of Quran and sayings of the Holy Prophet (PBUH). Maulana Hasni also thanked Australia for providing oppressed nations of the world with a space to breath peacefully. He admired the democracy and fair social set up, that Australia offers to its citizen without any kind of discrimination.
A special animated video was presented in the programme that made people to realise the severity of thye agony and made them cry. This video is available online on this link.
After the animation, Maulana Abulqasim Razvi, delivered his elegant speech on the importance and rewards of helping the needy. He also ran an auction in collaboration with other religious shcolars, Maulana Sheikh Ghulam Ali, Syed Sibtain Kazmi, Maulana Jameel Kazmi, Maulana Sibtain Hasni as well as Syed Misbah Hussain and Urfi Hashmi.
Syed Abrar Hussain the President of FZIC thanked Mr. Sardar Balakh Sher Khosa for sparing his time to come over to Brisbane as a first Pakistani Diplomat on an official visit. He informed Pakistani Diplomat that being the one of the major socio-economic hubs of the country, Brisbane comprises of a large number of Pakistanis. He further said that Pakistanis face a lot of difficulty for different embassy services, as the nearest consulate is in Sydney, which is about a thousand Kilometers from Brisbane. "Community needs at least one permanent Counsel officer in Brisbane", he stressed. He also informed that being the second largest state with most scattered population, Queensland also holds a large number of Pakistanis in other cities such as Gold Coast, , Toowoomba, Ipswich, Sunshine Coast, Mackay, Townsville, Cairns. Therefore, if a Counsel office is established in Brisbane, it will help a lot of Pakistanis who have difficulties in getting visa, NICOP, Passport and other foreign officer services.
Mr. Sardar Balakh Sher Khosa thanked the community on whole and Syed Misbah Hussain especially for inviting him to such an important event. He appreciated the spirit of Pakistanis in condemnation of terrorism and supporting the affected families. He said that we need to outreach in offering our assistance to the needy, and should not provide help on occasional basis, but we must establish a permanent ongoing supporting system. He also promised to convey community's feelings and needs of Consul Office to the High Commission as well as Foreign office in Islamabad.
The programme was called off with dinner at 09:45 pm. Food was prepared by Essa Muhammad and a large number of volunteers assisted him in serving the guests. People appreciated the work of the whole team, which gained its results.
Religious Scholar and Orator Dr. Syed Sibtain Hasni 's Speech
Dear Brothers in Faith,
I congratulate you all on doing a wonderful job and laying the foundation stone of a noble business in this city.
When I launched this idea almost four months back, some people had a feeling that such events had not taken place in Brisbane, ever before, and we may not succeed. But I must appreciate the team who took this challenge and made this happen, with a success greater than any precedence around Australia.
I believe that a determined Momin always wins the race by ignoring the fears created by hypothetical objections and lame excuses, raised by inactive members of the society. Our Fundraising event was a solid proof of this reality.
I do thank all participants and sponsors as well as donors and volunteers who partook in any form and in any way.
Thanks to Hujjatul Islam Syed Abul Qasim Rizvi Sahib, Maulana Sheikh Ghulam Ali Sahib as well as Mr.Ali Shanawar Sahib, who came all the way from long distances to give us great spiritual energy to make this happen!
I also pay my humble thanks to Mr.Sardar Balakh Sher Khosa, the Counsellor Welfare , Consulate General of Pakistan in Sydney Australia, who arrived to honor this event and sincerely listened to our feelings, expectations and demands from the Embassy of Pakistan in Australia.
Furthermore, I acknowledge the services of Maulana Syed Sibtain Kazmi and Maulana Jameel Kazmi Sahib who mobilized the people and played their vital role in the joint success.
Last but not least, Special thanks to FZIC, ISCQ and Zaiabiah Islamic Centre for their crucial support from creating a proactive committee from within their ranks to achievement of results.
I conclude my thanks with a call of making this an ongoing thing and joining in all noble causes from building a Hussainiyah, Mosque and commemorating Majaalis. There is a great Barakh in unity, and its power was exhibited very well in the fundraiser.
So let us take a very first lesson and start a regular cooperation in organizing our weekly programs and avoiding any conflicts of timings and days. This will of course enable people to get closer by participating mutual events and achieving our everlasting goals as true & United Shias of AhlulBait Alehimussalam..
To promote our experience for further destinations we should establish a trend of Fundraising program for current needs and causes of our Community each year.
Wassalam
Dr. Syed Sibtain Hasni
(Religious Scholar and Orator)