Sada-e-Watan Sydney ™
sadaewatan@gmail.com
H.E. Abdul Malik Abdullah, the High Commissioner for Pakistan, gave a talk to Liberal MPs on "Conversation in Diplomacy"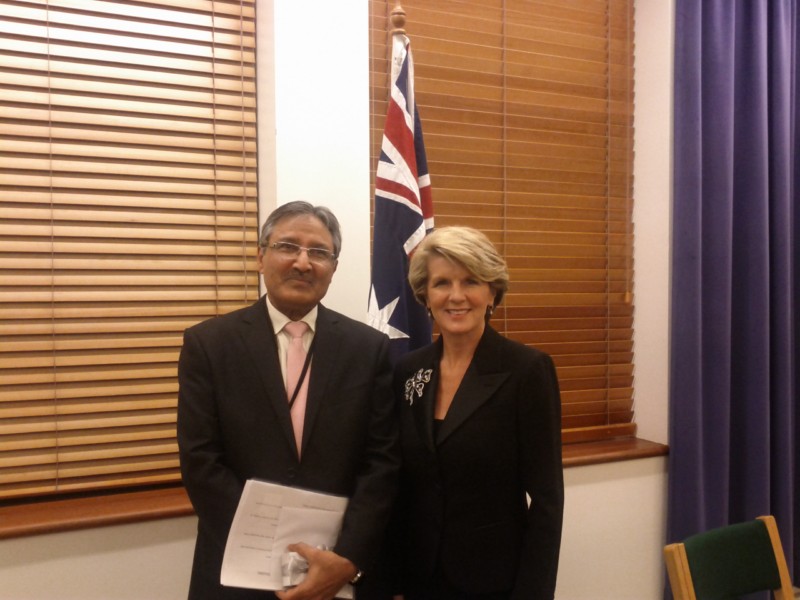 The High Commissioner Abdul Malik Abdullah and Deputy Leader of the Opposition Hon.Ms Julie Bishop MP
His Excellency Abdul Malik Abdullah delivered a talk on "Conversation in Diplomacy", to the Liberal MPs on Tuesday, 04 June 2013. The talk was arranged by Ms Julie Bishop MP, Deputy Leader of the Opposition and Shadow Foreign Minister. It was aimed at getting Pakistan's perspective on the bilateral and international issues especially, foreign Policy and security issues.

The High Commissioner in his twenty minutes speech dilated upon the successful and smooth transition of power in Pakistan and the unprecedented enthusiasm showed by Pakistanis by coming out to vote in record numbers. He also touched upon the challenges being faced by Pakistan both internal and external. He gave in-depth analysis of Afghan quagmire and Pakistan's apprehensions regarding the impending withdrawal of ISAF forces from Afghanistan.

The question answer session which lasted for about 30 minutes was very lively and MPs asked spirited questions on range of issues, spanning from Afghanistan, drone attacks, new government's priorities and challenges, Syria and cricket.

The talk was a part of the series featuring number of Ambassadors and High Commissioners. It was attended by around 30-35 Liberal MPs.