Sada-e-Watan Sydney ™
sadaewatan@gmail.com

Upcoming Event: Joe Hockey @ Crescent Institute - 11 June 2013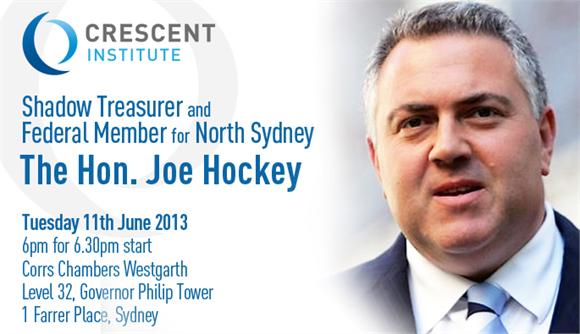 Crescent Institute with The Hon. Joe Hockey: Shadow Treasurer and Federal Member for North Sydney
It is with great pleasure that the Crescent Institute invites you to its next networking event for 2013.
We are delighted to announce that The Hon. Joe Hockey will be our keynote speaker. Additionally the Crescent Institute is also delighted to announce its latest sponsor - Emirates Airlines.
With an upcoming federal election Australians will make important decisions on the future direction of the country. With The Hon. Joe Hockey's key portfolio as Shadow treasurer he no doubt will be a central figure in the minds of Australians later this year. As with our recent events with Kevin Rudd and Dr.Hass Dellal, Joe will pick up right where we left off discussing fundamental community issues and initiatives in Australia. Attendees will also hear about Joe's journey to the leadership of the political realm having come from a Palestinian immigrant background.
Joe's enthusiasm for politics began as a young boy when he discovered that working with government for a meaningful cause could help bring about real change in a community. His first victory came at the age of fourteen when he successfully lobbied his local Council to obtain cricket nets for local children in Northbridge. More recently Joe has had to shoulder a big share of responsibility in the Opposition since the coalition lost office in 2007. Joe is a key member of the Opposition strategy team with the classically difficult yet crucial treasury portfolio.
Please join us with The Hon. Joe Hockey, ask questions and of course network with your fellow Crescent Institute members!
As always, we remind you that bookings are essential. Early bird tickets are priced at A$15 (50 early bird tickets available!) and regular tickets are A$25 each.
All funds go to supporting Crescent Institute's non-profit activities.
Event Details:
Tuesday 11 June 2013 6:30 PM SHARP
6:30 PM - 7:30 PM - Drinks, canapés and networking
7:30 PM - 8:00 PM - Presentation, The Hon. Joe Hockey
8:00 PM - 8:30 PM - Interact with presenter and networking
8:45 PM - Event close
Crescent Institute
Corrs Chambers Westgarth, Level 32, Governor Philip Tower, 1 Farrer Place, Sydney NSW
Phone:02 9696 9807 - Email: info@crescentinstitute.com.au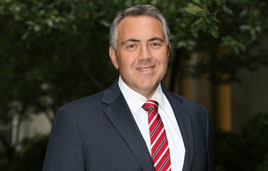 Background: The Hon. Joe Hockey
Joe Hockey was born in North Sydney, as the youngest of four children. His father was born in Bethlehem of Armenian and Palestinian parentage and his Mum in Chatswood. His family worked hard running a small business on the North Shore, beginning with a deli in Chatswood and later, a real estate agency in Naremburn. Joe was educated at St Philip Neri Primary School and St Aloysius' College in Milsons Point. He attended the University of Sydney where he completed degrees in Arts and Law.
At university, Joe became involved in student politics and was elected President of the Students Representative Council. He also held the position of President of the New South Wales Young Liberal Movement.
After university Joe worked as a finance and banking lawyer. He was seconded to the New South Wales Government to take a lead role in the state privatisation program. He went on to become the Senior Policy Adviser to the Treasurer and then Director of Policy to the Premier of New South Wales.
Joe then progressed into the federal realm of politics being elected to the Australian Parliament in 1996 and following his re-election in 1998, was made Minister for Financial Services and Regulation, one of the youngest ministers in the history of the Commonwealth.
After the 2001 election, Joe was appointed Minister for Small Business and Tourism where he delivered the first Tourism White Paper to drive the future direction of Australia's tourism industry. In October 2004, Joe was appointed the Minister for Human Services in the Fourth Howard Ministry and tasked with delivering a greater customer focus for the Australian Government's major welfare and health services agencies.
In January 2007, Joe was appointed Federal Minister for Employment and Workplace Relations and Minister Assisting the Prime Minister for the Public Service. Following the 2007 Federal Election Joe was appointed Shadow Minister for Health and Ageing and Manager of Opposition Business in the House of Representatives. In 2008 he was appointed Shadow Minister for Finance. In February, 2009 Joe was appointed by Opposition Leader Malcolm Turnbull as Shadow Treasurer. He was subsequently reappointed by Opposition Leader Tony Abbott in December 2009.
Joe is married and he and Melissa are the proud parents of their three young children, Xavier, Adelaide and Ignatius
We look forward to seeing you on the 11th of June for a night of fabulous networking as well as hearing from The Hon. Joe Hockey.
Crescent Institute Sponsors