Sada-e-Watan Sydney ™
sadaewatan@gmail.com








Munir Mohammad, CEO Sydney Forex and Chief Editor Rabitah International, hosted dinner in the honour of outgoing Consul General of Pakistan Mr Azam Mohammad and Pakistan's Defense Advisor Brigadier Babar Mansoor Virk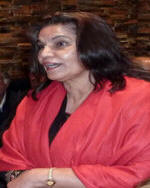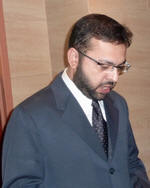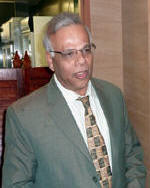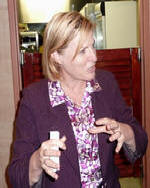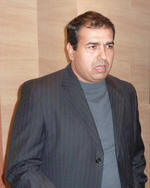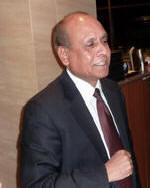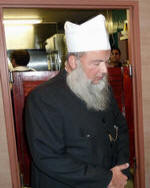 Mr Munir Mohammed, CEO Sydney Forex and Chief Editor Rabitah International, hosted a dinner at Zyka Restaurant, Riverwood, Sydney, on 18th June 2010 to bid farewell to the Consul General in Sydney Mr Azam Mohammad and the Defense Advisor Brig Babar Mansoor Virk of Pakistan High Commission in Canberra. It was a large gathering of over hundred guests and included dignitaries and prominent Pakistanis both from Sydney and Canberra. The dinner was also attended by the High Commissioner of Pakistan HE Fauzia Nasreen and Hon Julia Owen MP who specially travelled all the way from Canberra to attend this function.
Mr Munir had additional reasons to arrange this get-together. These included celebration of the 4th anniversary of popular magazine Rabitah International, launch of a new web-site of Sydney Forex Pty Ltd and recognition of some prominent Pakistanis for their excellent achievements, devotion and contribution in their specific fields, journalism and business.
The event started with the recitation of Quran by Maulana Nazir ul Hassan Thanvi. Later, Mr Naseer Taseer, the master of ceremony (MC), welcomed the chief Guest HE Fauzia Nasreen and Hon Julia Owen MP for sparing their precious time to attend the function. He also shared the best wishes message sent by Hon Joe Hockey MP to Mr Munir Mohammad and Consul General Mr. Mohammad Azam. As part of the 4th anniversary of the magazine, Mr Naseer also shared with the guests some facts and figures with relation to the magazine. He said, "Rabitah is the largest circulating community magazine in Australia and New Zealand". He further said, "During past four years its readership has tremendously increased to reach over 22,000 readers both in Australia and New Zealand. The magazine is distributed and available absolutely free of cost. Previously the magazine was published in Urdu only, but with the widening of its readership, since August 2009 it is now published in Urdu and English".

Mr Kashif Siddiqui of Sydney Forex displayed the newly developed Web-site and requested HE Fauzia Nasreen to officially launch it. After the formal launch, Kashif explained the salient features of the new web-site which provides information, including daily exchange rates, procedure of processing remittance, terms and conditions, FAQs and exchange rate alert facility for the customers. In addition Kashif also explained how to apply for remittance through secured on-line application system and the usefulness and convenience of the system which will be available to customers anytime, anywhere.

After Kashif's presentation, Munir Mohammed in his welcome speech thanked the chief guest, dignitaries and all the guests for their attendance. He shared with the audience how Sydney Forex was serving his customers and the Pakistani community in facilitating transfer of money at the best exchange rates, and absolutely free of cost to most world countries including Pakistan. He disclosed that Sydney Forex is contributing over 70pct of the total remittance to Pakistan with over 50 million dollar turnover per annum globally. He assured to continue his efforts and maintain the highest level of service standard in money transfer business through the platform of Sydney Forex.

In relation to the Rabitah International, Mr Munir paid tributes to members of his team, both in Australia and Pakistan, for their contribution to make the magazine so popular that it is read in almost every household of Urdu speaking community in Sydney and other major cities of Australia. Munir also introduced Rabitah Editorial and managing team including Editor in Chief Rashid Jamal, Mr Iqbal Zaki, Mr Mohammad Ali, Mrs Farida Lakhany, Mr Arshad Hussain Siddiqui, Mr Syed Faisal Qaiser, Mr Kafeel Ahmed Khan and Mr Kashif Siddiqui.

After Mr Munir's speech, President Forum Australia and Rabitah's Honorary Advisor, Mr Mohammad Ali who had travelled from Canberra for this event expanded on Mr Munir's theme by providing the aims and objectives of the publication. He said, like any other publication he was sceptical of the success of Rabitah when its idea was conceived. 'Now that the toddler is in its fourth year', he continued, 'it was hard to call it a toddler because of the maturity of its content and its professional coverage of the global and national issues'. He further said that 'Rabitah is also a mirror of Pakistani community in Australia and a significant communication link between all communities'.

After the moving speech by Mr Mohammad Ali, Mr Taseer (MC) invited chief guest HE Fauzia Nasreen, who recognised the professionalism and dedication of both Azam Sahab and Babar Sahab. She expressed best wishes for the future endeavours of both officers and said that 'they will be missed'. She acknowledged the contribution of Rabitah and expressed hope that the magazine will keep serving its readers in the same professional way as it does now.

Mr Muhammad Azam, in his return speech thanked Mr Munir for organising a memorable function to bid him and Mr Babar a farewell. He said he and Babar both will miss Australia and the Pakistani community. He showered his compliments by saying, 'I have served as Pakistani delegate in 61 countries but am proud to endorse that the Pakistani community in Sydney and wider Australia are among the best community abroad.

Hon Julia Owen MP appreciated the whole team of Rabitah for its selfless ad untiring work and offered her support for the good cause. She said that 'Pakistani community is a vibrant community and is significantly contributing to the development of Australia'.

Mr Kalil Allahwala, a social worker and prominent figure of Pakistani Community in Sydney also addressed the function and highlighted his attachment with the magazine in the past and current activities as Director of Edhi Foundation in Australia. He requested HE Fauzia Nasreen and Hon Julia Owen MP to give away awards to prominent Pakistanis for their contributions in respective fields. The first award was given to Mr Syed Zafar Hussain for his excellent Performance In community journalism and Media Services by serving the community through his net based news web site established in 1993. The web-site of Sada-e-Watan Sydney is providing latest news, reports, events and day to day happenings in the community in Australia.
The second award was given to Mr. Ali Obaid as an emerging businessman of the community. The special recognition awards were given to the Consul General Mr Azam Mohammad and Defense Advisor Brig Babar Mansoor Virk on their services in their respective fields.

The function was also addressed by PAA President Mr Iftikhar Rana, Khawar Saleem, Saba Abdi, and Ex President of PAA Ejaz Khan who recognized hard work of Mr Munir Mohammad and his genuine efforts to provide benefit to community by Sydney Forex and Rabitah International and applauded the services of both the outgoing officials. All of this was witnessed by a very encouraging audience, including Mr Atiq-ul Hassan of Tribune International and Pakistan Australia Federation and Mr Rehan Alavi of SBS Urdu Radio program.

At the end of the formal part, a delicious dinner was serves by the management of Zyka Restaurant. The function ended late night with the vote of thanks by Munir Mohammed to the chief guest and all the invitees.