Sada-e-Watan Sydney ™
sadaewatan@gmail.com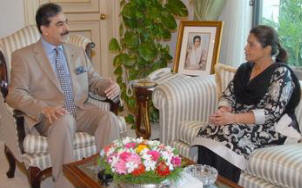 New High Commissioner of Pakistan Ms Fauzia Nasreen has Arrived in Australia
The New High Commissioner of Pakistan for Australia & Fiji Ms Fauzia Nasreen has arrived in Australia on the early Morning of Eid Day, Saturday 28 November 2009. The Consul General of Pakistan to Sydney Mr. Azam Mohammed & Counselor Mr.Hamid Asghar Welcomed her at Sydney International Airport.
Ms Fauzia Nasreen is a senior diplomat of Pakistan. She has served as an ambassador of Pakistan to the Republic of Poland and as an Ambassador of Pakistan to Nepal. The High Commissioner Fauzia was born on December 6, 1950 and holds a Master degree in Defence & Strategic Studies. She had joined Foreign Services of Pakistan in 1973. She had performed various diplomatic assignments in Pakistan Missions abroad including Tehran in 1976-1981, Kuala Lumpur in 1985 to 1988, Manila in 1990-1992 and Rome in 1992-1995. She also served at the Ministry of Foreign Affair as Section Officer (1975-1976 and 1981-1983), Director in 1983-1985 and 1988-1989 and Director General in 1995-1997 and Member Directing Staff at the National Defence College in 1997-1999.
On behalf of the Pakistani community, Sada-e-Watan Sydney would like to Welcome High Commissioner Ms. Fauzia Nasreen to Australia. We hope that she will also be as active as the HC Syed Jalil Abbas Jilani. Sada-e-Watan again appreciates the services of High Commissioner Jalil Jilani Sahib. We hope that H.E. Ms. Fauzia Nasreen will use her diplomatic skills for promoting the Pakistan Australia Friendship & keep in touch with all Pakistani community living in Australia.