Sada-e-Watan Sydney ™
sadaewatan@gmail.com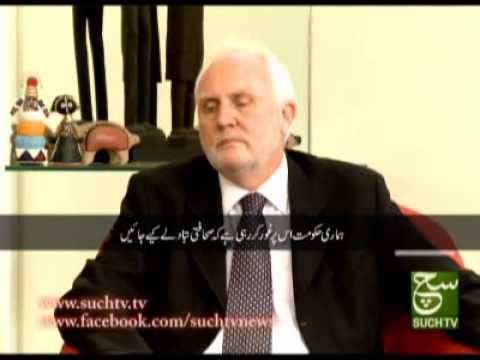 Such TV Telecast Exclusive Interview of the Australian High Commissioner to Pakistan His Excellency Peter Heyward
Sach TV is the true picture of Pakistani and Muslim media. Based on the new media and unique journalism format, Saach.tv has the capability Broadcast Live News, Family Entertainment, Breaking news, live events. Anyone can Watch Such TV Online. Such TV's weekly program "Ambassador speaks with Aftab Raza" is very popular. In this program they are presenting every week exclusive Interview of any Important Country's Ambassadors.
Last week Such TV telecast Interview of the Australian High Commissioner to Pakistan His Excellency Peter Heyward. During the Interview, the Australian High Commissioner to Pakistan Peter Heyward said that the general elections in Pakistan were held in a free' fair and transparent manner. In an interview he expressed his hope that the newly elected Pakistan Muslim League-Nawaz (PML-N) government would work diligently to overcome key challenges like energy crisis and terrorism.
His Excellency Peter Heyward said Pakistan and Australia relations refer to the bilateral relations between Pakistan and Australia.The relations between the two countries have been friendly and relationship has grown significantly over the past few years. The Australian High Commissioner said that Pakistani students are being encouraged to study in Australia' which offers exciting education opportunities.
Our long time family friend, Allama Syed Iftikhar Hussain Naqvi kindly sends Sada-e-Watan,a Link of the H.E. Peter Heyward's TV Interview. We also thank Ali Ammar and Humayun Khan for sharing the Interview Link for readers of Sada-e-Watan.
For Watch Australian High Commissioner to Pakistan His Excellency Peter Heyward's Interview, Please click on this Link:
> http://www.facebook.com/Suchtvnews/posts/558747014167374