Sada-e-Watan Sydney ™
sadaewatan@gmail.com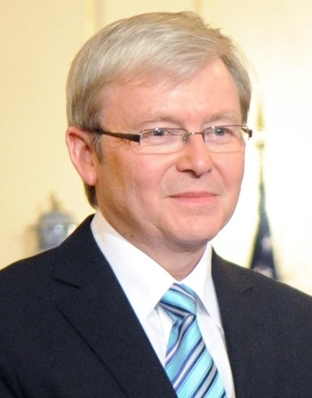 10th July 2013,
RAMADAN MESSAGE FROM PRIME MINISTER COMMONWEALTH OF AUSTRALIA HON.KEVIN RUDD
RAMADAN 2013
As the holy Islamic month of Ramadan begins, it is with great pleasure that I extend my best wishes to Muslims in Australia and across the world.

Ramadan provides an opportunity for all Muslims to reflect on the importance of charity, compassion and peacefulness. These values are indeed at the very core of all Australians, no matter their faith.

The diversity of Australia's Muslim community is immense, spanning more than a hundred countries in almost every continent and reaching several generations.

I want to take the opportunity to recognise the many contributions that this diverse group of Australians has made to our great country.

It is a mark of our deep and abiding respect for each other that Australians have managed our cultural and religious differences so well.

Ramadan Mubarak.

The Honourable Kevin Rudd
Prime Minister of Australia
**********************************************************
MINISTER SENATOR THE HON.KATE LUNDY EXTENDS RAMADAN WISHES
As Muslims around the world prepare embark upon the holy month of Ramadan, Minister for Multicultural Affairs Senator Kate Lundy today extended her best wishes to the Muslim communities of Australia.
Senator Lundy said Ramadan was a time for prayer, generosity and self-reflection for people of Muslim faith.
"I send my best wishes and warm greetings to all Muslim Australians for the holy month of Ramadan," the minister said.
"Ramadan is a time for helping those in need and performing charitable deeds.
"It offers an opportunity for Muslims to develop community relationships, especially the tradition of breaking the fast with family and friends which allows the sharing of interfaith dialogue and establishing links across different cultural communities."
Australia's 476 000-strong Muslim communities comprise a large number of diverse ethnicities and cultural backgrounds, originating from more than 100 countries. Nearly 38 per cent of Muslim Australians were born in Australia.
Senator Lundy said Ramadan gives both Muslim and non-Muslim Australians the opportunity to reflect on the values that they share, such as peacefulness, generosity, mutual respect and compassion.
"Muslim communities in Australia enrich our society by contributing to the prosperity, growth, strength and unique cultural diversity of our nation," the minister said.
"May the holy month of Ramadan usher upon you peace, happiness and prosperity. Ramadan Mubarak," she added.